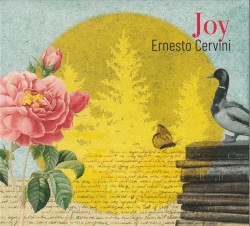 Joy
Ernesto Cervini
TPR Records TPR-010 (ernestocervini.com)
JUNO award winning multi-instrumentalist, composer and bandleader Ernesto Cervini has been at the forefront of Canada's modern jazz scene, becoming a beloved and desired musician both locally and nationally over the years. It's not very often when an in-demand performer has either the time or opportunity to be able to release an album that is entirely a personal project such as this release is, which makes it all the more special. It is clear that it has truly been an "absolute labour of love" as Cervini himself mentions, right down to the fact that the musicians in the backing band were hand picked by Cervini as he imagined them specifically playing the solos on the album. Featured are widely known talents such as Emily Claire-Barlow on vocals, Adrian Farrugia on piano and Dan Fortin on acoustic bass.
The record directly harkens back to a series of mystery novels by Louise Penny centring around Chief Inspector Armand Gamache and life in a Quebec village called Three Pines. Each piece is an incredible soundscape on its own, reflecting the personalities of specific characters throughout the books, calling forth images of beautiful landscapes and just generally giving a great overview of the world of Three Pines and village life through distinctive rhythms and melodies. Captivating and thoroughly engaging from beginning to end, this album is an enticing deep dive and journey, which the listener will want to continually explore further.