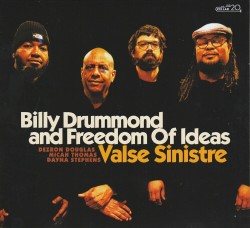 Valse Sinistre
Billy Drummond and Freedom of Ideas
Cellar Music CM111022 (cellarlive.com)
Elegant, dynamic and innovative jazz drummer Billy Drummond has just released a stunner of a recording that not only embraces his seminal influences, but illuminates his musical path moving ahead – replete with nods to iconic figures in Drummond's musical journey, including the title track, composed by the luminous Carla Bley, with whom Drummond performed. Drummond's accomplished Freedom of Ideas quartet includes Micah Thomas on piano, Dezron Douglas on bass and Dayna Stephens on saxophones.
The opening salvo is Little Melonae, where the incomparable Jackie McLean's bop legacy is elegantly celebrated with a face-melting, rapid fire arrangement. Douglas' commanding tenor solo is rife with pumpitude, and the relentless rhythmic force is propelled by Drummond, who phases us into a new dimension, creating an incendiary background for this incandescent celebration of a much missed grand master.
The title track is an intriguing contribution to the program. Drummond's close musical relationship with Bley is apparent here, invoking images of an exotic Eastern European circus, with madness and excitement in equal portions. Also of note are Grachan Moncur's Frankenstein – where Drummond explores musical cognitive dissonance, while Stephens' rapier-like soprano breaks through all imagined boundaries – free and exuberant. Drummond's compelling composition, Changes for Trane & Monk is an invigorating joy. Other stellar tracks include the diaphanous Clara's Room written by the eminent saxophonist Frank Kimbrough. A true standout is Drummond's arrangement of the Tony Williams classic Lawra, where, although he is clearly channelling Williams' creative spirit, Drummond makes his own mark on an exquisite tune.