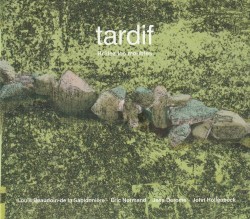 Tardif
Brûlez les meubles
Tour de bras; Circumdisc TDB900058cd; microcidi030 (tourdebras.bandcamp.com)
L'appel du vide
Brûlez les meubles
Tour de bras; Circumdisc TDB900059cd; microcidi031 (tourdebras.bandcamp.com)
Brûlez les meubles (a name that translates to Burn the Furniture) suggests a doffing of the proverbial hat more towards the kind of existentialism and Jean-Paul Sartre's primary idea that people, as humans, are "condemned to be free." This may seem to be at cross purposes with the kind of Impressionism that has come to be associated with – perhaps even the clarion call of – many contemporary musicians.
The consistent use of distortion – not simply harmonic dissonance – suggests that these two musicians are flying more than the flag of Impressionism that became associated with many who are influenced by Debussy.
The duo Brûlez les meubles – guitarist Louis Beaudoin-de la Sablonnière and bassist Éric Normand – claim that they owe as much to Jim Hall as they do Bill Frisell. But that tells only part of their story. The real proof of their musicianship lies in the effect that the repertoire on these two discs under review has on the senses.
Listening to Tardif (which means Late) it would seem that songs such as Stoique and Journée pédagogique are indicative that the musicians want us to listen for a deeper meaning in their music. The aforementioned distortion is not simply a musical gesture that frequently runs through this music, but a device to provoke putting a keener ear to work, to listening more deeply to this music.
The duo's free association with noise together with saxophonoist Jean Derome and the arrhythmia of principal guest John Hollenbeck's drumming sends a powerful musical message. When we get through the repertoire of Tardif and come to the recording's climactic conclusion J'en ai connu d'autres we find ourselves wondering if the sense of alienation – or otherness – is not what really propels the musical intention of Brûlez les meubles .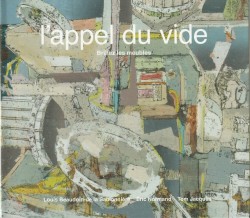 If there was any doubt as to the depth of thought that they want you to listen out for, the album L'appel du vide (The call of The Void) ought to make it eminently clear where these musicians are coming from. Songs such as Nous ne savions pas, L'appel du vide, Diapositive and La suite des choses suggest a powerful tide that goes against the flow of convention.
Once again the music is driven by a powerful, percussive pulse that suggests urgency and anger and even a sense of viewing their soundscape through a reflection in the dark shards of a shattered mirror. Clearly Brûlez les meubles are thinking musicians as well as musicians who believe that they are capable of seducing listeners like us into their world that is musical, yet one full of bitter sweetness and bluesy orientation, where musician and listener can co-exist "condemned to be free."