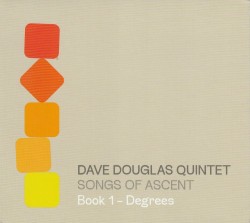 Songs of Ascent, Book 1 – Degrees
Dave Douglas Quintet
Greenleaf Music GRE-CD-1096 (davedouglas.com)
Trumpeter Dave Douglas is a musician so prolific that he has been hard not to notice over the past handful of years. While Douglas may not yet be a household name, achieving this kind of notoriety within the jazz and improvised music realm is a feat unto itself. Douglas' label Greenleaf Music has been a brilliant springboard for the trumpeter's ample releases under his own name, while simultaneously fostering a space for likeminded talents to produce and promote their music.
Greenleaf employs a smart business model, offering traditional sales and streaming of album-length content alongside subscription only "optional extras." Songs of Ascent, Book 1 is offered in the former format, with Book 2 available only when curious listeners subscribe to Greenleaf Music. This writer was only given a copy of Book 1 to review, but this was enough of a journey to make me curious about what lies on its counterpart recording.
Several noteworthy things jumped out during my first listen, namely the smooth high-quality studio sound. This is almost a contrast to the often-avant-garde music heard on the disc, but makes for an immersive listening experience. The sound quality of the band as a whole is even more impressive given that this album was recorded remotely.
Early tracks are loose and ethereal in nature, but from the very start of Peace Within Your Walls listeners are offered more traditional sounding song forms. The contrast between loose and composed moments sets a precedent for the rest of this exciting album.