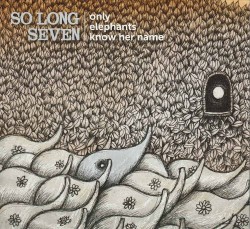 Only Elephants Know Her Name
So Long Seven
Independent SLS003 (solongseven.bandcamp.com/releases)
Canadian instrumental quartet So Long Seven – Neil Hendry (guitars), Tim Posgate (banjos), William Lamoureux (violin) and Ravi Naimpally (tabla, dumbek, udu, percussion) – is back with an eight track release featuring their unique flavourful, original compositions and tight performances blending classical, folk, blues, jazz and world traditions from India, Africa, Europe and the Americas. Hendry's liner notes provide backgrounds to the tracks.
My favourite animals each have a composition here… The title track only elephants know her name was written for a Kenyan elephant with almost ground-touching tusks. Superimposed repeated jazzy and rock-like styles, fun percussion rolls and orchestral strings lead to Posgate's virtuosic contrasting colour and rhythmic banjo solo. Mara is about an Asian elephant that worked in a circus until 1995 and on retirement moved to a zoo in Argentina and then, during the pandemic, to a sanctuary in Brazil. It features the mesmerizing guest, Hindustani vocalist Samidha Joglekar, singing a haunting folk-like melody, reciting a Ganesh prayer her mother taught her, above a held-note and rhythmic beats backdrop. Now to the hopping Frolic of the Monsoon Frogs, inspired by Naimpally's Indian childhood post-monsoon memories of puddles full of dancing frogs. Upbeat rock/jazz time-to-party percussion and bass drive the repeated almost atonal shots, instrumental solos including guest strings, background clapping and vocal screams.
Violinist Lamoureux produced the release, and arranged guest string performers' parts to some tracks like L'unique étoile de la tolérance, a calming soundscape of held-notes washes, closing plucks and his slow violin melodic lines. The closing Ghost Ocean has thoughtful, reflective quartet sounds.
A big welcome to So Long Seven's great new release!