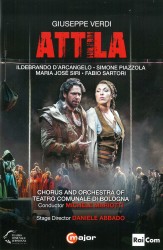 Verdi – Attila
Ildebrando D'Arcangelo; Simone Piazzola; Mari José Siri; Fabio Sartori; Teatro Comunale di Bologna; Michele Mariotti
Cmajor 748708B (naxosdirect.com)
Attila is actually the ninth opera of the 26 by Verdi and it premiered in Venice, 1846. The opera is about Attila's fifth-century campaign devastating Northern Italy and his failure to capture Rome, as if by divine intervention. Interestingly, Verdi skilfully worked in the founding of Venice by refugees from the Roman city of Aquileia in the marshlands of the Adriatic where they hid out from the wrath of the Huns – a city that will rise as a phoenix from the ashes alluding to the name of the opera house La Fenice in Venice and this no doubt pleased the Venetians.
The score itself is irresistibly energetic, chock full of soaring melodies, cavatinas, rousing cabalettas, duets, trios, quartets plus young Verdi honing his skills in ensemble writing like the first and second act finales which are already masterful. The soprano's lament, pining for her homeland, and the subsequent love duet, point towards the Nile scene in Aida. My favourite part is the amazingly mature, picturesque orchestral writing of the Intermezzo in the Prologue, a raging sea storm followed by a magnificent sunrise over the cross raised by the pilgrims.
The singers are without exception superlative. Ildebrando D'Arcangelo, today's leading base baritone is a complex, tormented Attila with a voice of stentorian power; Odabella is Maria José Siri, a young powerful Verdi soprano, strong in all registers; and Fabio Sartori, her lover with an "intensely brilliant" voice, one of the great tenors of which Italy seems to have a big supply. And the chorus – each singer could be a soloist! Young, very talented Michele Mariotti (of Tutto Verdi fame) conducts with verve and tremendous emotional involvement, ensuring a truly memorable production.