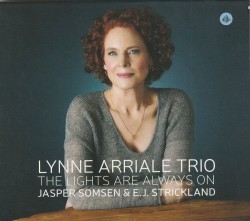 The Lights are Always On
Lynne Arriale; Jasper Somsen; E.J. Strickland
Challenge Records CR73532 (lynnearriale.com)
With her 16th album, jazz pianist/composer/educator Lynn Arriale has once again underscored exactly why she is considered to be one of the most creative, technically skilled and emotionally facile jazz artists on the globe. All of the material here was penned by Arriale, and her inspiration was born out of the horrendous world events that have taken place during the past two years, as well as the massive contributions left by the evolved souls who have existed on our blue orb as healers, truth-tellers and defenders of human rights.
First up is March On, which was directly inspired by the 2017 Women's March on Washington. The composition is loaded with dynamic, insistent chordal statements. Arialle's powerful rhythmic integrity and innovating improvisations drive this compelling anthem. Jasper Somsen's lyrical bass solo generates beauty and peace while E.J. Strickland's creative and dynamic-filled drumming seals the deal.
The title track is taken from a quote by dedicated physician, Dr. Prakash Gada, and in Arriale's words, "There is always reason to believe in that light; the inherent goodness of people…" In this performance, Arriale's musicianship is such a conduit of pure, undiluted feelings that it's as if she reaches out directly into one's heart and mind. Other stellar tracks include Sisters, which celebrates the struggle for gender equality and Honor, which is dedicated to Lt. Colonel Alexander Vindman – a truth teller, whose testimony exposed some of Trump's heinous and illegal activities. Of special beauty are The Notorious RBG, in honour of Ruth Bader Ginsburg and the spiritually uplifting Walk in My Shoes, composed in recognition of legendary Civil Rights advocate and U.S. Politician John Lewis.