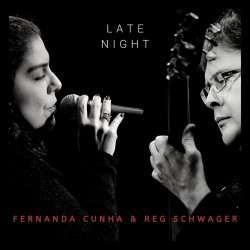 Late Night
Fernanda Cunha; Reg Schwager
Independent (fernandacunha.com)
With the release of this new recording, there can be little doubt that the creative pairing of the gifted Brazilian/Canadian vocalist Fernanda Cunha and eminent Canadian guitarist Reg Schwager is a match made in musical heaven. All of the fine compositions here were written by Schwager, with lyrics by Cunha. Schwager (also wearing producer and arranger hats) performs on guitars and electric bass along with his equally eminent colleagues Tom Szczesniak on piano, keyboard and accordion; Allison Au on alto saxophone; Masashi Usui on tenor saxophone; Pat Collins on acoustic bass; Michel Lambert on drums and Edson Chilardi on drums and percussion.
The eight superlative tracks here are luminous in their beautiful construction, performed with breathtaking technical skill and rendered with such emotional resonance that the term "awe-inspiring" is more than apt. Dança Do Amor is a sensual, intimate glimpse into pure romance and Szczesniak's keyboard work is perfection itself, reminiscent of the great Manfredo Fest. Cunha's velvety alto weaves a web of eroticism and Schwager's solo is the perfect, crystalline appurtenance.
Quero só Viver em Paz is a joyous, lilting samba with intriguing chord changes and facile accordion work from Szczesniak while Cunha's rich vocal sound evokes the great Leny Andrade. The lush title track boasts a thoroughly lovely alto solo by Au, and captures what it must feel like to walk on Ipanema Beach following a transplendent night in Rio. Novo Amor opens with a vocal/bass intro followed by a masterful acoustic bass solo by Collins and Vias Paralelas has an internal, chordal and rhythmic tension that solders the genres of Brazilian music and contemporary jazz. The sumptuous closer, October Song features Cunha singing in English and displaying her indisputable talent for fine lyric writing and lyrical interpretation in any language.