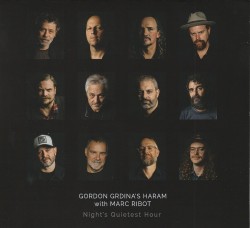 Night's Quietest Hour
Gordon Grdina's Haram with Marc Ribot
Attaboygirl Records ABG-3
Oddly Enough – The Music of Tim Berne
Gordon Grdina
Attaboygirl Records ABG-4 (gordongrdinamusic.com)
Guitarist/composer Gordon Grdina leads several ensembles, from home-based Vancouver bands to various international collaborations, each representing different aspects of his broad musical interests. These two CDs on his recent Attaboygirl label may be his brightest achievements so far, the first as a bandleader, the second as a guitarist.
Among his hometown groups, Haram, formed in 2008, focuses Grdina's interest in traditional and contemporary Middle Eastern music. There are ten other musicians in the band, including Grdina's frequent rhythm section of bassist Tommy Babin and drummer Kenton Loewen with an array of other distinguished Vancouverites, among them clarinetist François Houle, trumpeter JP Carter and violinists Josh and Jesse Zubot. Expatriate Syrian singer Emad Armoush is an essential and prominent component, bringing focus and a keening intensity to the melodies in the midst of tremendous rhythmic energy. Grdina plays oud here, bringing an idiomatic mastery to the Middle Eastern lute, while featuring guitarist Marc Ribot, whose distinctively sparse, edgy lines have marked collaborations from Tom Waits to John Zorn. The compound rhythms and essentially modal underpinnings support everything from delicate dialogues of guitar and oud and pastoral songs of longing, all of which will stretch to climactic ensembles that can merge Armoush's vocals and a choir of singing musicians, all topped by the mercurial leads of Ribot and the other soloists, notably tenor saxophonist Christopher Kelly.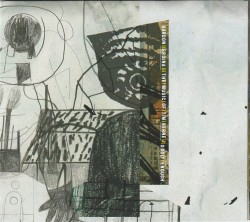 Oddly Enough is a solo guitar recording exploring the music of New York-based composer/alto saxophonist Tim Berne, a significant figure at the creative edges of jazz whose works can fuse lyricism, tradition and an expanding complexity. For the project, Grdina has created a highly distinctive palette, playing classical and acoustic guitars, oud and dobro, but most notably a hybrid midi-synth electric guitar that aids him in creating distinctive polyphonic dialogues with multiple sonic identities. The results are as apt to sound like a band as a solo guitarist, and the first sounds heard on the opening title track suggest an electronically altered drum kit rather than a guitar. That might turn off purists, but persist and one is increasingly immersed in this dense work, an almost natural path for a musician as multi-voiced as Grdina. Enord Krad, the most complex of the pieces with oud, voices and reverb crashes travelling against its keening electric lead, is the most compelling of the works, mingling lyricism, angst and technology in subtle ways, before concluding with a sustained virtuosic and acoustic cadenza. The extended Snippet and the concluding Pliant Squids, filled with singing acoustic detail, fuse the distinctive lyric predilections of composer and performer in what may be Grdina's most fully developed statement to date.