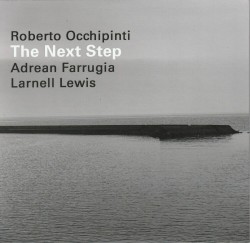 The Next Step
Roberto Occhipinti; Adrean Farrugia; Larnell Lewis
Modica Music (modicamusic.com)
Listen
The Next Step
Emancipation Day
The Peacocks
Read the Review
The curiosity engrained in bassist Roberto Occhipinti's personality has allowed him to wear many hats in the music industry, all while avoiding the "master of none" trap that often accompanies "jack of all trades." Equally at home in a jazz quartet, perched on a stool in an orchestra or writing notes in the booth of a recording studio, the man does it all. This versatility kept Occhipinti busy through periods of the COVID-19 pandemic where even the most passionate of us were twiddling our thumbs. How? With his own recording studio, and Modica Music.
The Next Step was recorded there, released on Modica and features a who's who of Canadian musicians, although fewer than you might expect. Occhipinti opted for a piano trio on this release, consisting of Adrean Farrugia on piano and Larnell Lewis on drums, with the addition of vocalist Ilaria Crociani gracing the fifth track. This is the type of band one could expect to hear musical pyrotechnics from, but this recording comes off as cool and subdued instead.
"Subdued" certainly doesn't imply any lack of energy throughout the album, as the trio gives their all to even the slower and more introspective tracks. Jaco Pastorius' Opus Pocus and Occhipinti's A Tynerish Swing are both on the edgier side, the latter featuring a great bass solo after the catchy melody. The album is unified by overdubbed arco additions from Occhipinti, which makes it feel like a larger ensemble is present without taking away from the interplay of the trio.