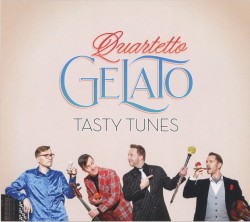 Tasty Tunes
Quartetto Gelato
Independent QGPI 011 (quartettogelato.ca)
I first experienced Quartetto Gelato (QG) in its original incarnation well over 25 years ago. It was on Salt Spring Island, BC and the group blew the roof off of that small island hall with their (now signature) dazzling virtuosity, eclectic repertoire, masterful musicianship, infectious energy and great sense of fun. Despite the many intervening years and personnel changes, they've still got it! Tasty Tunes, the quartet's tenth album, is yet another celebration of all those signature qualities enumerated above that make QG unique, exciting and wholly entertaining!
QG's current incarnation of world-class musicians comprises oboist Colin Maier (also on saw, vocals and bongos); cellist Kirk Starkey; violinist/vocalist Konstantin Popović; and Matti Pulkki on the accordion. Charles Cozens, a QG former accordion player, performs on three tracks, while his brilliant, inventive arrangements are heard throughout the album.
From an astonishing Cuban version of Beethoven's Sonata Pathétique and the sizzling "Gypsy-funk" of Cigano No Baiao, to Piazzolla's poignant Tanti Anni Prima, with Maier's haunting and heart-achingly beautiful turn on the saw, and the whimsical Cartoon Fantasy (with guest appearances by the Flintstones and Pink Panther), along with Spaghetti Roads' delightful nod to John Denver and The Good, The Bad and The Ugly, and Popović's magnificent vocals and stirring violin on Mesecina, this delicious album exudes pure joy!
In what could be subtitled "Mozart Meets Minnie the Moocher," Quartetto Gelato's Tasty Tunes will leave a smile plastered on your face.