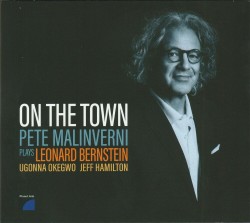 On the Town – Pete Malinverni plays Leonard Bernstein
Pete Malinverni
Planet Arts 302124 (petemalinverni.com)
Pete Malinverni is a highly respected New York City-based pianist/composer, widely known for his technical skill as well as for his swinging and lyrical interpretations. It was a bit of propinquity – the kind that can only happen in New York City – that kick-started the idea for this truly exceptional recording, on which Malinverni also serves as producer. While on a gig at a prestigious private party, Malinverni met Leonard Bernstein, and he was so moved by Bernstein's passion for music, as well as by his New York City-infused compositions, that eventually this recording became fully manifest. This CD is not only a tribute to Bernstein, but it is also a love letter from Malinverni to his beloved New York City. Malinverni's collaborators here include noted jazz luminaries Ugonna Okegwo on bass and Jeff Hamilton on drums.
The cheeky opener, New York, New York, comes from the Broadway/film hit, On the Town. The trio moves like one, swinging organism and the expertly recorded instruments draw the listener into a profoundly intimate jazz experience. Malinverni's soloing is inventive, and easily segues in and out of deep grooves. Okegwo is both solid and facile and Hamilton propels everyone down the pike with his energy and skill – as only a New York drummer can do.
With a stirring percussion intro and outro by Hamilton, Cool from West Side Story is a stellar track that lends itself perfectly to a pure jazz format… which makes one wonder if Bernstein wasn't a bit of a jazz musician himself! Simple Song from Mass is presented here with such heart and soul, that it feels as though each musician was singing the lyrics in his head. I have a feeling that if Lenny were here now, he would be thrilled with this masterfully conceived and performed project.