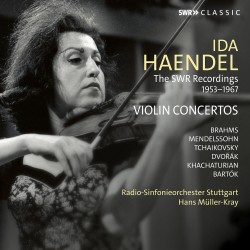 Fans of Polish violinist Ida Haendel (1928-2020) will be very pleased with the four-CD set of reissues of live concerts with the Radio-Sinfonieorchester-Stuttgart conducted by Hans Müller-Kray recorded between 1953 and 1967 (SWR Classic SWR19427CD naxosdirect.com/search/swr19427cd). These were well received upon their initial issue and are more than appreciated now by those hearing the superb and characteristic playing so happily recognized by those who knew Haendel and her unique presence.
The first disc is the Brahms and I must confess, upon hearing just the opening, to feeling quite nostalgic. Her playing shows such affection for the music, it's positively heartwarming. Although this is a mono recording, we can hear every nuance from both the soloist and the orchestra. This is about listening to the music and Haendel's playing, not the way it was recorded. She's so present that you can hear every note.
After the Brahms, we would not be surprised to hear the Mendelssohn E Minor played with such delicate balance between the soloist and winds. The recordings include six composers in all, each with a different tempo and style; Haendel's playing in every instance is flawless.
Haendel played the Tchaikovsky to great acclaim starting from when she was a young prodigy in the late 1930s and throughout her career. By the time of this recording, she was recognized as playing this piece with incredible skill and interpretation. Known for her "impeccable intonation," critics' praise has always been unequivocal.
As a five-year-old it is reported that Haendel played her first Dvořák, one of the Slavonic Dances. By the time she was 13, she played the Violin Concerto before thousands for Dvořák's 100th anniversary celebration. She made a recording of it in 1947, but this live performance from 1965 highlights the great strides and development in her playing.
Khachaturian wrote "I cannot write anything other than Armenian Music." He did it rather well. The famous Sabre Dance became a universal hit. His Violin Concerto in D Minor is also a first-rate work. The first movement Allegro con fermezza is to Western ears both exotic and Romantic. The second Andante sostenuto is another fine dance tempo and the third is Allegro vivace; a colourful and joyful celebration with the violin. You can recognize immediately that it is Haendel playing, her signature evident throughout these jaunty rhythms.
The final work is Bartók's Violin Concerto No.2. It is quintessential Bartók and is brought to life in this performance. The composer described the first movement as a typical 12-tone theme with a decisively tonal leaning. The original version did not have a virtuoso part for the soloist but Bartók was persuaded by violinist Zoltán Székely and conductor Willem Mengelberg to include such a part. We are grateful that he did and Haendel really does it justice.
The performances in this little box are a tribute to both the soloist and composers and of course the orchestra. The SWR as usual delivers effortless reproduction of these truly classic works.
As her many admirers may probably know, the DOREMI label has released four volumes of live Ida Haendel solo and chamber performances recorded in concert by the CBC while she was in Canada.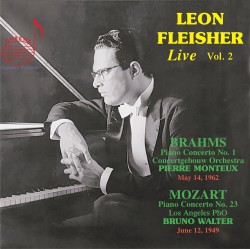 DOREMI also has some interesting new releases. Firstly, we have Leon Fleisher (1928-2020) in a live recording of the Brahms Piano Concerto No.1 with Pierre Monteux conducting the Concertgebouw Orchestra (Leon Fleisher Live Volume 2, DOREMI DHR-8160 naxosdirect.com/items/leon-fleisher-live-vol.2-579037).This was recorded on May 14, 1962. Fleisher identified this piece as his "talisman." In his autobiography, My Nine Lives, he writes that his parents gave him a recording of the concerto performed by his teacher Artur Schnabel, conducted by George Szell and he wrote that "for weeks, I ate, slept and breathed that piece." He began learning it and eventually played it in 1944 at his debut with the New York Philharmonic conducted by Monteux. Happily, he eventually recorded it with Szell as well. In this DOREMI recording we have a live performance recorded with the Concertgebouw Orchestra. The world-renowned acoustics of the hall in Amsterdam where this live recording took place are unique. In my opinion, shared by many, this is one of the best recordings of this Brahms concerto ever! It should be noted that both the sound quality and the execution are both perfection in this live recording.
This was recorded before any hint of the soon-to-come issues with focal dystonia that Fleisher experienced in his right hand in 1964. This condition necessitated a break in two-hand playing and the beginning of a 60-year career as a teacher at the Peabody Institute at Johns Hopkins University, and various other teaching venues including the RCM in Toronto where he gave master classes over a period of three decades. He was eventually able to return to two-hand playing in 1995.
The second piece on this recording is Mozart's Piano Concerto No.23 recorded live with the Los Angeles Philharmonic under Bruno Walter, the legendary Mozart conductor, at the Hollywood Bowl on June 12, 1959. Fleisher's playing is sensitive and compassionate. What a combination, Fleisher, Walter and Mozart!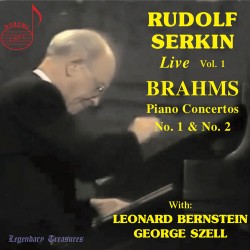 Another very impressive release from DOREMI is Rudolf Serkin Live Volume 1 (DHR-8161/2 naxosdirect.com/search/dhr-8161-2), featuring the Brahms Piano Concertos Nos.1 and 2.
Serkin is considered one of the finest pianist scholars of the German tradition. This muscular and authoritative playing is perfect for Brahms and Serkin has played the repertoire hundreds of times to rave reviews. Comparing live performances to studio recordings, the difference is quite tangible. If possible, the live performances are even more exciting; his playing vibrates with energy.
George Szell (1897-1970) is one of the most admired conductors in history and is regarded, even 50 years after his death as one of the most influential and revered conductors both by music lovers and critics alike. Szell was known to have been a perfectionist when it came to his recordings and he would definitely have approved of this one featuring Serkin with the Cleveland Orchestra in the Piano Concerto No.1 recorded in Severance Hall on April 18, 1968.
Leonard Bernstein brings a very different sensibility to the Piano Concerto No.2. As an accomplished musician, philosopher, composer and conductor, this was one of his favourite concert pieces and it shows here in this performance with Serkin and the New York Philharmonic from January 25, 1966.
As a welcome added bonus, not mentioned on the CD cover, we have Brahms' Four Pieces for Piano and Schubert's Wanderer Fantasy in C Major, in live solo performances from Massey Hall, Toronto in 1974.