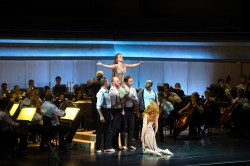 What a treat to hear Wallis Giunta sing Anna I and to watch Jennifer Nichols dance Anna II, to experience them playing two exquisite halves of a whole. Their plight was the centrepiece of last night's concert at the TSO, in a semi-staged version of Brecht/Weill's The Seven Deadly Sins that documents the seven-year, seven-city trek that two 'sisters' undertake to make enough money to build the "little house in Louisiana" that is everything their family wants.
The Seven Deadly Sins was originally envisioned as a "ballet chantée" – a "sung ballet" with a full ballet company as well as singers and a leading dancer, telling the story of two sisters (or are they?) encountering the seven deadly sins in seven American cities as they strive to raise money for their family. Last night's semi-staged version, directed by Joel Ivany and choreographed by his frequent collaborator Jennifer Nichols, did a very clever job of having the four male singers take on the roles usually performed by dancers as well as their own characters of the "family" (father, mother and two brothers). As Nichols had earlier told me (and as she explains in the program notes), her approach to the choreography was "to find a way to express that the family of Anna does not simply sit outside of her in judgment but are an extension of her own self-examination, her hopes and fears." This, added to the usual interchangeability of Anna I and II in spite of the divided sides of her personality, led to a very interesting new take on the piece. The four male singers (Isaiah Bell, Owen McCausland, Stephen Hegedus and Geoffrey Sirett) proved admirable actors and performers of the choreography and staging – Geoffrey Sirett standing out in a moving pas de deux with Nichols in the "Lust" chapter.
Giunta and Nichols also blended seamlessly – Giunta moving like a dancer as well as acting powerfully, and Nichols also acting wonderfully while dancing and speaking. Looking almost identical but subtly differentiating themselves more and more throughout the piece, practical Anna I (Giunta) became more and more hardened to the "practical necessities" of the world while the "she is an artist" Anna II (Nichols) grew more vulnerable and beaten up from fighting impossible fights. The pair's repeated refrain (ironic for the audience) of "Nicht wahr, Anna?" (Right, Anna?) and "Ja, Anna" (Yes, Anna) still echoes in my memory, with poor Anna II more and more discouraged even while continuing to agree with her stronger and more soulless half.
The original production in Paris in 1933 was apparently received with some puzzlement, and while The Seven Deadly Sins is considered a modern classic and true to the political values seen in other Brecht/Weill collaborations, watching it tonight I was not surprised that it would have been received that way. The irony in the libretto is sometimes too subtle, sometimes too over the top, and the sins themselves not easy to depict onstage – perhaps why this work is much more often seen in concert form rather than being fully staged. In this case, though, the semi-staged, choreographed production last night was much more satisfying than a straightforward concert singing of the material would have been.
It was also fascinating to see in this third collaboration of director and choreographer such a seamlessly smooth blending of approach and staging. Perhaps it was my high expectation of these friends and their abilities that made me want even more from the performance – perhaps a more pointed political context given the state of the world today, or another way to give the production more of a contemporary urgency, but that may be just me. Already their work together is reaching new heights and depths, and with the new video element to bookend each chapter of the story (enigmatic, Bergman-esque black-and-white video images created by Jennifer Nichols with Christopher Monetti), they are already exploring new territory. I look forward to seeing their next collaboration, as well as which other semi-staged productions the TSO will make part of future seasons.
Brecht/Weill's The Seven Deadly Sins was presented by the Toronto Symphony Orchestra at Roy Thomson Hall on Wednesday, June 14, alongside works by Balfour, Barber and Bartók. A second performance takes place on Thursday, June 15.
Toronto-based "lifelong theatre person" Jennifer (Jenny) Parr works as a director, fight director, stage manager and coach, and is equally crazy about movies and musicals.