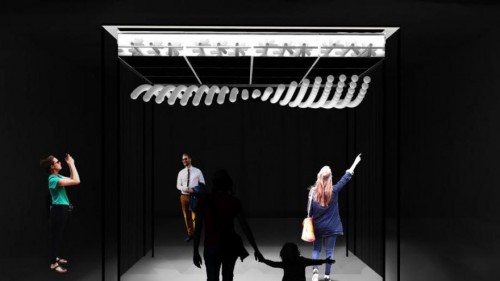 On September 30, from sunset to sunrise, Toronto's art community will be staying up all night.
That night will mark the 11th annual edition of Nuit Blanche, an all-night, city-wide exhibition that reclaims Toronto's streets and buildings as spaces for public art. This year's themes, explored across almost 90 city-curated and independent exhibits, appear as a microcosm of the world's most pressing global concerns, exploring ideas around revolution, political resistance, and the environmental and cultural implications of calling a place home.
While the nature of the event is deeply rooted in visual, performance and installation art, both sound art and music always find their way into the night's offerings—and this year is no exception.
Here are six music and sound art projects worth checking out at this year's Nuit Blanche.
Monument to the Century of Revolutions
Curated by Nato Thompson, one of the most ambitious projects this year will be "Monument to the Century of Revolutions," a series of exhibits and performances on themes of revolution and social justice taking place in large shipping containers stationed outside city hall. Several of these performances centre music in their work: The Rematriation of Revolution presents music and storytelling from Indigenous hip hop fusion collective Red Slam, Lukumi Dub Opera: 150 Years Before & After uses multidisciplinary performance to explore the legacy of Canada's relationship to land and environment, and Toronto Through Sound presents local electronic duo LAL, who will generate soundscapes inspired by Toronto's different neighbourhoods and the city's position as a meeting place for Migrant and Indigenous histories. With over 21 projects hosted in Nathan Phillips Square, this large-scale exhibition is sure to contain elements that resonate powerfully with audiences, musical and otherwise.
Where: Nathan Phillips Square
Details: https://nbto.com/program/art-projects/curated-exhibitions/century-of-revolutions.html
Listen to the Chorus
A statement on women's voices in the public sphere, Listen to the Chorus is a video installation aiming to generate a women's "chorus of resistance." The choral music itself was written by Cecilia Livingston, a Toronto-based composer who has previously worked with groups like Tapestry Opera, Thin Edge New Music Collective and the Bicycle Opera Project. The outdoor installation will be presented in the Ontario Police Memorial, across from Queen's Park.
Where: Ontario Police Memorial Park
Details: https://nbto.com/project.html?project_id=261
Dream Variations
Created by Abbas Akhavan and Kristina Lee Podesva in collaboration with "Mes Amis Canada / Darzee", Dream Variations offers U of T's music faculty building as a place of rest for nighttime travellers. Featuring rows of cots to lie down on and groups of improvising vocalists, Dream Variations seeks to ask questions about home, rest and recuperation, in the context of Canada's local migrant, refugee and newcomer communities.
Where: Edward Johnson Building
Details: https://nbto.com/project.html?project_id=259
Transmissions
Designed by art and science collective SubZeroArts, Transmissions is a sound sculpture located at 401 Richmond, generated using broadcasted recordings of solar interference, deep-space transmissions, and other cosmic and radio anomalies. Intended to encourage audiences to discover new sounds and rethink their relationship with space, Transmissions aims to bring unusual soundscapes to the forefront of audiences' consciousnesses, and to create a bridge, via sound, between present and future.
Where: 401 Richmond
Details: https://nbto.com/project.html?project_id=451
DELIGHT
[R]ed[U]x Lab is a collective of designers from Ryerson University, who focus on the use of digital and interactive technologies in their work. In DELIGHT, also located at 401 Richmond, [R]ed[U]x Lab has created an interactive installation that uses the ambient noise of the room to trigger movement from glowing orbs of light. Intended to react to the noises that audiences create in the space, DELIGHT uses kinetic sculpture to create a social and playful sound-making environment.
Where: 401 Richmond
Details: https://nbto.com/project.html?project_id=463
Have You Seen My Sister?
Created by ad-hoc collective Artists of the Aurora, this outdoor project will travel along Grosvenor Street. In an interactive composition for voice, artists will sing in recognition of Canada's missing women, and interrogate the cultural and political legacies that leave some communities of women routinely overrepresented in statistics around violence and disappearance.
Where: Grosvenor Street, between Bay Street and Surrey Place
Details: https://nbto.com/project.html?project_id=465
Planning in advance for Nuit Blanche has its limitations: with crowds of nighttime wanderers, several intermingling communities and philosophies of art-making, and many exhibits being shown for the very first time, the lived experience of the night often differs from what's promised in the exhibition program. But at the same time, the secret to unlocking Nuit Blanche's potential is in these opportunities for spontaneity: in the joy of reclaiming the city's streets, in unexpected artistic discovery, and in seeing the city in a new and different light. Happy wandering!
Sara Constant is a Toronto-based flutist and music writer, and is digital media editor at The WholeNote. She can be contacted at editorial@thewholenote.com.