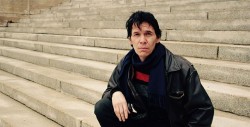 Three weeks ago, Winnipeg-based composer Andrew Balfour got an email from Highlands Opera Studio, with a commission for a 90-minute opera. The only catch: the workshop performance was less than a month away.
Highlands Opera Studio, which operates as a summer workshop, residency and festival season in Haliburton, originally had a different opera premiere in its 2017 programming: a work-in-progress titled Wiikondiwin, by Odawa First Nations composer Barbara Croall. However, extenuating circumstances forced Croall to withdraw from the project last month. When the studio contacted Balfour, the timing was tight.
According to Balfour when we spoke on the phone last week, this is the shortest notice he's ever received, by far. "It was only a few weeks ago when I first got contacted by the studio," he explained. "The email was marked URGENT, in capital letters."
We frequently hear about performers who need to be replaced at the last minute because of injury, illness or personal circumstances – but for one composer to step in for another on a commissioning project is a different thing entirely. "At first it just seemed impossible, from a practical standpoint," Balfour says. "But the original idea of doing an Indigenous opera, I've wanted to do for some time. So I listened to them and they sent me the outline, and I said, yeah, this is possible."
The opera, titled Mishaabooz's Realm, will tell the story of Mishaabooz or Nanabozho, a shapeshifting trickster spirit described in Anishinaabe storytelling. Parts of the opera will be presented in a workshop performance at the Highlands Opera Studio on August 19; after that, Balfour will write the remainder of the opera in Winnipeg, which will be premiered in full at L'Atelier lyrique de l'Opéra de Montréal (and reprised in full in Haliburton) in the fall. In its final iteration, Mishaabooz's Realm will be a 90-minute chamber opera incorporating both classical and Indigenous elements, featuring soprano Adanya Dunn, baritone Samuel Chan, pianist Louise-Andrée Baril, Aboriginal vocalist/drummer Corey Campbell, and Balfour himself as a vocalist and percussionist.
"I've had ideas in the last couple years about how I'd want to approach this," says Balfour, who himself is of Cree descent. "I do know with Canada 150, there's a lot of funding [for things like this] – and some of the projects that have happened already I feel haven't really hit the mark. A lot of it is Eurocentric. Opera might be a Eurocentric form of artistic expression but for me, opera, especially opera like Wagner's, is based on myths...and in the oral tradition of the First Nations, myths and legends are everything."
He adds that for him, capturing the spirit of the project while creating something wholly his own has been an ongoing concern. "I had to be really careful – practically and to do it with integrity and research," he says. "It wasn't originally my project, so I had to make sure that the restructuring of this project and commission would be true to the original plan, but wouldn't be taking someone else's idea and just writing music for that. I use my instinct a lot for these things. This one felt right."
Balfour is currently living in Haliburton and working with the singers at the studio, in preparation for their August 19 performance. "This is kind of in some ways a composer's dream," he says. "I've been here for four days, and I really feel that in this environment, they've given me a lot of flexibility and freedom. There have been plenty of opportunities for me to workshop with singers. I have a laptop so I've been wandering around writing snippets. I'm staying with wonderful billets who have given me a studio space. It's unique."
For Balfour, opera brings with it a lot of cultural baggage – but at the same time, an opportunity like this one also provides the chance to add new depth to the way our country frames its national storytelling. "I've always felt that opera, especially 19th-century opera, is kind of like showing off, writing-wise and also singer-wise," he says. "But I have a bigger picture, at least in terms of the collective. It's not an anti-Canada piece. It's not an anti-European piece. But it's still going to talk about some hard truths. Whether it's a Truth and Reconciliation call to action, or the idea of important Indigenous issues right now, socially speaking, the direction I've been going in for the last 15 years has been to create things that bring awareness [to these issues] – whether good or bad, and whether people get it or not.
"I know what I can do, and I know what I've been doing for awhile," he adds. "But I feel that there's a bigger national picture [here]."
More than anything, the one thing Balfour wants to get across with this work is that true collaboration, especially when non-Indigenous organizations want to work with Indigenous artists and performers, has to come from a place of respect. And that when that happens – even when the task seems impossible – the result can be magic.
"Someone asked me if I was creating a stew," he says. "I'm not. A stew, you just throw a bunch of stuff in and let it boil; here, you have to be a lot more careful. And I'm still in the early stages of this, but I want people to hopefully get a sense that this comes from a respectful place."
"As a writer, it's a challenge," he continues. "I've never taken something at the last minute like this. But I know it's possible, because this is a real collaboration. I'm using all of my resources out west, and I'm using what I'm learning, and meeting these people right now, with their resources and respect. And I think we're going to have something special."
Andrew Balfour's opera Mishaabooz's Realm will be performed in part, as a public workshop, at Highlands Opera Studio on August 19, in Haliburton; details at www.highlandsoperastudio.com.
Sara Constant is a Toronto-based flutist and music writer, and is digital media editor at The WholeNote. She can be contacted at editorial@thewholenote.com.