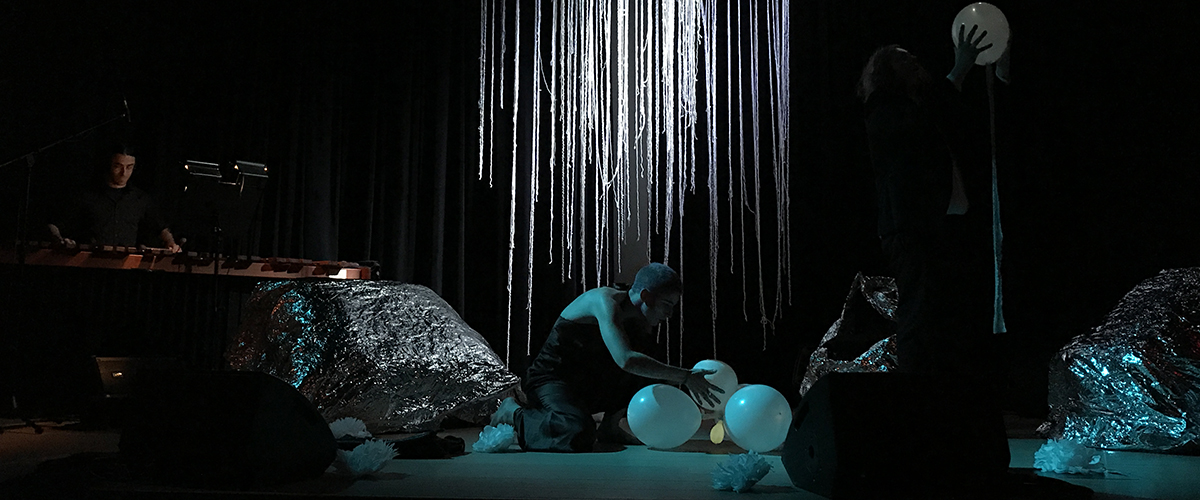 Who knew that an album launch could become a unique theatrical experience? Yes, all right, the stars of pop music with mega-budgets and production companies do, but experimental mixed genre pop singers and small opera production companies don't usually seek each other out for projects. Singer Kyrie Kristmanson invited the team of Against the Grain Theatre to create a theatrical component to the Canadian launch of her songs from Modern Ruin, and Friday night's delightful do "Une rêverie musicale," at the small theatre space at the Alliance Française, was the result.
Amanda Smith directed the first act. The little fantasy with a dancer (Mary-Dora Bloch-Hansen, in her own choreography) and a baritone (Adam Harris) had few props – some chairs covered with shiny metallic paper and some balloons. Music was a combination of purely instrumental and vocal, mostly French except for a bit near the end from Philip Glass' Glassworks. It all sounded like one atmospheric piece thanks to the instrument that carried it all, marimba (Nathan Petitpas). Satie's Gymnopedie 1 started the proceedings, and we got to meet the androgynous dancer (with glorious face make-up) first. The baritone entered as a late audience member and joined her onstage. Their interaction had, refreshingly, nothing to do with a potential seduction or couple formation. They were, more imaginatively, like two creatures from different planets trying to communicate through play.
Petitpas also played Satie's Gnossiennes 2, 3 and 5, and accompanied Harris in Poulenc's Hôtel and the final Après un rêve by Fauré, which I've never before heard in baritone register. A lot of sopranos perform this song, but it's obvious to me now that it's more appealing in a lower voice. Marimba added a dream-like quality.
It's how opera as an art form began, really – as an intermedio between something else, between the acts of a theatre play for example. "Une rêverie" reminded us that it can still work perfectly fine like that – in this case, as an album launch with an operatic interlude of its own.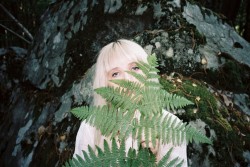 The second half of the show was Kyrie Kristmanson's set. Kyrie Kristmanson is a new artist to me, but I'm glad I discovered her. The labels "folk" or "pop" or "baroque" don't quite do her justice. Friday night she performed a set with the amplified Warhol Dervish string quartet. Among her singer-songwriter interests are recomposing and arranging what's left of the songs of the trobairitz, the Occitan female version of the troubadours, and some of the songs in the program did have a distant medieval musical ring to them. Mostly the numbers they performed were musically more complex than medieval music, and more complex than any of the stuff performed by folk or pop or cabaret musicians. Few songs had a predictable danceable beat prevalent in pop concoctions. At first I thought I had finally found a Canadian version of what Rosemary Standley does in her baroque/folk work, but the music that Kyrie and the Warhol Dervish quartet play is more contemporary instrumental, with none of the simple and immediate appeal of pop songs. Kudos to them for smuggling in quite a bit of demanding listening into the popular song form and taking the road less travelled but more adventurous.
Kyrie Kristmanson, the Warhol Dervish quartet and artists from Against the Grain Theatre presented "Une rêverie musicale" on Friday, October 13 at Alliance Française, Toronto. Kristmanson's next concert is at the NAC in Ottawa (October 19), after which she is off to Regina, Montreal and to a festival in France.
Lydia Perović is an arts journalist in Toronto. Send her your art-of-song news to artofsong@thewholenote.com.