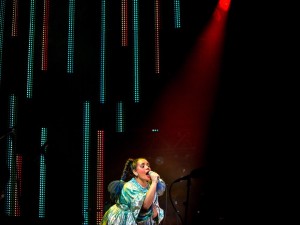 It is almost three years to the day that I first covered the Polaris Music Prize Gala for The WholeNote.
I've spent my creative and journalistic career in the classical, contemporary concert and various world music camps. Founded in 2006 by Steve Jordan, a former A&R Executive with Warner Music Canada and True North Records, Polaris seemed to me to represent an alternate – and in many ways much more mainstream – picture of our national music scene. Embedded in the Canadian music industry and notwithstanding its inclusive-sounding mission statement – "A select panel of [Canadian] music critics judge and award the Prize without regard to musical genre or commercial popularity" – I must admit Polaris was just not high on my personal radar.
That was until Tanya Tagaq's brilliant, overtly political album Animism made the 2014 Polaris shortlist. Joined onstage by her band (including violinist/producer Jesse Zubot and extraordinary drummer Jean Martin) and Christine Duncan's 40-voice Element Choir, Tagaq's Animism album was awarded the Prize later that September 22 night.
The video of their exhilarating 10-minute performance eventually garnered a record number of online Polaris views. Tagaq's win marked an even more significant Polaris milestone – the first time the Prize was awarded to an Indigenous musician. (The album also took the JUNO Award for Aboriginal Album of the Year the following year.)
My report When Tanya Tagaq Won the 2014 Polaris Music Prize mentioned the importance of sonic mindfulness in her work, privileging not so much music as an entertainment commodity, but sound as a universal human experience, a force for good in this world. Animism embodied those notions, and more. I saw in the album "a musical, political and cultural act of great bravery, [as well as] a provocative confrontation on colonial and ecological fronts…[and] a platform from which to continue discussions of social reconciliation and healing."
Fast-forward to the Polaris 2017 shortlist.
What immediately caught my attention was that four of the ten albums chosen this year directly reflected current Indigenous realities. A Tribe Called Red, Lido Pimienta, Tanya Tagaq, all Indigenous artists, were joined by Gord Downie's Secret Path, a powerful concept album about Chanie Wenjack, the young Anishinaabe boy who died in 1966 after escaping from a residential school. Secret Path acknowledges a dark chapter in Canadian history – and offers the hope of starting our country on a road to reconciliation by facing up to some very troubling truths. "We are not the country we think we are," wrote The Tragically Hip's frontman and lyricist Downie. "It will take seven generations to fix this."
Arriving at the seventh floor foyer of Toronto's The Carlu for the Polaris Gala on September 18, 2017, I was met with a room full of very loud music industry buzz. I bumped into a friend, Lido Pimienta's percussionist Brandon Valdivia. It was Valdivia's first Polaris and he seemed a mix of bemusement and excitement. When I mentioned the sometimes-sketchy sound system in the hall, he adroitly replied, "but Glenn Gould called the Eaton Auditorium's acoustics among the best in North America," before rushing off to set up.
Of the performances at the gala, Tanya Tagaq's performance, of songs from her album Retribution, stood out – and stunned the audience. She ended with a cover of Nirvana's Rape Me, during which a number of women in the audience rose dressed in red, fists held high, reminding us of the tragedy of the multitude of missing and murdered Indigenous women and girls.
A Tribe Called Red was represented not by a live performance but a music video, as was Leonard Cohen and BADBADNOTGOOD. Feist sang I Wish I Didn't Miss You solo, accompanying herself on guitar; Leif Vollebekk sang his loose-limbed ballad All Night Sedans with his band; and the band Weaves rocked the house.
The Colombian-born Canadian singer-songwriter Lido Pimienta, who identifies as Afro-Colombian with Indigenous Wayuu heritage on her mother's side, sang an explosive set, animated by a group of white-clad dancers in the final minutes. In addition to her acrobatic voice, the sound of the tambura (Colombian bass drum), snare drum, electronics and a four-piece horn section dominated the music. Her album La Papessa "has no guitar! I feel like there's too much electric guitar in music, and it's just so dude, so guy," Pimienta said in a 2014 Musicworks interview.
At the concert's end, last year's Polaris Music Prize winner Kaytranada revealed this year's winner, calling up an excited Pimienta, her mother and her 9-year-old son to the stage.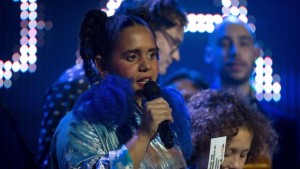 Pimienta's acceptance speech was peppered with references to themes she explored on her self-produced, independent, label-less album La Papessa (meaning The High Priestess, a card in the tarot), including racism, patriarchy, spousal abuse, resilience, independence and issues facing BIPOC (Black, Indigenous, People of Colour) communities. She made a point of acknowledging that we were guests on Anishinaabe and Haudenosaunee land, and also the significance of winning Canadian music critics' top prize for an album sung mostly in Spanish, and not in English or French. She thanked "all the single mothers out there who inspire me."
Pimienta's 2017 Polaris win was a reminder of one powerful direction Canadian music is traveling today. Indigenous musical creators such as Tagaq, Pimienta, A Tribe Called Red and 2015's Polaris Prize winner Buffy Sainte-Marie are being acknowledged by the mainstream not only for their artistic achievement, but also for their central contribution to the ever-evolving conversations about past, present and future Canadian identities. Like those forebears, Pimienta's music is an act of political and cultural bravery, confronting mainstream white/settler status quos with fiery sounds and words.
The Carlu, in its previous incarnation as the Eaton Auditorium, was certainly an impressive and influential place – one that Glenn Gould described in the mid-20th century as one of the best acoustics in the world. But the 2017 Polaris Prize gala at the renovated and rebranded Carlu, unlike the Eurocentric music culture that the Eaton Auditorium once represented, points to a different reality. As Gord Downie framed it, the only viable way forward is to listen closely to one another, and to the many diverse voices among us – particularly those who were making music on this land thousands of years before countries like Canada were even imagined.
Andrew Timar is a Toronto musician and music writer.