Mont Orford is nestled in Mont Orford National Park, in the eastern townships region of Quebec. It's also where the New Horizons International Music Association – perhaps best-known for their New Horizons band program for mature student and amateur musicians – held a music camp, from September 10 to September 14, 2017. As a clarinetist and member of the New Horizons Band in Toronto, I packed up my instrument and prepared to attend.
The New Horizons philosophy of music-making for mature adults, founded by Dr. Roy Ernst, was prevalent at this camp. Ernst, former professor emeritus at Eastman School of Music at the University of Rochester, attended himself, and performed in many of the camp's activities.
The talented faculty from Canada and the United States enjoyed sharing time and music-making with over 150 mature attendees, over four days of rehearsals and workshops. Music sessions included several interesting and motivational choices: conch choir, Celtic and ukulele ensembles, and Jazz and Dixieland bands; chorus and pop song choirs; and concert bands at both advanced and intermediate levels. Excellent performances by all camp attendees at the final concerts concluded the four-day program.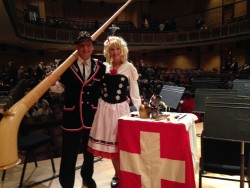 Several members of the New Horizons Toronto Band were in attendance. The talented Toronto musicians participated in all sessions, playing a cross-section of wind and string instruments. One outstanding instrument was the alphorn, played daily by none other than Dan Kapp, music director of the New Horizons Band of Toronto. At 7am every morning, camp attendees/musicians were awakened with that tone! Dan also conducted the advanced band. The president of the New Horizons Band of Toronto, flutist Randy Kligerman, was also in attendance, performing in the advanced band as well as in the woodwind and ukulele ensembles.
As I have discovered, a music camp experience has many motivational aspects. For mature adult music makers, the self-directed learning opportunities in music ensembles, sectionals, choirs, choruses and bands are available, for those who seek them out – with New Horizons being a prime example. Attending my third International New Horizons Band Camp was rewarding – and with this motivation, I will continue to attend band camps in 2018.
On that note, do attend a New Horizons band camp. Soon.
More information on New Horizons music camps, as well as the New Horizons band programs, can be found at www.newhorizonsmusic.org.
Gail Marriott is a clarinet player (intermediate and jazz) and an educator/financial planner.