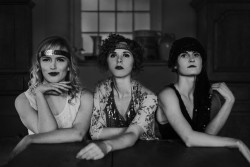 (HOGTOWN's Laura Larson (Louise "Lulu Hearts"), Karen Slater (Maddy Foster) and Emma Wiechers (Anastasia). Photo Credit: Sam Gaetz.)
Last Friday was the 21st of July, 2017, but for a couple of hours it was also a summer night in 1926 in prohibition-era Hogtown – aka Toronto the young and gritty. About 18 months ago I had made the exact same time travel trip, walking through the doors of Toronto's historic Campbell House to see the very first dress rehearsal of Sam Rosenthal and Drew Carnwath's HOGTOWN: The Immersive Experience, a new site-specific show designed to fit into the many rooms of Campbell House on one hand and, on the other, to bring to life as many aspects of life in 1926 Toronto as possible. It was fun but still at an early stage of figuring out how many characters to include and how to combine and interweave all the storylines. Last summer the show was developed further and revived, and now, this summer, a new version has just opened, streamlined and focused and with some great musical additions.
No more than sixty people can attend at once, and the night I was there, there were about forty of us. After a casual pre-show in the courtyard where various characters interacted with the audience, we were gathered into the house and split into three groups to experience the three foundation scenes of the main storylines. On the main floor in the dining room, we met the two rival mayoral candidates, ambitious social reformer Sam McBride and incumbent Thomas Foster; McBride's wife; various Toronto movers and shakers; and the kingpin of the night, suave and conniving union boss Bob Delacourt. Partway downstairs was the gambling den, and a bit further down the speakeasy, home to hostess Carl-Mays, the White Hot Jazz Band, and dancers who captivated with a gloriously 1920s song-and-dance number. Up at the top of the house was the meeting for the women's Temperance League, a fiercely led group of women fighting to maintain prohibition and make sure that the prohibition candidate is elected, and in between were bedrooms, parlours, staircases and hallways, where the action used every available space.
It was great fun being immersed in the Toronto of the twenties, with prohibition and illicit drinking raging, gangsters and politicians rubbing elbows, politicians' wives and daughters up to various shenanigans, a mild-mannered reporter – our MC for the start of the evening and in love with the daughter of one mayoral candidate – tracking down a story, the innocent and not so innocent famous ( including baseball star Tommy Burt) and unknown (including two young flappers skipping out on other responsibilities to join the speakeasy as dancers for the night), with everything tuned up to a high stakes pitch on the eve of the election.
The first incarnation of the show was very much a theatre piece that included music only in the speakeasy location. Now, music has percolated up and through the house: original compositions by music directors Douglas Price and Paul Humphrey added to period standards to flesh out characters and relationships and give new impetus to various plot points. When I spoke to director and co-writer Sam Rosenthal after the performance, he said that in the first year audiences had really responded to the musical scenes and he wanted to build on that to see how it might strengthen the experience as a whole.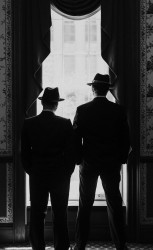 (Sam Rosenthal (HOGTOWN's co-creator/director) and Jorge Molina (Gil Shwartz). Photo credit: Sam Gaetz.)
Since for the first three scenes of this show, you're on your own to decide where to go and what to watch, I didn't get to see all the songs – sadly missing a gangster number in the gambling den – but I did see some wonderful new pieces: a Gene Kelly-esque duet about family expectations for baseball player Tommy Burt (Eric McDace) and aspiring reporter Ronny McBride (Saphho Hansen Smythe), a fun solo by flapper Lulu (Laura Larson) about how to navigate society, the fabulous "Temperance Tantrum" led by powerhouse head of the temperance league Mary O'Grady Hunt (Tara Baxendale) with stylized character breakout solos for her outwardly demure daughter Eleanor (Jaymee Fuczek) and for wild radical board member Pauline Drabble (Andrea Irwin), and Eleanor's period-flavoured "Got A Lot' song in the speakeasy where she dares to bet on a horse race. The numbers were all fun, well sung, and brilliantly choreographed by Nicola Pantin. Not all the new numbers were true to the style of the 1920s, and sometimes felt composed in a later (1940s) or more contemporary musical theatre mode. Somehow this still worked, as the period was so strongly evoked at the beginning of the show, and by various numbers throughout, including "I Wish I Could Shimmy Like My Sister Kate," a knockout solo by Arinea Hermans as Toni Swift.
The last new character number I saw was the moving final song, sung by speakeasy hostess Carli-Mays Johnson after she has been told she has been traded to a Chicago crime boss as part of a big Bob Delacourt deal. Michelle Piller was both hard nailed and heart breaking, evoking a magnetic combination of Bebe Neuwirth and Patti Lupone, a rich ending to that character trail. At that point we were all gathered up to the ballroom for the finish of the evening and a wrap of the story, capped by a full company number sung in the courtyard.
For a lover of musical theatre this new version of Hogtown is a delight. I wonder, though, if more traditional theatre lovers would feel the same way. Some of the grit and darkness of the earlier version is subsumed by the innocence of the musical numbers, so the creators/producers have an interesting dilemma on their hands; they are in a very interesting place of having experimented with going in a musical direction and needing to decide whether, in future editions, it will be more a play with music or more of a full-blown musical. 'Finished' or not, however, Hogtown is a great way to spend a couple of hours and a fun window to Toronto's past. I know that I would like to go again to follow some of the other storylines and see some of the numbers I missed this time around.
HOGTOWN: The Immersive Experience plays at Campbell House until August 20. For more information and to buy tickets you can visit www.thehogtownexperience.com or http://www.campbellhousemuseum.ca
Toronto-based "lifelong theatre person" Jennifer (Jenny) Parr works as a director, fight director, stage manager and coach, and is equally crazy about movies and musicals.