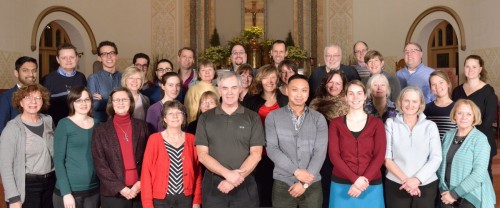 Johann Sebastian Bach was the premier Masterchef of his time. By using the musical ingredients of his era in extraordinary ways, Bach was able to concoct an infinite number of deep and complex masterpieces, usually under a significant time crunch. His cantata cycles are legendary, his passions profound, and his motets magical. It was these motets that were on display in the Tallis Choir's Bach: The Six Motets performance on Saturday, October 14 in Toronto: a smorgasbord of Bach's smaller liturgical choral works, composed outside the regular cantata cycles.
Appetizer
Nothing produces an immediate feeling of penitence like a wooden Catholic Church pew, and the seats at St. Patrick's Church are no different – within minutes of sitting, one's back end starts to ache. The venue is nonetheless a striking one, ϋber-Catholic in its setup but beautifully decorated: each wall covered in a kaleidoscope of icons, murals and statues, the walls painted a luminescent white, a rather paradoxical spot to hear the pinnacle of Lutheran musical theology. The acoustic at St. Patrick's, with its immense ceilings, is incredible – lively, robust and perhaps, at first listen, better suited to the homophonic chromaticism of Bortniansky or the expansiveness of Tallis and the Renaissance masters than repertoire featuring rapidly-paced contrapuntal intricacy.
Each of Bach's six motets are works unto themselves, and the program (featuring excellent notes by the musicologist Doug Cowling, who passed away at the beginning of this year) was well-structured, providing contrasts in character and affect that provided aural relief without changing composers or styles. With only a basso continuo line (played by cello and organ) as accompaniment, the chorus is unleashed in its full expressive and technical capacities, the motets serving as micro dramas, mini multi-sectional cantatas with their own dramatic arcs. There is a certain danger with Bach, in that a Bach-only concert can (continuing our buffet allegory) be too rich and overwhelming for the palate, especially when presenting a collection of related works. There was no such problem this evening, the thoughtful order of the motets making the concert conceptually straightforward and aesthetically appealing.
Entrée
There are a number of approaches one can take when interpreting Bach, but a standard characteristic of the modern approach to baroque music is an idea known as 'conjunct/disjunct motion': the concept that notes which are close together, stepwise passages for instance, are sung more smoothly than notes that are separated by larger intervals. 'Legato' as we understand it today is to be used sparingly and as an expressive item, a sauce that finishes the dish rather than the broth it sits in.
The choir's first offering, the tripartite Lobet den Herrn BWV 230, has an opening which is described in the program notes as shooting upwards "like a rocket." The choir's smooth phrasing of this rising theme, coupled with the venue's cavernous acoustic, made this interpretation rather muddied and texturally ambiguous – we knew it was a fugue from the written notes, but many of the characteristic features of the fugue were obscured.
This was a pervasive conflict within the first half of the concert, the choir and their smooth articulations battling the voluminous void of the space. In the multi-movement motet Jesu meine Freude, in which Bach combines and contrasts affects and styles to great effect, a number of the more energetic passages, particularly those with repeated notes ('die nicht nach dem Fleisch wande', for example) likewise lacked clarity.
Peter Mahon, the Tallis Choir's conductor, effectively resolved the issue in the second half of the program, which came off splendidly. Throughout the concert, the choir seemed to grow stronger as they went on; when the final motet, the fearsome Singet dem Herrn, was sung, one wondered how the choir was still standing! By this time the ensemble and its venue had melded, and even the fleet-footed 'Halleluja!' was clear and energetic.
Dessert
Interspersed between motets were movements from Bach's Cello Suite No.6, a brilliant programming move that evoked a similar-yet-different soundscape from the German Baroque master. Bach's sixth cello suite is unique in that it was written for five-string piccolo cello, a smaller and higher-pitched cousin of the standard four-stringed cello.
Cellist Kerri McGonigle, playing a piccolo cello on loan from Tafelmusik cellist Christina Mahler, executed the suite with panache, although the programming that worked so well for the audience made her evening into an athletic performance! In addition to switching back and forth between five- and four-stringed cellos multiple times, there was the additional issue of temperamental gut strings which, left unchecked and untuned for extended periods of time, made her forays into solo repertoire fraught with tenuous tuning. Even one brief tuning break in each half would have helped the issue, which was made most apparent when open strings were played. This was, however, a logistical issue, not a musical one, and did little to hamper the beauty of the suite, particularly the sensuous Sarabande.
Final Thoughts
In this remarkable Olympiad of a concert, the primary issue was ultimately one beyond anyone's control: that of a venue mismatched to the music performed therein, an acoustic too wet for the contrapuntal commotion that Bach composed. The weather, which was also too wet that evening, undoubtedly contributed to the occasional cello tuning issues.
A performance of a Bach work is a project, an entire concert of Bach works nothing less than a monumental undertaking. Despite the countless hours of rehearsal and labour involved in this concert, part of a season celebrating the Tallis Choir's 40th anniversary, the music came across as effortless, enthusiastic and organic. Bravo to all involved!
The Tallis Choir performed "Six Bach Motets" on Saturday, October 14 at 7:30pm, at St. Patrick's Church in Toronto.
Matthew Whitfield is a Toronto-based harpsichordist and organist.