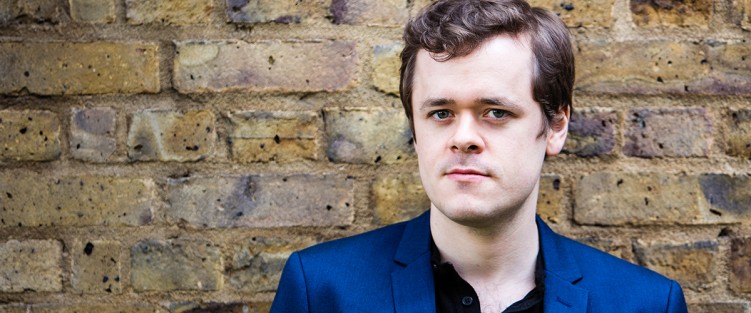 Benjamin Grosvenor has an uncanny knack of getting to the essence of any piece he plays. Add to that a burnished tone (he is one of the supreme colourists performing today) and impeccable, unfettered, seemingly effortless technique and you have one of the best pianists on the current concert stage.
Grosvenor is a unique creator of sound, worlds within worlds, attentive and nuanced; a riveting performer with keen musical insights. In the public eye for more than half of his life, the 25-year-old returns to the Jane Mallett Theatre November 7 for his third Music Toronto appearance since March 2014. The following email exchange took place in mid-September and focuses on that upcoming recital.
WN: You became the youngest-ever winner of the keyboard section of the 2004 BBC Young Musician of the Year Competition when you were 11. How life-changing an event was that?
BG: I think the competition cemented in my mind the idea that I would like to be a pianist. It was a great experience at the time, in particular the final which gave me the opportunity to play with a professional orchestra for the first time. The attention it brought began my career, although in those early years I did not give many concerts as naturally I needed the space for schooling and simply to grow as a musician.
Who was the first composer you fell in love with as a child? Who were the first performers you fell in love with?
The first composer I really fell in love with was Chopin, and the first piece I played that I felt a significant connection with was by him - one of his waltzes. The first performers who had an attraction for me were those that I saw playing live (Stephen Hough and Evgeny Kissin, for example) as well as Argerich, Horowitz and Lipatti, who were artists whose recordings we had in the house. It was only in my early teens that I began to listen more widely to other pianists and musicians and discovered many other names both current and historical, becoming fascinated by artists such as Cortot, Feinberg, Schnabel and others.
You said in a 2013 YouTube webcast that your attraction to composers like Chopin, Beethoven and Bach initially came from listening to recordings by pianists from the first half of the 20th century. Are you still inspired by these giants of the piano? What has been inspiring you recently?
I still find these pianists to be a source of inspiration - I was recently listening once again to some of Cortot's Schumann recordings which are a marvel. I find these days though that I have less time for listening than I would like, and particularly not enough time to attend live concerts. Something I often relish about playing with orchestra is the opportunity to hear the second half of the program.
Our previous email exchange was prior to your 2015 Toronto concert with its Baroque rearview-mirror quality. Your program consisted of most of the pieces you recorded shortly thereafter for your Homages CD. I'd like to focus on your upcoming Music Toronto recital, beginning with Mozart's Sonata No.13 in B-flat Major, K333 "Linz." What in Mozart speaks to you in general? And what in the "Linz" sonata in particular?
There is a distilled quality to Mozart's music - it has such purity and directness of emotion. But it is not just gilded, elegant music, rather music that teems with energy, complexity and life, with such a range of character and emotion. He had an extraordinary gift for juxtaposing diverse ideas and elements in ways that seem natural and effortless, and it is music always filled with the surprising and the unexpected.
The piano sonatas are fascinating works to play in that there is such vivid characterization of the material. His ingenious uses of textures make the most of the instrument's limitations, and the music seems so often to refer to other timbres and instrumental combinations. With one instrument responsible here for the whole dialogue, the writing is even more varied than that of the piano concerti (where the piano only needs to be a piano!) and though written in a pianistic context, one can imagine wind solos, quartets and tuttis. The Linz sonata is a great example of this. The outer movements have a tremendous sense of nervous energy and joie de vivre, both rich in thematic material and character. The last movement seems - with its written-in cadenzas and apparent solos/tuttis - almost like a piano concerto without orchestra. The slow movement is incredibly tender and lyrical, with wind serenades and string quartets, and has a particularly unsettling and affecting middle section.
Brahms' Four Pieces for Piano, Op.119 are so contemplative, eloquent and emotionally rich. Clara Schumann famously described the first as a "grey pearl, veiled and very precious." How would you characterize them?
They are four singular and contrasted works. The first has a sense of sadness and resignation, with a large amount of dissonance, particularly in the opening bars which give the piece from the start a particularly searching and doubting atmosphere. The second is agitated in the outer sections, with a luminous waltz in the middle, all based on the same material. The third intermezzo is light-hearted and humorous, and the Rhapsody is largely defiant and joyous, though it ends with darkness and agitation in the tonic minor.
Brett Dean conceived his Hommage à Brahms as three interludes to be played interspersed between the Op.119 Piano Pieces. What moved you to take the audience on that journey?
I worked with Brett as a conductor in Australia when we did Mozart K466 together. I was at that point considering programming Op.119 when he sent me these pieces, written for Emanuel Ax. I thought it was very effective as a set, with the pieces providing illuminating contrasts to the Brahms works, and that it was fascinating to have this juxtaposition of old and new.
The second half of the recital begins with a piano arrangement of Debussy's Prélude à l'après-midi d'un faune. Did you discover it through George Copeland's 1918 recording? Is it a variant of Leonard Borwick's arrangement? What attracted you to it?
I had been interested in playing some more Debussy, and a friend pointed me in the direction of the Copeland recording which I thought was very effective in capturing the spirit and essence of the piece. There is an interesting quote from Copeland about his transcription: "I spoke to [Debussy] of my desire to transcribe some of his orchestral things for the piano – music which I felt to be essentially pianistic. He was at first sceptical, but finally agreed, and was in complete accord with the result. He was particularly delighted with my piano version of L'après-midi d'un faune, agreeing with me that in the orchestral rendering, which called for different instruments, the continuity of the procession of episodes was disturbed. This has always seems to me the loveliest, the most remote and essentially Debussyan, of all his music, possessing, as it does, a terrible antiquity, translating into sound a voluptuous sense that is in no wise physical."
However, examining the scores of the original and these two transcriptions, I came to the view that Copeland was a little sketchy in places, almost as if a reminiscence of the work; Borwick better preserved compelling subtleties in these passages. What I have ended up playing is mostly Borwick, with a few touches of Copeland and of my own.
I find it intriguing that the original version of the Debussy was written in 1894, just a year after the Brahms Op.119, and that the final two works on your program, Berg's Sonata Op.1 and Ravel's Gaspard de la nuit, were both written in 1908. How did you decide on the repertoire for the Toronto concert?
This was part of the idea for the construction for the program. Indeed, with the Mozart as a kind of preface, there are four seminal works here that were written within two decades, and I think it fascinating to hear them together. The Debussy, with its whole-tone scales and unstable tonality, is the bridge in that sense. Indeed, Pierre Boulez called it the beginning of modern music.
What drew you to the Berg sonata?
I have loved Berg's music since playing some of his early songs during my studies at the Royal Academy. I had also had a good experience getting to know his violin concerto by reading it through with a friend who was preparing it. I love this rich and dense harmonic world, with its tonal ambiguity, whole-tone scales and chromaticism. It is an emotive work, dramatic and uneasy, with a sense of tension that stretches from the first cadence until the final coda when the tonic triad is finally reinstated.
Gaspard has been a staple of yours for many years and it appears on your first Decca CD (2012). What fascinates you about it?
Gaspard contains some of the most evocative music written for the piano. In playing this music, you feel somewhat like a painter, with so many colours at your disposal, but it is perhaps above all about invoking atmosphere – casting a spell. The poems by Bertrand always add a particular fire to the imagination. I think my favourite piece of the set remains Le Gibet, which is so hypnotic and awe-inspiring. There is one phrase in particular in the middle of the piece which I never cease to find deeply moving, where – among all this that seems larger than the individual – suddenly there emerges this sense of personal vulnerability, and of incredible sadness.
I've read that you find the stage to be liberating. Please elaborate.
Performing onstage can feel liberating, but I think performances feel very different from occasion to occasion. I would say the form of music making I find most consistently liberating is chamber music. You are making music with others - all striving for the whole to be greater than the sum of the parts - yet the intimate scale means that it is a true partnership of equals. It can be entirely magical!