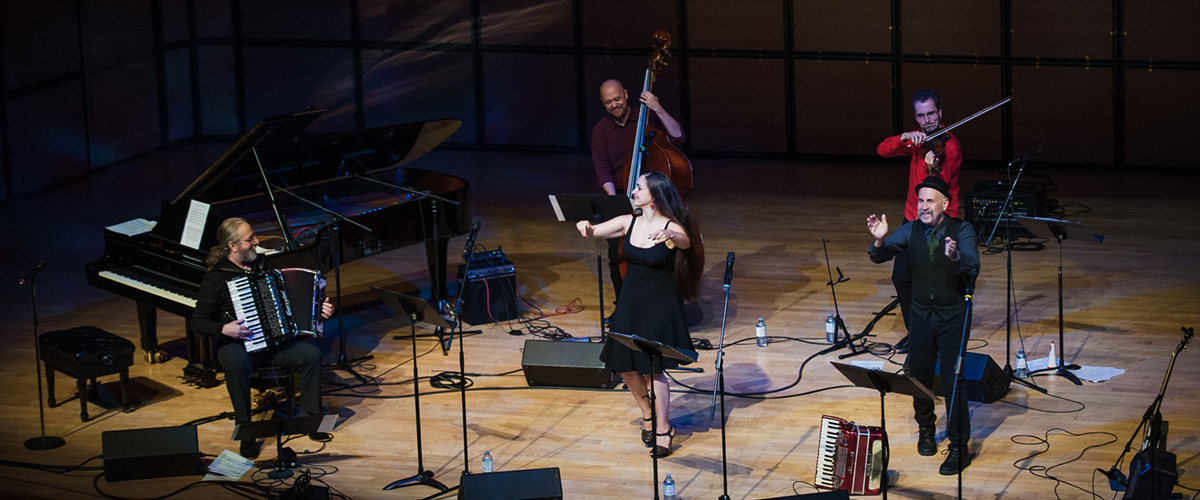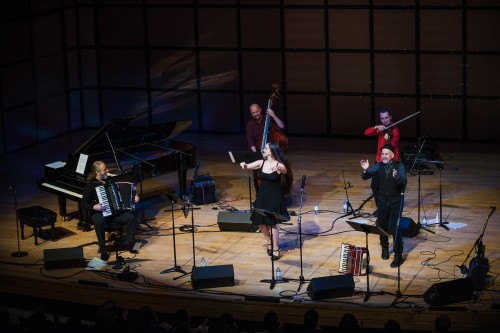 The nature of music is inherently temporary. Play a note and it's gone – a disruption of air, a few sine waves released into the beyond. Fire, flood, an ill-tempered or poorly-worded review, changing tastes – all these can render music obsolete, stricken from history and never to be heard again. Whether Bach's lost church cantatas, untranscribed folk tunes within an atrophying culture, or the deliberate destruction of musical scores, the abstract nature of our artistic medium presents unique challenges for preservation and performance – challenges to which, at one concert last week presented by the Ashkenaz festival, the Germany-based Semer Ensemble rose with ease.
—
By the year 1933, the Nazi party controlled Germany, appointed to power at the end of that January. That April, the Nazis began redefining the status of persons they considered socially undesirable, including homosexuals, those with disabilities, and Germany's Jewish population. The Nuremberg Laws, passed in 1935, stripped Jews of even their most basic rights and culminated in 'Kristallnacht', the Night of Broken Glass, in November 1938.
By 1939, almost 250,000 of Germany's 437,000 Jews had fled the country.
One of the businesses destroyed during Kristallnacht was the Hebräische Buchhandlung, a Hebrew Bookstore run by Hirsch Lewin, which sold a variety of books, religious items and gramophone records. In 1932, Lewin had founded Semer Records, an in-house label, which had become increasingly popular as the Nazis increased their restrictions on Jewish cultural involvement, ultimately forbidding Jewish musicians from performing in or around non-Jewish settings and people. Lewin had produced a tremendous number of records between 1932 and 1938 as artists rushed to create a lasting memento of their culture.
With the destruction of Levin's Buchhandlung, the entire catalogue of the Semer label – 4,500 recordings – was wiped out, evidence of its existence instantly erased from history.
—
Fast-forward to Toronto, in 2017. Nearly every seat in the George Weston Recital Hall is full, a few fresh faces peppering the predominantly middle-aged and older crowd. This audience is buzzing with excitement, chattering like schoolchildren in energetic and enthusiastic tones all around, close connections and family ties being discussed as if at a reunion.
The stage of the hall is shrouded in indigo-hued light, illuminating a mélange of instruments including a Steinway grand piano, accordion, trumpet, violin, upright bass, electric guitar, and six or seven microphones. It looks like the prelude to a strange fusion performance – part retro, part modern. According to the program, the evening's performers are equally eclectic, coming from Russia, Latvia, Japan, Germany and the United States.
Why the all the excitement for what seems to be a distinctly eccentric performance? We gather to hear the lost music of Levin's Semer record label, rescued from obscurity by the German musicologist Dr. Rainer E. Lotz in the 1990s. Through his exhaustive and persistent search across Europe, Lotz was able to recover and restore almost the entire Semer collection, reissued as an 11-CD set in 2002. In 2012, Berlin-based musician Alan Bern was commissioned to transcribe and arrange the collection and assembled the Semer Ensemble, a group of Jewish music specialists, to perform these pieces in live venues.
It is Bern who leads tonight's performance by the Semer Ensemble, and his powerful stage presence and leadership captivates us even before the first notes are played. The music is extraordinary, both in scope and quality, a mix of art song, folk music, traditional prayers and genre-bending compositions for varied combinations of voices and instruments. Czárdas, a magnificent fantasy for violin solo and piano, combines classical and folk music in a seamlessly delightful composition, while The Little Bell uses a beautiful vocal line over sumptuous choral textures to form a touching piece. Smiles are everywhere throughout the three-hour concert – on stage and in the crowd. We can feel the joy in the air and can't help but clap and tap along to the infectious rhythms.
Throughout the concert, Bern and his band pause to share stories of individual songs and works, providing us with invaluable context. Especially powerful are the unexpected parallels Bern draws between much of this decades-old music and contemporary global issues. Take, for example, the striking ballad The World Has Become Small; although written in the 1920s, Fred Endrikat's text could pass as a modern protest of what the ensemble's singer Sasha Lurje calls the 'Smartphone Era':
"The world's become cramped,
It's become a struggle
For the smallest bit of trash.
We roar along with a thousand horsepower
And can't ever let it go again.
We're sitting in the Tower of Babel
And we can only hate each other."
Other highlights feature traditional music, including the ebullient Klezmer-style Rejoice in Jerusalem and the chant-like As for our brothers, the whole house of Israel. A personal favourite is A tender hand, based on an Arabic melody and magnificently realized by the ensemble. These surprisingly multi-dimensional musical works, all recorded on the Semer label within a few years of one another, show an incredible snapshot of the vibrancy of Jewish musical life in the 1920s, before the Nazi oppression attempted to eliminate all record of it.
In his introductory note, Askenaz Foundation director Eric Stein referred to 'living culture' and the phenomenon whereby art that, lost in obscurity only decades prior, can be revived, reinvigorated, and restored to a place of cultural prominence. As we face a future in which eyewitnesses to the Holocaust and life in pre-World War II Europe can no longer share first-hand accounts and recollections, stunning performances and presentations by groups such as the Semer Ensemble provide opportunities to discover and celebrate those living histories which inspire, educate, and enrich anyone who takes the time to listen.
The Ashkenaz Festival presented the Semer Ensemble in performance on November 8, 2017, at the Toronto Centre for the Arts.
Matthew Whitfield is a Toronto-based harpsichordist and organist.