Summer is here, bringing with it a plethora of world music events to take in, many of which will occur outdoors. Harbourfront is of course one of the biggest purveyors of music and culture on its many stages both indoor and out, but before having a look at its summer line-up, I'd like to draw your attention to a special event hosted by the Toronto Summer Music Festival. Bunraku is a form of Japanese puppet theatre, which originated in 17th-century Osaka. Puppets are often life-size, and the drama is accompanied by traditional music. On July 22, the Bunraku Bay Puppet Troupe and Imada Puppet Troupe will perform at U of T's MacMillan Theatre, preceded by a pre-performance talk at 6:45pm. The Bunraku Bay group is the only American troupe of its kind, and they are joined by their mentors from Japan (Imada was founded in 1704!) in a series of short plays.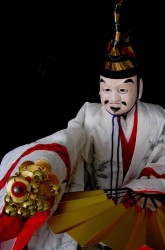 Heading down to Harbourfront, Music in the Garden curator Tamara Bernstein has once again put together a fine series of free Thursday (7pm) and Sunday (4pm) concerts, running July 1 to September 19. For the full schedule, check out Harbourfront's website, but here are some "world" highlights: on Canada Day, the Ahkwesasne Women Singers sing traditional Mowhawk songs, and there will be a world premiere of a new piece by Barbara Croall, Agamiling (On the Shore), for Native instruments, voice, clarinet and field recordings. On July 22, folk dances from around the world will be performed by Jayme Stone (banjo), Mike Barnett (fiddle), Grant Gordy (guitar) and Greg Garrison (bass). Vancouver's Orchid Ensemble presents "The Road to Kashgar" on July 29, featuring music inspired by countries and cultures along the Silk Road. In addition to Chinese, Indian, Jewish and Central Asian music, they'll play works by contemporary British Columbia composers. Toronto's own Japanese taiko ensemble Nagata Shachu performs on August 5; and sarangi virtuosa Aruna Narayan, with Vineet Vyas (tabla) and Akshay Kalle (tanpura) perform North Indian ragas designated for twilight on August 19.
Still at Harbourfront, World Routes 2010 is a series of mini festivals running every weekend from Canada Day through Labour Day. Some highlights: vocalist Cheryl L'Hirondelle presents contemporary songs expressing the Cree world view, July 1, at Redpath Stage. (Unfortunately this is around the same time as that evening's Music Garden concert, so you'll have to choose.) "Hot Spot" runs July 2-4; highlights include the Toronto International Flamenco Festival, featuring dancers, singers and musicians, and l'Orchestre Septentrional, an 18-piece big band from Haiti, on July 3. "Expressions of Brazil" runs July 16-18; Roda de Samba performs July 17, and 17-year-old Mallu Magalhaes performs songs from her two albums, in Portuguese, English and French. "Island Soul" presents Caribbean culture July 30-August 2; roots/reggae vocalist Queen Ifrica performs July 31, and some of Canada's best steelpan players jam August 1 and 2.
"What is Classical?" (Aug. 6-8) explores notions of "classical" music, of both East and West. The Turkish ensemble Djoumbush joins forces with Warhol Dervish (baroque and contemporary chamber music collective) on August 7. And last but not least, the Ashkenaz Festival of Jewish culture returns for its eighth round of performances showcasing both local and international artists, August 31-September 6. For details, visit www.ashkenazfestival.com and www.harbourfrontcentre.com/worldroutes2010 for details on all Harbourfront festivals.
The 11th annual Bana Y'Afrique, a free outdoor festival of African music and culture, takes place July 24 and 25 at Metro Hall Square (King/John). Presented by Africa New Music, there will be 16 performances by groups from across Canada and one from abroad. Performers include M'bilia Bel (Congolese singer known as the "Queen of Congolese rumba"), Ethio Stars Band (Ethiopian songs from the 1960s to the present), Afrafranto (Ghanaian "palm wine music" – a style involving guitars, named after the drink served at gatherings where African guitarists played), Umurisho (a Burundian-Canadian drumming/dance group), and much more.
Staying on the outdoors theme, Yonge/Dundas Square is a hub of activity throughout the summer. The Global Grooves series includes Tambura Rasa on July 2, a cross-cultural group featuring Spanish guitar, gypsy strings, Afro-Latin percussion, Flamenco and belly dancers. Co-presented with Small World Music, another "ethno-fusion" band from Quebec, Apadoorai combines Australian didgeridoo, Reggae, Arabic, Celtic and folk music, July 23. Also a Small World co-presentation, Les Gitans de Sarajevo plays Balkan/Gypsy style music and song on August 13. For the full schedule of events at Yonge/Dundas Square visit www.ydsquare.ca and for more from Small World Music, visit www.smallworldmusic.com.
If you're a jazz fan, the Danforth Mosaic BIA (www.danforthmosaicbia.com/blog) has a series of free outdoor concerts at the Coxwell Parkette (Danforth, just west of Coxwell station), every Wednesday evening beginning July 7. You can hear Suba Sankaran and Indian-jazz fusion band Autorickshaw on July 14.
If staying indoors is a must, head to Hugh's Room on July 9 to hear the Gypsy jazz ensemble Gypsophilia; they'll also be at London, Ontario's Sunfest on July 10/11. And the Russians are coming!  The Russian Cossack State Dance Company makes its Massey Hall debut on September 1. Thirty dancers, a chorus, vocal soloists, and a 10-piece chamber orchestra present a colourful and lively evening of some of the most athletic dance and music around!
Karen Ages can be reached at worldmusic@thewholenote.com