The collective of black artists (COBA) kicks off Black History Month with a concert titled "Les Rythmes de la Forêt," running from February 3 to 5, at the Fleck Dance Theatre, Harbourfront Centre. Founded 19 years ago, COBA has been at the local forefront of the creation and production of stage works that reflect Africanist social themes and perspectives. Using storytelling, music and drama interwoven with dance, the programme presents a suite of dances from sub-Saharan Africa accompanied by traditional drumming and singing. The production aims to represent social and ritual events in peoples' lives including rites of passage, initiations, harvest, and moments of joy and celebration.
Harbourfront Centre itself joins in celebrating the African experience in its Kuumba festival by exploring "African roots through a 21st-century perspective." This year the festival highlights the essential role women have played in shaping Black culture. For three days, February 3 to 5, the festival offers storytelling, fashion, film, dance, round table discussions, food, exhibitions, workshops (some musical) and children's activities. And, of course, concerts.
A sampling: On the afternoon of February 4, join instructor Lua Shayenne in a workshop of traditional African and Afro-contemporary dance and music. Later that evening join Dr. Jay de Soca Prince on the Centre's rink for "DJ Skate Night"— a novel Toronto combination of Trini and "skate culture." If Ice T is more your speed than ice skating however, check out Jamaican DJ and Dub pioneer Clive Chin's "Celebration of Jamaica's 50th Anniversary of Independence Through Reggae" next door at Harbourfront's Lakeside Terrace. Later, at 9:30pm, the music gets "urban" with the Known (Un)Known, a showcase of fresh local talent embracing various current African American music streams, including singer Rochelle Jordan. Vibe Magazine dubbed her the "female version of Drake."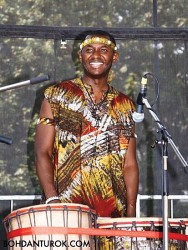 Kuumba continues on Sunday, February 5. At 1pm you have a rare opportunity to explore Guinean drum-playing techniques in a workshop with Alpha Rhythm Roots, a Toronto-based company introducing the music, dance, traditions and culture of the West African country of Guinea to Canada. Then at 3:30pm, join the award-winning Pan Fantasy steelband in "Trinidad and Tobago's 50th Anniversary of Independence Celebration." Playing strong for 26 years, North York's Pan Fantasy, directed by Wendy Jones, will be performing a repertoire of "classic" and contemporary calypsos. As T & T's musical gift to the world, steel pan's worth is possibly matched only by the calypso musical tradition. Pan Fantasy will feature homage to the patriarch calypsonian, The Mighty Sparrow, justly dubbed "King of the Calypso World."
EMBERS: From February 9 to12, across the Harbourfront parking lot at the Fleck Dance Theatre, Toronto's Arabesque Dance Company and Orchestra presents its production of "Jamra," Arabic for "embers." The live 12-piece Arabic orchestra features the rich voice of Bassam Bishara. It provides a lush musical underpinning for Arabesque's newest production that includes over a dozen dancers. The company is led by the distinguished dancer, veteran choreographer and artistic director, Yasmina Ramzy. Among our city's prime movers on the world dance scene, Ramzy has established what is arguably Canada's leading Middle Eastern dance and music ensemble. Critics have praised her for taking "belly dance to another level."
LATIN GUITAR: Playing the February Valentine card, Latin guitarist Johannes Linstead and his group join forces with flamenco guitarist Antonitas D'Havila in a concert titled "Valentine Fiesta Romantica." The "romance and Latin passion" will be on display on February 8 at Coconuts Restaurant & Lounge Night Club and again on February 10 at the Latin Fever Night Club. Johannes Linstead, awarded the title of Canada's Guitarist of the Year, has earned international recognition for his best selling albums in the instrumental and world music sales categories. His partner on the bill, Antonitas D'Havila, is a renowned Romany flamenco guitarist, specializing in an intense, bravura style. If you miss those concerts you can still redeem your Valentine mojo with your beloved a few days later when D'Havila performs at the Trinity-St. Paul's Church, on February 17.
YASMIN: On February 11, the Royal Conservatory presents a concert by Yasmin Levy and Omar Faruk Tekbilek at Koerner Hall. The headliner is the Israeli Ladino (Judeo-Spanish) singer Yasmin Levy who has won high praise for her vocalism that also engages the fiery heart of flamenco. Songlines wrote, "every colour and pitch in her remarkable range and the resulting vocal pyrotechnics are unforgettable." The brilliant Turkish born multi-instrumentalist Omar Faruk Tekbilek's 40-year career has taken him on a global journey. His nonstop recording and touring activities place him among a small cohort of pioneer "world musicians." I performed with Omar years ago, but distinctly recall the intimate bond he wove with the audience in his solo spot.
The RC's Middle Eastern Music Series resumes the next day, (February 12), 3pm, at the Mazzoleni Concert Hall, with composer and pianist Malek Jandali in a programme inspired by the folk and ancient music of Syria, incorporating both Arabic and Western musical elements. The music on his new CD Echoes from Ugarit, featured on this concert, is arguably the most ancient "world music" in my column this month. It is inspired by the oldest known music notation in the world, dating to the fourth century BCE, discovered in the ancient Syrian city of Ugarit.
BATUKI: On Saturday February 11, the Batuki Music Society continues this month's Black History theme with its "Ethiopia: A Musical Perspective" at the CBC's Glenn Gould Studio, an ambitious expedition into Ethiopia's musical culture starting from the music of the Azmaris, professional bards who recite stories and comment on social issues through song, moving on to varied pentatonic regional musical genres, and ending with Ethio-jazz, an exciting modern hybrid. Ethiopia, the only country on the African continent never colonized by Europeans, has a long and illustrious history. What better place than Toronto, with the largest Ethiopian population in Canada, to showcase the various musical instruments and wealth of Ethiopian expression? The musicians taking the audience on this deep journey include Girma Wolde Michael, Fantahun Shewankochew, Henok Abebe, Martha Ashagari and Gezahegn Mamo.
CONVERGENCE: Setting our sights beyond the GTA, on February 16 the University of Guelph presents the culturally diverse Convergence Ensemble with Gerard Yun playing shakuhachi, didgeridoo, and native flute, Kathryn Ladano on bass clarinet, and pianist Sandro Manzon.
SOWETO GOSPEL: Back downtown at the Sony Centre for the Performing Arts, the inspirational two-time Grammy and Emmy Award-winning Soweto Gospel Choir returns on February 24 and 25. With a new show titled "African Grace," the Choir's 24 singers, dancers and musicians will heat up the dreariness of late February with their joy-filled repertoire.
PAVLO: Also on February 24, multi-award winning Greek-Canadian musician and composer Pavlo performs at Roy Thomson Hall. Billed as the local stop on the Six String Blvd World Tour, the evening will appeal to the legions of fans who have made Pavlo the "most successful independent artist to come out of Canada, performing 150+ shows per year," according to his website. On his ninth album, Six String Blvd, Pavlo has gone global inviting "the world's most exotic instruments into his classic Mediterranean sound." Presumably the ney, erhu, bouzouki and sitar on his CD will be there.
SEPHARDIC DIASPORA: March 1 the York University Department of Music's World at Noon concert series features "Songs and ballads of the Sephardic Diaspora" by a leading specialist in that repertoire, singer Judith Cohen. It's at the casual Martin Family Lounge, 219 Accolade East Building.
MUSIDEUM: The new Coffeehouse Concert Series at the low-keyed and intimate downtown venue/retail store Musideum keeps surprising us. Its delightfully eclectic programming continues with a world music spin on March 3 with the group Medicine Wheel, "bringing together a world fusion of music for the soul." Leader David R. Maracle on native flutes and hang drum is joined by Donald Quan on guzheng, keyboards and tabla, and guitarist Ron Bankley. Percussionists Richard Best and Rakesh Tewari add the metric frame, propulsive energy and accents.
Andrew Timar is a Toronto musician and music writer. He can be contacted at worldmusic@thewholenote.com.