This february has become a month for new opera. Toronto will see a world premiere of a Canadian work, the professional world premiere of another Canadian work and the Canadian premiere of an acclaimed 21st century opera. In the depths of winter we already see the new growth of spring. The world premiere is Obeah Opera by Nicole Brooks running February 16 to March 4. For more on that work, see Robert Wallace's interview with Brooks in this issue.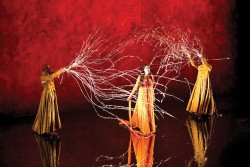 First to appear is the Canadian premiere of L'Amour de loin (Love from Afar or more accurately "The Far-Away Love") by Finnish composer Kaija Saariaho at the Canadian Opera Company. Not only will this be the first time the COC has staged an opera by a Finnish composer, it will also mark the first time it has staged an opera by a female composer.
This opera that premiered in 2000 at the Salzburg Festival tells the story of a world-weary 12th century troubadour from France who carries on a long-distance love affair with a beautiful woman living in Tripoli, Lebanon, whom he called in Languedoc his "amor de lonh." Although they never see or speak to each other, their feelings develop and grow through the efforts of an enigmatic Pilgrim, who carries messages of love and yearning between the two. Saariaho drew her inspiration for the work from the life and song texts of Jaufré Rudel (died c.1147), a French prince and troubadour who wrote of his obsessive love for an ideal, unattainable woman. This is the well-known theme known as "courtly love" that swept Europe during this period. The yearning expressed has a religious component, due to the rise of Mariolatry, that leads the poet to ask whether such a love is best preserved from afar.
Reviewing the opera in 2000, New York Times critic Anthony Tommasini wrote that Saariaho's music "combines vivid orchestration, the subtle use of electronic instruments and imaginative, sometimes unearthly writing for chorus ... The vocal writing is by turns elegiac and conversational. Her harmonic language is tonally grounded, with frequent use of sustained low pedal tones, but not tonal. Bits of dissonance, piercing overtones and gently jarring electronic sound spike the undulant harmonies, but so subtly that the overall aural impression is of beguiling consonance … Her evocations of the troubadour songs, with medieval modal harmony and fragments of elegiac tunes, are marvelous."
The new COC production is conducted by COC music director Johannes Debus and directed by Daniele Finzi Pasca, known for his work with Cirque du Soleil. It features an all-Canadian cast. Baritone Russell Braun is Jaufré Rudel, soprano Erin Wall is his beloved Clémence and mezzo Krisztina Szabó sings the role of the mysterious Pilgrim. Sung in the original French of Lebanese librettist Amin Maaloof, L'Amour de loin (which, unlike other companies, the COC insists on calling Love from Afar) runs for eight performances from February 2 to 22. For more, visit www.coc.ca.
Taptoo! is the opera receiving its professional world premiere, with music by John Beckwith and libretto by James Reaney. The opera written in 1995 was given its world premiere by Opera McGill in 1999 and was later staged by the University of Toronto Opera Division in 2003. Toronto Operetta Theatre is presenting its professional premiere as part of the national commemorations of the bicentennial of the War of 1812. The title refers to the last drum-and-bugle signal of the day that would later expand into what is now known as a military tattoo.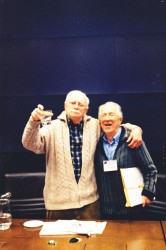 The work was conceived as a prequel to Harry Somers' opera Serinette which had had a highly successful premiere in 1990 at the Elora Festival. As Beckwith writes in Unheard Of: Memoirs of a Canadian Composer, to be published in February 2012, "Where Serinette was set in York and Sharon during the 1830s, the new piece deals with the founding of York by John Graves Simcoe in 1783 and covers a time period from the American War of Independence to just before the War of 1812." Beckwith says that the opera features a number of Reaneyesque devices: "Cast members assume a variety of roles, changing age or gender rapidly, functioning solo for one scene and in the next, as part of a chorus; the orchestral players are sometimes required to join in the action." In the TOT production, he says, a cast of 18 singers will cover 26 characters including historical figures, like Simcoe and Colonel "Mad Anthony" Wayne, and other imaginary ones like boy soldiers Ebenezer and Seth, the aboriginal Atahentsic, settlers and adventurers.
TOT lays claim to the work because Beckwith himself says he was inspired by ballad operas, the earliest examples of what would later become operetta. As Beckwith says, "Two period productions of early music theatre affected me around this time [of composing]. John Gay's The Beggar's Opera and Thomas Arne's Love in a Village were the most-often-performed ballad operas of 18th century England … I saw Taptoo! as the modern equivalent of a ballad opera, in which scraps of familiar songs and dances would now and then drift into the musical score. I included about 20 such musical references — hymn tunes, popular sentimental or patriotic songs, dances, marches and, of course, historical military music."
The TOT cast includes Michael Barrett as Seth, Robert Longo as Wayne, Todd Delaney as Simcoe, Allison Angelo as Atahentsic, with Mark Petracchi and Sarah Hicks as Mr. and Mrs. Harple, Eugenia Dermentzis as Mrs. Simcoe and boy sopranos Daniel Bedrossian and Teddy Perdikoulias. The composer's son, Larry Beckwith, conducts and TOT general director Guillermo Silva-Marin directs. Taptoo! runs only February 24 to 26. For more information see www.torontooperetta.com.
Beckwith says of his collaborations with James Reaney, "Without articulating our objectives further, I believe we wanted to affect our audiences in two ways — to move them and to cheer them." We must thank TOT for giving Taptoo! a chance to achieve these goals.
Christopher Hoile is a Toronto-based writer on opera and theatre.  He can be contacted at opera@thewholenote.com.