In most years, April is the month with the single highest concentration of opera presentations in Toronto and environs. In past years there have often been so many examples of opera from all periods that the month's offerings could form a survey of the genre. This month, for unknown reasons, there is a high concentration of operatic warhorses which will certainly please those who primarily enjoy familiar works. Yet, two companies are presenting works out of the ordinary to help spice up a month heavy on household-name composers.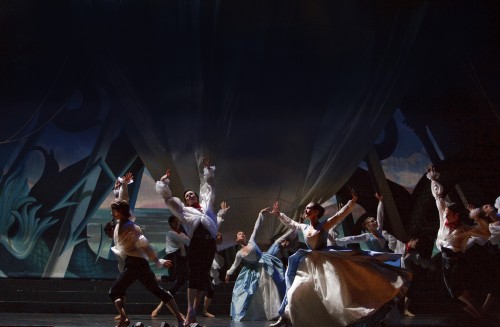 Idomeneo and Atelier
The first on offer is a remount of Opera Atelier's stunning production of Mozart's Idomeneo (1780), first seen in 2008. Famed soprano Measha Brueggergosman made her Mozart operatic debut and her debut with Opera Atelier in this production. Now she returns to OA to sing the role of Elettra again. The cast includes tenor Colin Ainsworth in the title role, mezzo-soprano Wallis Giunta as Idamante and soprano Meghan Lindsay as Ilia. David Fallis conducts the Tafelmusik Baroque Orchestra and Marshall Pynkoski directs.
Because the Mirvish production of the hit musical Come From Away has taken over OA's traditional venue, the Elgin Theatre, Idomeneo will be performed in the Ed Mirvish Theatre, a block or so north of the Elgin. Audiences will have to decide whether performing in an auditorium with 700 more seats than the Elgin has any effect on the acoustics. The opera runs from April 4 to 13.
Opera by Request
Opening next is familiar Mozart on a smaller scale in the form of his Così fan tutte in concert only on April 5 by Opera by Request. Deena Nicklefork sings Fiordiligi, Erin Armstrong is Dorabella, Conlan Gassi is Ferrando, Anthony Rodrigues is Guglielmo, Danie Friesen is Despina and John Holland is the cynical Don Alfonso. Claire Harris is the pianist and music director.
Vera Causa
In April even the new company Vera Causa Opera, which presented the world premiere of Dylan Langan's Dracula last month and will present a selection of arias from Canadian operas in June, has chosen a work from the standard repertory for April. This is Donizetti's L'Elisir d'amore from 1832 that the company, as per its mandate, will present in three cities in Southern Ontario. Allison Walmsley will sing Adina, James Smith will be Nemorino, Jorge Trabanco will be Belcore, Michaela Chiste is Giannetta and Camilo Rodriguez-Cuadrado is the wily Dr. Dulcamara. Dylan Langan conducts the Vera Causa Opera Chorus and Orchestra and is also the stage director. The production opens in Cambridge on April 5, moves to Waterloo on April 6 and finishes its run in Guelph on April 7.
Opera Belcanto
Filling out the crammed first week of April, running April 4 and 6 at the Richmond Hill Centre, is the blockbuster opera Carmen presented by Opera Belcanto of York. Mila Ionkova sings the title role, Stanislas Vitort is Don Jose, Michele Pearson is Micaela and Andrew Anderson is Escamillo. David Varjabed conducts the Opera Belcanto of York Chorus and Orchestra and Edward Franko, co-artistic director of TrypTych Concert and Opera which has now moved to Kenora, will direct.
In mid-April the spring season of the Canadian Opera Company opens with Puccini's La Bohème, the opera that vies with Carmen as the world's most popular. The production (which runs from April 17 to May 22) directed by John Caird was first seen in Toronto in 2013. It features Angel Blue as Mimi, Atalla Ayan as Rodolfo, Andriana Churchman as Musetta, Lucas Meachem as Marcello, Brandon Cedel as Colline and Phillip Addis as Schaunard. On May 5, 11 matinee and 22 the cast is Miriam Khalil as Mimi, Joshua Guerrero as Rodolfo, Danika Lorèn as Musetta, Andrzej Filończyk as Marcello, Önay Köse as Colline and Joel Allison as Schaunard. Fans of the opera may wish to see both casts. The conductor will be Paolo Carignani.
The COC follows La Bohème with yet another work from the standard repertory, Verdi's Otello, but one not seen in Toronto since 2010. The production will be directed by David Alden, creator of such other COC productions as The Flying Dutchman, Rigoletto and Lucia di Lammermoor. Alden's production is most notable for relocating the action from the Renaissance to around the time of the opera's premiere in 1887. The COC fields its first African-American Otello in the person of Russell Thomas. Canadian Gerald Finley is Iago, Tamara Wilson is Desdemona, Andrew Haji is Cassio and Carolyn Sproule is Emilia. COC Music Director Johannes Debus conducts the opera that runs from April 27 to May 21.
TOT goes tried and true
This year even Toronto Operetta Theatre finishes its season with the tried and true – in this case Franz Lehár'sThe Merry Widow (1905), the greatest of all Silver Age operettas. The opera runs April 24 to 28 and features Lucia Cesaroni in the title role, Michael Nyby as Count Danilo, Daniela Agostino as Valencienne and Gregory Finney as Baron Zeta. Larry Beckwith conducts the TOT Ensemble and Guillermo Silva-Marin directs.
Despite this plethora of familiar works, April does offer one new opera and one important but seldom-seen opera. The new opera is Shakespeare's Criminal by Dustin Peters to a libretto by Sky Gilbert. Orpheus Productions will give the chamber piece three workshop performances at Factory Theatre from April 26 to 28.
The magic realist work, set in the present, plays with the notion that Shakespeare was gay, a view some hold since many of Shakespeare's sonnets are addressed to a young man. Other sonnets are addressed to an unknown woman whom critics have dubbed the "Dark Lady of the Sonnets." In Shakespeare's Criminal, an older male poet named Shakespeare is unable to admit that he is homosexual. Instead he hides his attraction for men in the eloquent language of the sonnets for which he is much esteemed. He meets a beautiful young HIV-positive man to whom he finds himself attracted, but whom he resists. Enter a wild, fierce voyeur who urges the older poet to fall in love with the young man and bed him. The woman is so persuasive that it seems the older closeted poet will succumb, but at the last moment he cannot bring himself to risk his reputation. In revenge, the woman turns the old poet into a tree – a gender-reversed image of what the river god Peneus does in Ovid's Metamorphoses to his daughter Daphne to preserve her chastity.
Dustin Peters is a Toronto-based composer whose works range from concert and chamber music to film scores and pieces for voice and dance. Sky Gilbert is an award-winning writer, director, filmmaker and professor. His many critically acclaimed plays have been performed in theatres worldwide. Guernica will publish his investigation of Shakespeare's rhetoric, Shakespeare: Beyond Science, later this year.
The opera features mezzo-soprano Marion Newman, baritone Dion Mazerolle and actor Nathaniel Bacon. The structure of Shakespeare's Criminal is inspired by musicologist Ellen T. Harris's notion that male composers were able to ground the emotional core of their operas through the wild female voice (something which eventually led to the tragic Romantic heroines of Verdi and Puccini). Presented opera-in-concert style, Shakespeare's Criminal raises many questions including, "Why do gay men often gravitate towards friendships with women and vice versa?" Peters is music director of the accompanying string quartet and Gilbert directs.
And something seldom seen
The important seldom-seen opera in April is Against the Grain Theatre's production of Kopernikus: Rituel de la Mort (1980), the only opera by Québécois composer Claude Vivier (1948-83). This will be the first performance of the opera in Toronto since a touring Banff Centre production visited in 2001. In 2017 the present AtG production also had its premiere at Banff. Of what may be the most performed Canadian opera outside Canada, director Joel Ivany says, "I think this could be Canada's greatest opera ever written. Vivier was unique, he was an innovator and a true artist."
Ivany related in a conversation in March that he first heard of Kopernikus when he read that famed director Peter Sellars included it on his wish list of operas he'd like to direct. Sellars indeed went on to direct the American premiere of the opera in 2016 at the Ojai Festival in California. Ivany began working on it as a project for Canada 150 at the Banff Centre. While AtG is well known for its productions of Mozart's operas with new English libretti written by Ivany, Ivany mentions that AtG has also presented operas with their libretti unchanged such as its open-air production of Debussy's Pelléas et Mélisande in 2014.
That will be the case with Kopernikus. Set in two acts for seven singers, it challenges the norms of classical opera with its innovative use of compositional and technical devices to create a vivid meditation on self-transcendence. It unfolds through a series of obscure trials, inspired by Mozart's Magic Flute, but played as an enchanted ritual. Canadian mezzo-soprano Danielle MacMillan revives her role as Agni, the central character who travels to an unknown space suspended in time wherein she meets the fragmented embodiment of many eclectic characters, such as Tristan and Isolde, Copernicus, Lewis Caroll and Mozart. Singing these roles are mezzo-soprano Krisztina Szabó, bass Alain Coulombe, baritone Dion Mazerolle, sopranos Nathalie Paulin and Jonelle Sills and baritone Bruno Roy. Joining the singers on stage are dancers Anisa Tejpar and William Yong who will realize Matjash Mrozewski's choreography.
Ivany has taken an innovative twist on orchestration by incorporating members of the orchestra into the onstage roles of the ensemble. AtG music director Topher Mokrzewski conducts the dispersed ensemble. The production will be presented at Theatre Passe Muraille on April 4, 5, 6, 11, 12 and 13, 2019.
Christopher Hoile is a Toronto-based writer on opera and theatre. He can be contacted at opera@thewholenote.com.