Let me take you on a little journey in Bachian lines. Its outset was some 40 years ago, during the days when Melville Cook was director of music at Toronto's Metropolitan United Church. Its steps reach right through to this present season, with Metropolitan United's four-concert BachFest.
Some readers will remember Metropolitan's yearly Holy Week presentations of Bach's St. Matthew Passion: the elegant, white-haired Cook at the helm of double choir, double orchestra and imposing soloists, with the gambist Peggie Sampson at the centre of it all. These performances occurred annually for many years, until approximately 1985.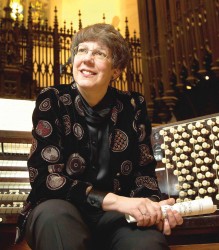 The Bachian tradition has remained with Cook's successor, Patricia Wright. She calls Bach her "heart composer," and describes the genesis of this season's BachFest as very much a continuation of what has gone before: "At Metropolitan, I inherited a Good Friday concert tradition; (under Dr. Melville Cook, my predecessor, the St. Matthew Passion was performed each year). With financial challenges, we have gone to presenting a major work with orchestra every other year. In my 25 years at Metropolitan, we have presented Bach's St. John Passion five times and the B Minor Mass three times. Wanting to do the B Minor again was the beginning, and when choir members offered to help finance a performance of part of Christmas Oratorio, the idea of a BachFest took hold. As an organist, I could not resist an organ recital, even though the Metropolitan organ (the largest in Canada, a 1930/98 five-manual Casavant) is a masterpiece of romantic organ design. Then the idea of an instrumental concert with the ever-creative Benjamin Stein gave us the four-concert BachFest."
Two of these concerts have already taken place: theorbist Benjamin Stein (also WholeNote's choral columnist) was one of the featured artists in February's "Jam Sessions with Bach," and the first three cantatas of the Christmas Oratorio were presented last November. But the remaining two are imminent: On March 16, Wright will give an all-Bach organ recital entitled "Bach and the King of Instruments." On April 6, the Metropolitan Festival Choir and Orchestra, with soloists, will give a Good Friday performance of Bach's B Minor Mass.
Those Bachian lines also extend down other roads this month. On March 17, the British cellist Colin Carr comes to Koerner Hall for a monumental performance of all six Bach suites for solo cello. On March 18, a recital at Heliconian Hall entitled "Bach Bliss," presented by soprano Amy Dodington and oboist Hazel Nevin Newton, features the Wedding Cantata and other music by Bach. On March 25, the Church of St. Simon-the-Apostle with the Canadian Sinfonietta Chamber Orchestra will present Bach's St. John Passion. On April 6 in Kitchener, the Grand Philharmonic Choir brings our journey full circle, with a performance of Bach's St. Matthew Passion.
Instruction
It's always good to learn from a specialist. Here are some instructive, and no doubt fabulous, events that you can take advantage of this month.
Conductor, composer and commentator Rob Kapilow has, for years now, championed the idea that the appreciation of any worthy piece is enhanced by really getting inside it. He has developed a series of programmes called "What Makes It Great?" which is, in his words, "about listening. Paying attention. Noticing all the fantastic things that might otherwise go by. When you begin to hear the things that make a piece great, it can spring to life as if you have never heard it before. We take a piece of great music, tear it apart, put it back together again, and do everything in our power to get inside to see what makes it tick and what makes it great. Then on the second half of the program we hear the piece performed in its entirety — hopefully with a new pair of ears."
On March 9, with the help of the Toronto Symphony Orchestra, he'll lead the audience to a new appreciation of none other than Vivaldi's Four Seasons. Acclaimed violinist Jennifer Koh will play the Spring and Summer concertos.
Masterclasses can be edifying experiences, not only for the student performer but also for the auditors. Everyone receives the benefit of (hopefully) constructive insights from someone who has a life-long dedication to the subject, and more: they are a window into the mind and personality of the artist/teacher conducting the class. At the Royal Conservatory, masterclasses are free and open to the public. Carr, a committed teacher, will give two of them, in the morning and the afternoon of Friday March 16, the day before his Koerner Hall concert. You are encouraged to attend!
And, in case you've been wondering about that occasionally unwieldy but beautifully expressive instrument, the baroque oboe, you have a chance to hear what a master player like John Abberger has to say about it, and also to hear him play it in works by Hotteterre, Telemann and Handel. With collaboration by harpsichordist Sara-Anne Churchill, he'll acquaint you with the mysteries of his instrument in Toronto Early Music Centre's Musically Speaking series concert, "The Art of the Baroque Oboe," at their new concert space, St. David's Anglican Church, on March 25.
Others
• March 11: Have you ever heard a verse set to music and said "Aha, I know that — but it's different, not the same tune as I'm used to hearing!" At Nota Bene Baroque's "An English Messiah" concert in Kitchener, you'll be intrigued to hear the Messiah texts masterfully set to music by … not Handel, but by his great predecessor Henry Purcell. Violinist Stephen Marvin leads the ensemble with special guest Tactus Vocal Ensemble.
• March 17: Lutenist John Edwards and soprano Hallie Fishel combine their scholarship and talents in the Musicians in Ordinary's last concert of the season, Sero, sed Serio. "Late, but in earnest" was the motto of one of the most influential British political figures during the reigns of Elizabeth I and James I: Robert Cecil, Earl of Salisbury. A patron of music, he supported composers Byrd, Gibbons and Dowland, whose music you'll hear in this tribute to Cecil.
• March 23 and 24: In honour of our winged, furry and watergoing friends, both actual and mythical, recorder/traverso player Alison Melville has designed "A Musical Bestiary." This programme presented by the Toronto Consort features music from renaissance Europe, including "The Ape, the Monkey, and Baboon," "The Counterpoint of the Animals," "Le chant des oyseaux" and more!
• March 24 and 25: As its title "Viva Italia!" suggests, this concert of Cantemus Singers celebrates Italy with passionate songs and madrigals as well as religious music of the Renaissance and early Baroque. Songs of love — divine, human and patriotic — by Monteverdi, Vecchi, Gabrieli, Palestrina and others will be featured, as well as the soaring Miserere by Allegri.
• March 27, 29 to 31, April 1: Tafelmusik's "Choral Spectacular" celebrates the 30th anniversary of the Tafelmusik Chamber Choir. Read more about it in this month's "Choral Scene" beat column by Benjamin Stein.
• April 01: Port Rowan, near Long Point on Lake Erie, is the setting for Arcady's upcoming "A Baroque Messiah." This very active Southwestern Ontario ensemble often features the music of its artistic director, Ronald Beckett, and performs a range of early music as well.
Simone Desilets is a long-time contributor to The WholeNote in several capacities who plays the viola da gamba.  She can be contacted at earlymusic@thewholenote.com.