"Orchestra Month" in Southern Ontario?
If April is "opera month" in Southern Ontario, perhaps March should be proclaimed "orchestra month" given the wealth, diversity and richness of orchestral music being offered this month. From no less than four predominantly Russian programmes, three mostly-French programmes and two mostly-Italian programmes, to several concerts featuring a significant choral component, what we have this month is a veritable orchestral feast, bordering on an (enviable) embarrassment of riches.
Local boy makes good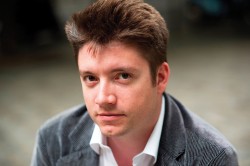 Starting with a much anticipated homecoming, on March 24 conductor Nathan Brock will "return home" for his debut with the Toronto Symphony Orchestra. Toronto-born Brock (also a U of T Faculty of Music grad), who has held the post of assistant conductor of the Orchestre Symphonique de Montréal since July 2009, will conduct the TSO in an all-Russian programme, with guest cellist Joshua Roman; the programme will be repeated on the 25th. I had an opportunity to ask Brock a few questions regarding his upcoming "homecoming." This is what he says goes through his head (and heart) when he thinks about his imminent TSO debut:
"Conducting at home is a particular thrill and also a particular challenge. I haven't been part of the Toronto music scene for almost ten years (I left in 2002) and obviously a lot has changed in my life … When I left I was still really just a kid. Since then I've put several degrees, many countries, contact with many of the world's greatest conductors, a marriage and two kids under my proverbial belt. A number of the players in the symphony are old friends, an even greater number are old teachers, mentors and frankly, idols from my musical upbringing in Toronto. I'm thrilled to be given the chance to show them what I can do!"… it's a strange mix of nerves and excitement being in front of the home crowd. These emotions are also tempered by a great sadness at the thought of experiencing this moment without some of the people who have influenced my musical life the most."
I wondered about his thoughts on Russian music, too, given that he'll be conducting an all-Russian programme. "Russian music is wonderful. It's visceral. The spirit of this people is incomparable and leaps from every page of the great Russian classics whether it's Pushkin, Dostoyevsky, Tchaikovsky or Shostakovich. You simply can't escape its potent affect. It is music that grabs you and changes you — no questions asked (Russians aren't ones to stand on ceremony!)."
When I asked Brock, himself a cellist, about the dynamic of conducting a fellow cellist he said that "there is definitely a simpatico," adding, with a wink, "We're such easy people." He also figured, given their relative closeness in age and the music being performed, that he and Roman will "get along just great!"
Brock also appears to "get along just great" with the younger set, the 6 to 16 year olds. In his role as assistant conductor with the OSM, he was recently awarded a Prix Opus for the youth concert project he led, ingeniously titled, "You Can Never Be Too Classical." Brock thinks that "kids, especially as they get older, can appreciate when they are being fed 'for kids' material as opposed to getting the real thing." The programme for the concert that won him the Opus? "We started with some Vivaldi, progressed through Debussy, Adams, even some Gougeon, to Stravinsky. We finished the last 20 minutes by playing the Firebird Suite!"
Brock will conduct (some more of) that powerful Russian repertoire including Glinka's Overture to Ruslan and Lyudmila, Borodin's Polovetsian Dances from Prince Igor, Rimsky-Korsakov's Capriccio espagnol and Tchaikovsky's Variations on a Rococo Theme, (with cellist Roman), March 24 (7:30pm) and 25 (3pm), at Roy Thomson Hall.
Kuerti at Kitchener
Coincidentally, another Toronto-born conductor, Julian Kuerti, will be performing with the Kitchener-Waterloo Symphony over the same weekend that Brock conducts the TSO; actually, Kuerti and the KWS perform on March 23 and 24, so, in theory, you can catch both Kuerti and Brock at the podium with a bit of advance planning. Kuerti, who completed a two-year post a few years ago as assistant conductor of the Boston Symphony Orchestra, made his TSO debut in 2007. He is now a freelance conductor with a full concert schedule in North America and Europe. In fact, during the same weekend I was hoping to reach him for this column, it turned out he was busy guest conducting the Colorado Springs Philharmonic. When he comes to Kitchener, Kuerti will lead the KWS and the young pianist, Nareh Arghamanyan, in Beethoven's Piano Concerto No.5, the "Emperor," a piece he is intimately familiar with, not surprisingly, given that he is the son of renowned Beethoven expert, pianist Anton Kuerti. (He also conducted his father in the "Emperor" in a "legendary, last minute" event, in March, 2008, in Boston. Worth googling!)
Ms. Arghamanyan and Kuerti will no doubt provide two grand evenings of music making with the KWS, at the Centre in The Square, at 8pm. Also on the programme is Gary Kulesha's Torque and Schumann's Symphony No.2.
And much more
In what is shaping up to be a very busy weekend in March, the 23rd and 24th will also see Masterworks of Oakville Chorus and Orchestra mount Mahler's Symphony No.2, "Resurrection," one of its "most ambitious concerts yet," according to a backgrounder we received from conductor Charles Demuynck. Soprano Marian Sjolander and alto Kyle Engler will join an orchestra of 90 and a chorus of 80 for the 8pm event at St. Matthews Roman Catholic Church in Oakville. And as is often — no, make that always — the case with this column, the month's offerings present yet another "so many concerts, so little room" quandary. For more on the month's orchestral riches, please refer to what is fast becoming a regular "Quick Picks" feature, at the end.
"String Quartet Month" in Southern Ontario?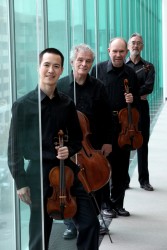 I started by saying March might well be dubbed Orchestra Month, but there is an equally strong case for calling it String Quartet Month. Why? Because this month there are — count them — ten quartets performing throughout Toronto, the GTA and beyond. The Juilliard String Quartet (more about them later), for example, is performing both in Markham and at Brock University; the Vogler is first at the Hamilton Conservatory and then, about two weeks later, at the Royal Conservatory. And here are the other eight: Bozzini, Cecilia, Penderecki, Silver Birch, Simon Bolivar, Takács, Ton Beau and Tokyo (more of them later, too).
So, from the splendour of a 90-piece orchestra, let's turn, now, to the intimacy, and dare I say it, relative complexity, of the string quartet. Of the ten performing in around the GTA this month, I thought I might attempt a "compare and contrast" with two of them: the Juilliard String Quartet (JSQ) and the Tokyo String Quartet (TSQ).
Both are quartets of long standing, the JSQ having been established in 1949, the TSQ, in 1969. Each is "quartet in-residence" at a prestigious music school: the JSQ at … yes, the eponymous Juilliard School; the TSQ — whose founding members (all former music students of Tokyo's famed string teacher Hideo Saito) met while studying at Juilliard and who were trained by members of the JSQ — at Yale. Robert Mann, founding member of the Juilliard, spent 52 years as first violin, leaving in 1997, and their newest member, first violin Joseph Lin, started in 2011; the Tokyo's violist, Kazuhide Isomura, a member of the group since its inception, will be retiring in 2013 (along with second violin Kikuei Ikeda, a member since 1974), after 44 years. ("Our very own" Peter Oundjian played first violin with the Tokyo for 14 years (1981 to 1995) before taking up the post of music director with the TSO in 2004; incidentally, he also studied at Juilliard.) And finally, try as I may, I could not find out when the JSQ last performed in Toronto; I gather it's been a while. I did learn, however, that their Canadian debut took place in 1965, in a concert presented by the Women's Musical Club of Toronto; they performed twice more for the WMCT, in 1967 and 1972. The TSQ, on the other hand, has had a "regular gig" with Music Toronto, returning almost every season (twice sometimes, like in this one) since its first visit in 1975.
Regarding the 2013 departures of Isomura and Ikeda from the TSQ, members of the quartet referred to the two leaving "their indelible stamp on the Tokyo's DNA." A moving statement and an engaging concept, one definitely worth pursuing, at another time …
In the meantime, however, the TSQ performs Haydn's Quartet in G Op.64 No.4 and Bartók quartets nos. 1 and 2 in its 44th concert for Music Toronto on March 15, 8pm, at the Jane Mallett Theatre. And the JSQ performs Haydn's Quartet in G Major Op. 54 No.1, Donald Martino's Quartet No.5 and Beethoven's Quartet in B-flat Major Op.130 with Grosse Fuge, on March 28, 8pm, at the Markham Theatre. They repeat the programme, replacing the Martino with Elliott Carter's Quartet No.5, March 30, at Brock University's Sean O'Sullivan Theatre, 7:30pm.
QUICK PICKS (see details in our concert listings):
Orchestral, Mostly Russian
• March 10, 7:30: Barrie Concerts. Russian Masters. Works by Rachmaninoff, Shostakovich and Tchaikovsky. Hi-Way Pentecostal Church, 50 Anne St. N., Barrie.
• April 3, 8:00: National Ballet of Canada. 60th Anniversary Concert of the National Ballet of Canada Orchestra. Music by Borodin, Prokofiev, Stravinsky, Talbot and others. Koerner Hall.
Orchestral, Mostly French
• March 24, 24 8:00: Mississauga Symphony. French Connection. Works by Ravel, Debussy, Stravinsky and others. Elaine Hou, piano. Hammerson Hall, Living Arts Centre, Mississauga.
• April 1, 3:00: Guelph Symphony Orchestra. Tour the World: French Masters. Works by Berlioz, Ravel and Franck. Sarah Whynot, piano; Judith Yan, conductor. River Run Centre, Guelph.
Orchestral, Mostly Italian
• March 3, 8:00: Greater Toronto Philharmonic Orchestra. Spring Pops: all'Italiana. Works by Rossini, Vivaldi, Haydn and others. Aria Tesolin, mezzo; Entela Galanxhi. Columbus Centre.
• March 9, 7:30: Toronto Symphony Orchestra. What Makes it Great? Vivaldi Four Seasons. Jennifer Koh, violin; Rob Kapilow, conductor and host. Roy Thomson Hall.
Orchestral, Mostly Choral
• March 25, 2:30: Kingston Symphony. The Creation. Haydn. Kingston Choral Society and soloists; Glen Fast, music director. Kingston Gospel Temple, Kingston.
• March 31, 8:00: NYCO Symphony Orchestra. Music by Mozart. Includes Mozart's "Coronation" Mass. NYCO Symphony Chorus; Oakville Choral Society; and soloists. St. Michael's College School.
Some Other String Quartets
• March 11, 3:00: Royal Conservatory. Chamber Music Series: Takács Quartet with Joyce Yang, piano. Beethoven: String Quartet No.14 in c-sharp; Dvořák: Piano Quintet in A. Koerner Hall.
• March 26, 7:30: University of Toronto Faculty of Music. Chamber Music Series: Simón Bolívar String Quartet. Works by Haydn, Ginastera and Schubert. Walter Hall.
• March 28, 8:00: Kitchener-Waterloo Chamber Music Society. Silver Birch String Quartet. Works by Mozart, Beethoven and Boccherini. KWCMS Music Room, Waterloo.
• March 29, 1:30: Women's Musical Club of Toronto. Music in the Afternoon: Cecilia String Quartet. Works by Mozart, Shostakovich, Sokolović, Puccini and Beethoven. Walter Hall.
• April 5, 8:00: Music Toronto. Quartet Series: Quatour Bozzini. Works by Stravinsky, Osterle and Britten. Jane Mallett Theatre.
It's a full-up month! Enjoy!
Sharna Searle trained as a musician and lawyer, practised a lot more piano than law and is listings editor at The WholeNote. She can be contacted at classicalbeyond@thewholenote.com.