The lack of space for a full-out "In With The New" column this month is more than somewhat offset by the fact that several of our other columnists in the issue have stolen my thunder anyway!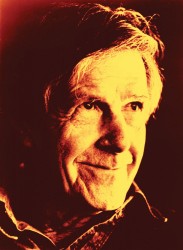 Robert Wallace, page 8, talks about Obeah Opera, Nicole Brooks' new work, as well as about Queen of Puddings' Beckett Feck-it, at Canadian Stage. Chris Hoile, pages 18 and 19, talks about two works I would otherwise have drawn attention to: the COC production of Kaija Saariaho's opera, L'Amour de loin, playing at the Four Seasons Centre for the Performing Arts; and Toronto Operetta Theatre's first professional rollout of the John Beckwith/James Reaney opus Taptoo!
And there's more. Pamela Margles, in the concert notes to her review of Kaija Saariaho: Visions, Narratives, Dialogues ("BookShelf,") draws attention to four other concerts that will feature Saariaho's music during the composer's visit. (Three of these, by the way, are under Soundstreams's auspices — and I will return to a discussion of Soundstreams.) Even our CD reviewers get into the act. Andrew Timar's review of a Finnish Radio Symphony recording of Saariaho's music, page 62, references L'Amour de loin. And a Leslie Mitchell-Clarke review, on the same page, of two + two, a new release by TorQ Percussion Quartet, is followed by a note pointing out TorQ's appearance in the final concert of the U of T New Music Festival (February 5).
Of Toronto's major presenters of new music (Array, Contact!, Continuum, Esprit, Gallery 345, Music Gallery, New Music Concerts, Queen of Puddings, Soundstreams and Tapestry New Opera), Soundstreams is the one to which we have, so far this season, devoted the least ink in this column. This month is as good as any to redress that, because the company has an extraordinary diversity of material on offer. In addition to the three Saariaho contributions referred to earlier, Soundstreams also presents two full-fledged Koerner Hall productions. The first of these, The Sealed Angel, billed as a music drama, is the work of Rodion Shchedrin, a Russian composer born in 1932. In typical Soundstreams fashion, this concert is an intensely collaborative project, involving the Amadeus Choir, Elmer Iseler Singers and ProArteDanza dance company. And then, book-ending the current listings period, Soundstreams is, as far as I can tell, the first of the aforementioned major presenters out of the blocks with a concert celebrating the 100th anniversary of composer John Cage's birth. Titled "So Percussion: Cage @100" the concert will feature works by Cage and turntablist Nicole Lizée.
With the 100th anniversary of Cage's birth not till September, pianist Kate Boyd is also fast off the mark, with back to back performances Thursday, February 16: first a noon hour lecture/recital on Cage's Sonatas and Interludes at University of Waterloo; then a concert the same evening of the complete Sonatas and Interludes, for the Kitchener-Waterloo Chamber Music Society. Not to be outdone, the Music Gallery, a week earlier, on February 10, presents a programme titled "Post-Classical Series: The Cold War Songbook – Pilgrims and Progress" which also features Cage's Sonatas and Interludes (1948) performed by Vicky Chow, piano. The "Cold War Songbook" then continues February 11 with a programme of piano works by Ustvolskaya, Carter and Feldman, featuring the pianistic post-classical virtuosity of Stephen Clarke and Simon Docking.
The next day, February 12, at the Music Gallery, it's Continuum Contemporary Music back in action with a a programme featuring music by Ligeti, Oesterle, Current, Klanac and Richard Marsella, who also guests on the barrel organ. And it's busy busy as usual all month at upstart Gallery 345, with concerts worth noting on February 19 (pianist Adam Sherkin), 20 (soprano Xin Wang), 25 (mezzo Marta Herman), and 28 (Les Amis Concerts); and on March 7 (Norman Adams, cello; Lee Pui Ming, piano; Erin Donovan, percussion).
It's a bit ironic to be giving the city's largest ensembles the shortest shrift in this column, but that's sometimes the way things fall out. First, Esprit Orchestra continues the season's torrid pace with their third, full-scale Koerner Hall concert, on February 26. Titled "Gripped By Passion," it features works by Vivier, Scelsi, Rea and Schnittke, the vocal magic of mezzo, Krisztina Szabó and dazzling TSO violist Teng Li.
And March 1, 3 and 7, the Toronto Symphony Orchestra presents its eighth annual New Creations Festival of which we will have much more to say in the coming issue.