"It's such an incredibly simple instrument. You can hold philosophical, physical or constructional arguments against this view, but it still won't change the fact that it is, in its very heart of hearts, an incredibly simple instrument. And yet it is so hard to make it sound beautiful. That is what makes it so fascinating. You start practising and it sounds ridiculous. It is the most amazing challenge to create a small, but personal musical universe with this instrument."
The subject of this description — the recorder — is an instrument that I personally find very beautiful. I love the organ-like chuff of its breath in consort, and the purity of its angelic voice in solo repertoire. If you're of like mind, you'll be very pleased at the prospects before you this month; if you are not, well, be prepared to be converted, as not one, but two internationally famous virtuoso recorder players are performing in Toronto, one at the beginning of February and one near the end. The details: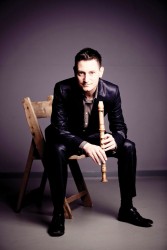 The comment which begins this article was uttered by a truly amazing musician, the Swiss virtuoso Maurice Steger, who appears near the start of the month. Steger has been called "the Paganini of the recorder"; one concert review states that he's "unquestionably an artist operating to the furthest boundaries of what is technically and tonally possible on the recorder." Several reviews about him mention the spontaneity of his technique — arising, no doubt, from the challenge he gives himself to create a "personal musical universe" in the music he plays. He'll be displaying his uncanny abilities in music by Telemann, Sammartini and Geminiani, in a concert which also features the wonderful chamber orchestra Les Violons du Roy. With music director Bernard Labadie, Les Violons will contribute music by Handel and Geminiani. The performance takes place on February 5 at Koerner Hall.
When one considers touring recorder players, one can't help thinking of Marion Verbruggen, the celebrated Dutch virtuoso who has brought the warmth of her personality to audiences all over the world for many years. With her sheer good-natured presence and verve as a performer, I think she could win anyone over to the love of the recorder. She's back in Toronto to add a colourful presence to Tafelmusik's "Virtuoso Vivaldi" concerts, which feature a splash of concertos: mandolin, viola d'amore and lute, cello, bassoon, and recorder played by Verbruggen. Except for the Concerto for Recorder and Bassoon by Telemann, the music is all by Vivaldi. These concerts will take place on February 21 at George Weston Recital Hall, and February 23 to 26 at Trinity-St. Paul's Centre.
So many musical treasures this month, with some of them unfortunately occurring on the same evening:
• February 8 to 12: One of Tafelmusik's biggest and most ambitious artistic creations to date, "House of Dreams," is the latest of Alison Mackay's multi-media programmes. The audience is taken to five European cities where baroque music and art intersect. Stunning images, paintings and a concert played from memory make this truly a tour de force.
• February 17: "Anger Management," in the hands of I Furiosi, means subtle procedures such as calling up the spirits of the dead to exact revenge on one's enemies. With guest, mezzo Laura Pudwell, this will be "a concert of anxiety and discord" — but undoubtedly with some exquisitely performed and lovely music.
• February 18: "Fresh Baroque" are almost the first words to appear in the Aradia Ensemble's website. Their February concert is no exception, combining glorious instrumental and vocal music from 17th- and 18th-century Venice with newly-composed works by Rose Bolton and Chris Meyer (winner of last season's Baroque Idol competition). As well, the freshness of youth appears in the participation of the Toronto Youth Chamber Orchestra, led by violinist Elyssa Lefurgey-Smith.
• February 18: Another of early music's shining lights is in town, for Scaramella's concert "The Angel and the Devil." Gambist Liam Byrne currently resides in England and is professor of viola da gamba at London's Guildhall School of Music and Drama. He's also in great demand as soloist and ensemble musician. Scaramella's programme features music by rival viol players from the French Baroque — Marin Marais (who played "like an angel") and Antoine Forqueray (possessing the virtuosity of "the devil"). Liam's collaborators are harpsichordist Sara-Anne Churchill and gambist Joëlle Morton.
• February 18: Intriguing mini-dramas, stories of the interaction of nymphs and shepherds, make for a delightful programme of duets and dialogues from the 16th and 17th centuries as the Musicians In Ordinary presents "When Tircis Met Chloris." Soprano Hallie Fishel and theorbist John Edwards are joined by guest tenor and baroque guitarist, Bud Roach.
• February 19: in Kitchener: Spiritus Ensemble, dedicated to the performance of great religious music, presents an "All-Bach Concert" of two cantatas, the Magnificat in D, and the Sinfonia from Cantata 29.
• February 19: In their programme "The Art of Conversation," the Windermere String Quartet, on period instruments, explores Goethe's comment on the string quartet: "One hears four rational people conversing with one another." They'll illustrate this thought with works by Haydn, Mozart and Boccherini.
• February 24: Two of the Canterbury Tales are interspersed with lively English songs and instrumental pieces, and also music by the Frenchman Machaut and his contemporaries, in Sine Nomine Ensemble's "The Road to Canterbury: Music for Chaucer's Pilgrims."
• February 26: A programme of early 17th-century German chamber music is presented by Toronto Early Music Centre's Musically Speaking series, featuring violinists Elyssa Lefurgey-Smith and Christopher Verrette, and harpsichordist Sara-Anne Churchill.
• March 1 in Toronto, March 2 in Kitchener: These concerts, (at Koerner Hall and Perimeter Institute, respectively), by world-renowned gambist/scholar/conductor Jordi Savall and his group Hespèrion XXI take place, in spite of the death of Savall's partner in life and in music, soprano Montserrat Figueras.
• March 3: Tallis Choir recreates the passion of Holy Week in "Stabat Mater: Music for Passiontide." A brilliant six-voice Monteverdi mass, Missa in Illo Tempore ("Mass In That Time") interweaves themes from an earlier motet by Gombert. Lotti's Crucifixus and settings of the Stabat Mater by Palestrina and Scarlatti, along with plainsong for Holy Week, will also be heard.
• March 3: "God give you good morrow my masters, past three o'clock and a fair morning …" The street cries of Gibbons' London contrast with his magnificent music for the cathedral, when the Toronto Chamber Choir presents "Gibbons: Canticles and Cries." With organ, lute and the viols of the Cardinal Consort, they'll perform Renaissance canticles, anthems, madrigals and vendors' cries by Gibbons, Byrd and others.
Simone Desilets is a long-time contributor to The WholeNote in several capacities who plays the viola da gamba. She can be contacted at earlymusic@thewholenote.com.