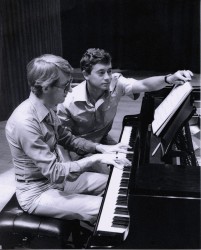 In october 1995, in the second ever issue of this magazine (then known as Pulse), we ran as a cover image, not a photograph but a kind of abecedarius — a stylized alphabetical list consisting for the most part of presenters, performers or composers featured in the issue's concert listings. The Penderecki Quartet came to our rescue for both P and Q. For Z we resorted to jazZ (where were you that month, Winona?), which was a bit lame. And A was as problematic as Z, but for the opposite reason — too many candidates rather than too few.
Aradia Ensemble, Academy Concert Series, Amadeus Ensemble, Autumn Leaf Performance and the Amadeus Choir (worthy candidates, all) had concerts, but were the five we didn't choose. Stephen Ralls' and Bruce Ubukata's Aldeburgh Connection was the one we did.
When I sat and chatted with pianists Ralls and Ubukata, in preparation for this story, it's not surprising that they could not remember who their guests had been on October 10, 1995. After all, the Aldeburgh Connection had already been going strong for 13 years before this magazine came into existence. In those 13 years prior and the 17 since, an astonishing 187 singers have appeared in their series, many of them more than once. "A starry constellation" as Ubukata describes them. Even more astonishing is that Ralls and Ubukata over and over again spotted these stars while they were still in the making.
Now, on February 19, 2012, 16 "starry" Aldeburgh vocal alumnae will join Ubukata and Ralls at Koerner Hall for a gala concert celebrating the series' 30th anniversary. It's a bigger venue than their norm, as befits what promises to be a fittingly grand and heartfelt occasion. Don't be surprised though if tickets turn out to be in short supply. No two individuals in this city have played a more important role in ensuring the place of art song in the country's musical life, and the audience can expect the hosts for the evening, mezzo Catherine Robbin and actor/director Christopher Newton, to weave a significant and personal storyline through the event.
Robbin, for one, can trace her own Aldeburgh connection almost all the way back to the time of Ralls' and Ubukata's own first meeting — at Benjamin Britten's and Peter Pears' Aldeburgh Festival in Suffolk, England, in 1977. And Newton, best known as the artistic director of the Shaw Festival, has been a long-time Aldeburgh collaborator, repeatedly helping to give voice to the meticulously crafted, always evocative storylines that are one hallmark of an Aldeburgh Connection event.
The best news is that after February 19's Koerner Hall fireworks, there will still be two, more typical Aldeburgh events this season, in the somewhat cosier confines of Walter Hall, their usual venue. March 18's programme is titled "Schubert and the Esterhazys"; April 29 brings "A Country House Weekend."
The first of these carries forward what has been an Aldeburgh Connection tradition since January 1997 (the 200th anniversary of Schubert's birth) — namely some kind of Schubertiad. That first Aldeburgh Schubertiad honoured harpsichordist/pianist Greta Krause, a great champion of Schubert's work and peerless art song collaborator and teacher. This year's event, as always, will be rededicated to her memory.
As for the April 29 "Country House" concert, it points two ways. For one thing, it harkens back to the bucolic Suffolk surrounds of Ralls' and Ubukata's own first "Aldeburgh connection." For another, it also, perhaps, gives a little nod to the future, namely Ralls' and Ubukatas's now annual June Bayfield festival near their country home on the shores of Lake Huron. But that, as the saying goes, is a story for another day.
For now, readers interested in hearing (and viewing) more of my recent visit with Ralls and Ubukata will find the full 20 minute conversation here:

(And, for the record, that particular concert in October 1995, almost 17 years ago, featured a couple of relative young 'uns, Michael Schade and Norine Burgess, in a recital of songs and duets by Mendelssohn, Brahms, Schubert, Debussy and Chabrier.)
---
Wallis Giunta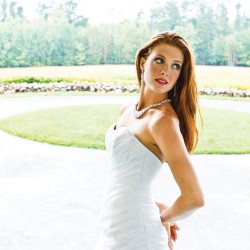 Since i have just spoken about our video series, Conversations@TheWholenote, I will mention that there's also an interview in the series that I did last December 29 with rising, Ottawa-born mezzo, Wallis Giunta, who has yet to grace the Aldeburgh stage, but whom some of you will have heard recently in Attila Glatz Productions' "Bravissimo" opera gala at Roy Thomson Hall this past New Year's Eve. It was her first appearance on that stage (well, first official appearance, anyway, as she confides in the interview).
An alumna of the COC Ensemble Studio, Giunta is now ensconced in the Metropolitan Opera's counterpart of the COC Ensemble, namely the Lindemann Young Artist Development Program, which means fewer chances to hear her in Toronto. All the more reason, therefore, not to miss her upcoming March 1 recital for Music Toronto, with pianist Stephen Philcox, part of that presenter's Discoveries series, and proof that Ralls and Ubukata aren't the only good eyes for talent on the town's vocal front!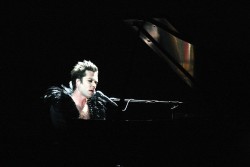 Originally billed as a programme of English language song, the March 1 recital takes on an additional edge with the recent announcement that Giunta will, as half of the recital, present Songs for Lulu, a song cycle by pop icon Rufus Wainwright which he himself presented here at the Winter Garden Theatre two summers ago in the lead-up to the Luminato premiere of his opera Prima Donna, the same summer. How and why Wainwright has passed the torch to Giunta for this cycle is a long story (it's in the video interview), and it adds an extra cachet to what was already promising to be an event to look forward to.
Last, an opportunity to call attention to yet another vocal series now well and truly sprouted in fertile Toronto ground. (And at the same time to call attention to an error in our listings.) The series is called Canadian Voices, and it takes place at the Glenn Gould Studio, now a member of the Massey Hall/Roy Thomson Hall stable of venues. The 300-seat acoustically perfect Gould is an opportunity for MH/RTH to test the Toronto waters for performers who are edge-of-career or simply not well-enough known yet in this town. French Canadian mezzo-soprano Julie Boulianne, who appears in the series February 26, is clearly one to watch (and hear). The concert is, however, at 2pm, not 8pm as stated in our listings.