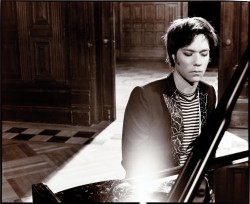 If you were quick off the mark picking up this month's magazine or one of the smart/lucky ones who have registered on our website to receive a "heads-up" when the online facsimile edition is up (usually 24–48 hours ahead of the print edition) then you still have time to make it down to the St. Lawrence Centre for mezzo Wallis Giunta's March 1 recital, with very busy collaborative pianist Steven Philcox at the keys. The Music Toronto Discoveries Series concert was originally billed as "a recital of English language songs," but a very interesting turn of events has technically made a liar out of Giunta. As reported in this column last month, half of the programme will now consist of a song cycle, All Days Are Nights: Songs for Lulu, by Rufus Wainwright.
It should be an intriguing evening. Wainwright performed the cycle himself at the Winter Garden Theatre two summers ago, as part of the lead-in to the North American premiere of his opera, Prima Donna, at that year's Luminato festival. The audience that night consisted, to a very large extent, of legions of longtime Wainwright fans who were baffled and frustrated by the request to refrain from applauding between the individual songs. Hearing it sung through will provide an opportunity to hear it as a true song cycle, a single work with a compelling emotional arc to it, in the hands of a mezzo/piano team whose stars are both on the rise. The other half of the programme will feature Britten, Purcell, Vaughan Williams, Barber and others. So the evening will be a true test of all concerned.
(If you haven't already done so, check out my video interview with Giunta, part of our "conversations@thewholenote" series. She says quite a bit about the choice of repertoire for this concert.)
Steven Philcox
As mentioned, collaborative pianist Philcox is a busy man this month. In addition to the March 1 Music Toronto recital, he will be at the piano for a March 6, 12 noon, "Celebration of Canadian Art Song," part of the COC's Bradshaw amphitheatre concert series. He will be accompanying soprano Carla Huhtanen, mezzo Krisztina Szabó and tenor Lawrence Wiliford in a programme of works by Harman, Passmore and Glick. And March 12 at 7:30pm, at Walter Hall, in a U of T Faculty Artist Series concert, he will accompany two of the finest, soprano Monica Whicher and baritone Russell Braun, in a programme of works by Barber, Rorem, Fleming, Vivier, Greer, Beckwith and others. (Composer Samuel Barber's name, incidentally, crops up in these vocal listings as often as Philcox's.)
In addition to the concerts already mentioned, Barber is one of the featured composers in Off Centre Music Salon's March 25 event titled "Ah! Sweet Mystery of Life: inaugural American Salon," featuring works by Bernstein, Copland, Gershwin, Kern and the aforementioned Barber. Tenors Keith Klassen and Rocco Rupolo, baritone Giles Tomkins and Ilana Zarankin will do the vocal honours, with Off Centre co-founders, Boris Zarankin and Inna Perkis, collectively or individually, at the piano.
Song Cycles and — Cyclists
Complete song cycles are, in truth, in somewhat short supply this month, but seasoned song-cyclists we have a-plenty. I'll come back to the seasoned cyclists soon, but first a nod to the one cycle that jumps out: March 17 at 8pm, the astonishingly consistent and prolific Kitchener-Waterloo Chamber Music Society presents baritone Matthew Zadow, accompanied by Dina Namer, piano, in Schubert's Die Schöene Müllerin. (Zadow then crosses to the other side of The WholeNote's "Beyond" for an appearance, on March 25, with the Kingston Symphony in Haydn's The Creation, along with Laura Albino, soprano, and James McLean, tenor.)
Returning to our veteran "song cyclists," as mentioned last month Aldeburgh Connection's Bruce Ubukata and Stephen Rawls, fresh off their sold-out triumphant gala at Koerner Hall, return to their more customary format and venue for their 14th (or is it 15th?) annual Greta Kraus Schubertiad, at Walter Hall, on March 18. Titled "Schubert and the Esterházys," it will feature soprano Leslie Ann Bradley, mezzo Erica Iris Huang, tenor Graham Thomson and baritone Geoffrey Sirett.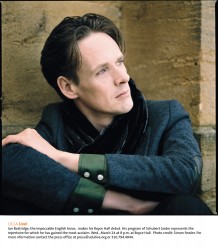 Three other recitals to mention here: March 4, at Koerner Hall, the Royal Conservatory presents acclaimed English tenor Ian Bostridge, with Julius Drake, in a mainly Schumann and Brahms programme; Michael Schade, who seems more comfortable in his musical skin every time out, comes to Roy Thomson Hall March 30 with Italian bass-baritone Luca Pisaroni and accompanist Justus Zeyen; and reminding us that the continuum of art song reaches from some of the city's largest venues to it's most intimate, in between those dates, on March 25, Nocturnes in the City presents Marta Herman, mezzo, with Timothy Cheung on piano at St. Wenceslaus Church, in a programme of works ranging from Mozart to Kapralova.
"Art of Song"
Keen-eyed readers of this magazine will have noticed that by including this article among our "Beat by Beat" columns this issue, we are taking steps to ensure that "the Art of Song" takes its regular place here (although almost certainly not with the publisher as its regular writer!).
In truth, this little essay barely scratches the surface of a genre as nuanced as any we cover. Take cabaret for example: Max Raabe & Palast Orchester at Koerner Hall, March 8 and 9; Ute Lemper with the Vogler Quartet at the same venue April 4; Alliance Française's March 9 presentation of "Quand la ville nous habite" (The city inside us)" with Patricia Cano, vocals and Louis Simao, multiple instruments at the Pierre-Léon Gallery; Against the Grain's March 13 presentation of Kurt Weill's Seven Deadly Sins at Gallery 345; and an ongoing programme of vocalists with serious credentials at the Green Door Cabaret (Peter McGillivray on March 6 for example) ...
We are looking forward to exploring this new beat, in all its diversity, in the months ahead.