Peter Eötvös
If you are a follower of new music but didn't know the name of Hungarian composer/conductor/educator Peter Eötvös till now, don't be too hard on yourself. According to Robert Aitken, "There are many like him, with huge careers in Europe, and correspondingly busy, but they have no reputation on this side, until someone invites them here, and sometimes not even after that." New Music Concerts artistic director Aitken extended such an invitation to Eötvös more than three years ago to come and do a concert, of Eötvös' own devising, for NMC. "I'd have liked him to come in 2011," Aitken says, "but when I reached him I was told there were already plans under way for him to come in 2012, and there was a very slim chance he would have time for both."
Those "plans under way" were for Eötvös to play a leading curatorial role in this year's TSO New Creations Festival, a series of three concerts, March 1, 3 and 7 at Roy Thomson Hall.
With the same blend of pragmatism and cooperation that manifested itself between Soundstreams and the Canadian Opera Company during composer Kaaija Saariaho's visit last month, Aitken hitched the NMC wagon to the TSO calendar. The upshot is that three days after the March 7 final concert of New Creations, Eötvös will also do a concert with NMC, on March 10, at the Glenn Gould Studio.
Aitken's connections with Eötvös come from Aitken's many years teaching in Freiburg, Germany, with Eötvös based in Karlsruhe, "one town away." Aitken is looking forward immensely to the whole visit, not just the NMC leg of it. "He [Eötvös] is well respected as a composer in Europe, and it is deserved. He just doesn't make mistakes. Clever like a fox, is what I would call him, a French expressionist but with an absolutely distinctive Hungarian accent! And his conducting is as good."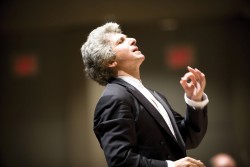 It's interesting to compare the role of Eötvös as "curator" as it applies to the NMC and TSO legs of the visit. The NMC concert is very tightly knit, as befits its smaller scale, and it's possible to see how each of the choices on the programme comes directly from Eötvös himself. But in the case of New Creations, with the best will in the world, there are many more factors at play. There are works that have been commissioned from local composers to fit in with a theme. There are the happy accidents arising from meetings on the road. The significant presence of clarinettist/composer Jörg Widmann in the series, for example is as likely to have materialized from Widmann's playing a Mozart concerto under Oundjian's baton somewhere in Europe, as from a connection between Eötvös and Widmann. But of such happy accidents is true creative ferment born. Every year Oundjian's and the TSO's genuine commitment to the New Creations Fedtival as a significant part of their cultural mandate becomes more clearly defined. And the event itself becomes more focused and exhilarating. With the steeply reduced ticket price at RTH, there's no reason the Hall shouldn't be rocking for three days with symphonic sound that invigorates the players' and the audience's ears.
Esprit Orchestra
At the other end of the month, March 29, Alex Pauk's Esprit Orchestra continues its drive to bring symphonic music to a hall large enough to handle an orchestra with serious new music chops. "Turned On By Texture" is their fourth and final Koerner Hall concert this season, featuring, among other works, Jamie Parker in Harry Somers' Third Piano Concerto, and Xenakis' Jonquaies. (If it wasn't too late to organize, I'd suggest that Esprit offer half price rush tickets to anyone who shows up with ticket stubs from any two of the three New Creations concerts that kicked off the month!)
By the way, for a really interesting insight into what keeps Pauk motivated, check out Jack Buell's Q&A with Pauk in "We Are All Music's Children" this month (page 68). What's in the magazine is just part of a much longer piece on the web.
The Classical Continuum
Returning to Eötvös' concert with NMC March 10, it was interesting to me that he chose to programme Stravinsky as part of the mix. There's a striking number of concerts this month where to a significant extent presenters seem to be emphasizing the classical/post-classical continuum, rather than the great divide. March 11, for example, the Stuttgart Chamber Choir and Soundstreams Choir 21 are bringing a programme to the Carlu that includes Ligeti, Mahler, Bach, Penderecki and a Frehner world premiere. And on March 22, in a Music Toronto Discovery Series concert, Véronique Mathieu, violin, and Stephanie Chua, piano, present a programme of works that includes, among others, works by Sokolović, Clara Schumann and Heather Schmidt. And another example: Kindred Spirits Orchestra's Markham New Music Festival on April 1 offers Stravinsky, Current, Bartók, Honegger, Richard Strauss and Southam.
Straight Up
And, all too briefly for those who prefer their new music straight up, check out:
• March 9: Music Gallery. Emerging Artist Series: Emergents II: Ina Henning, accordion and Marc-Olivier Lamontagne, guitar.
• March 12: Arraymusic. Array Session #11: An Improv Concert.
• March 16: Toronto New Music Projects. Stefan und Steffen: The Music of Wolpe and Schleiermacher.
• April 3: Canadian Opera Company. Chamber Music Series: Primitive Forces.
And finally a reminder: details on all these, and a whole lot more new music, can be found in our magazine listings, or, even more readily by searching "New" in the listings on our website.
Cage Watch: 180 days & counting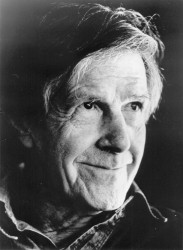 Last issue I pointed out that although the 100th anniversary of John Cage's birth will not be until September 5, 2012, among presenters of music, large and little, the celebratory clock has already started to tick. So, from now, and for the next 180 days (February 29 to September 5), let The WholeNote Cage Watch begin.
(Bemused readers should take a moment to read Pam Margles review, on page 69, of the reissue of Cage's seminal book Silence for a visceral sense of what the fuss will be about.)
March 2 at Koerner Hall, Soundstreams/Royal Conservatory present "So Percussion: Cage@100," works by Cage and a new work by turntablist Nicole Lizée.
March 22 at Gallery 345, Daniel Gaspard, piano, and Ellen Furey, dancer, present "John Cage, Sonatas in Movement."
October 25 to 28 a conference,"The Future of Cage: Credo," will be presented at the Graduate Centre for Drama, U of T. Details to follow.