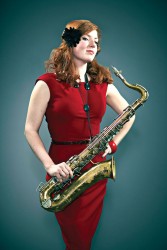 It's not the flower in her hair, the cute dress or the matching scarf and boots. And it's not just her fierce, soulful tone on the horn that blows listeners away — it's that Alison Young takes musical chances and has something to say. She's a jazz musician, yes, "but that can mean different things to different people. I'm glad that I studied jazz because if you're looking at it as an all-encompassing approach to music, you can take what you learn and apply it towards any genre. So there's a lot of discipline, but also a lot of room for creativity." So who has this Young lady spent her time listening to the most?
"When I started listening to jazz, it was always the more soul-influenced players that grabbed my ears. Cannonball Adderley was one of my first major influences, and then I got really into funk. Later on I got into Tower of Power and Lenny Pickett — after seeing him on Saturday Night Live way back when, he became one of my favourite sax players. Then there's Aretha Franklin. Eddie Harris. Anybody who plays or sings with soul! There are a lot of local musicians who have influenced me in a big way too, like Phil Nimmons and Mike Murley — both former teachers — and countless others. I could go on forever!"
Talented, dedicated and likable, Young is easy to hire. As a side-woman, she plays in more than a few bands and can be heard in a variety of contexts this month: at the Reservoir Lounge with Alysha Brillinger & the Brilltones (Feb 2, 9, 16 and 23 at 9:45pm); at Castro's Lounge in the Beaches with Big Rude Jake (Feb 4 at 4:30pm); at the Distillery District's Boiler House with Peter Hill & Christ Lamont (Feb 5 at 11am); back at the Reservoir Lounge with Bradley and the Bouncers as well as Sophia Perlman and the Vipers (Feb 8 and 13 at 9:45pm); and at the Dovercourt House with Roberta Hunt's Red Hot Ramble (Feb 17 at 9pm). In the midst of all of that, Young will lead her own quartet at the Pilot Tavern on Saturday February 11 from 3:30pm to 6:30pm with Richard Whiteman on piano, Jack Zarowski on bass and Glenn Anderson on drums.
"These are all fantastic musicians I've had the privilege of playing with in many contexts over the past few years … I'm excited about this gig! Being a bandleader is entirely different from being a sideman and I plan to do a lot more of my own gigs — and maybe even some recording — this year, but I'm still getting used to calling the shots. I'm used to supporting a bandleader's creative vision, but I love the idea of being in charge of the musical direction, there are so many things I want to do!"
SPEAKING OF DOING MANY THINGS, Vancouver's Cory Weeds is not only a saxophonist (www.coryweeds.com), but also a jazz club owner (www.thecellar.com), record label owner (www.cellarjazz.com), radio show host (Chasin' the Train on CFRO, www.coopradio.org) and he's a father of two! After firing off a few questions to Weeds, I acquired both insight and inspiration.
As a musician, recording artist, club owner, record label owner, radio host, etc. you are obviously extremely devoted to jazz music. How did this devotion come about?
Well, jazz was always in my household. My dad is a guitar player and music was always a part of my family. I was a typical rebellious teenager and didn't really figure out how great jazz was until I was in about grade 11. When I graduated from school I didn't really have any other interests than music so I went to music school (Cap College) and things just grew from there. I knew I wanted to be involved with this music. I had a very entrepreneurial spirit from a young age and when I was about 24 or 25 there was a big lull in the jazz scene here. Not a lot going on. I was mad that I couldn't go see Oliver Gannon, Cam Ryga, Ross Taggart etc on a regular basis so I decided I should start my own club, so I did. The label was a natural transition. I had been doing radio before that so that continued and musically I was prepared for my career to sort of slow down and stop. The complete opposite happened and I couldn't be happier. Jazz isn't a part of my life, it is my life.
What sacrifices (if any) have you had to make in order to own and run a successful jazz club?
Job security, pension, EI, benefits (although I married a school teacher). I don't feel I have sacrificed much. I have a beautiful wife, two kids who are the lights of my life, we own an apartment, we have a car. I mean what more could someone want? I have all this all while being in the "jazz" business. I feel very fortunate.
There are fewer jazz clubs in Toronto than there used to be … what advice would you give to someone who has a dream of opening one up?
Wow that's a tough question. Be prepared to dedicate your life to it for at least five years. I mean 24/7. If you're not a musician then talk to musicians, find out what they like/don't like about other clubs. Get to know the musicians first. I had the musicians on my side from day one and that is the single most important thing. Try promoting a few concerts locally to get your feet wet. Finally, don't give up. Persevere!!!
What do you enjoy about playing in Toronto?
I love T.O. and always have. It was the first big city I visited as an adult and the second I would get there I'd head to Sam the Record Man to spend all the money I had on CDs. Now my sister lives there and I love connecting with all my Toronto musician friends. I love playing with Bernie Senensky, always look forward to seeing Kelly Jefferson and Andy Scott and love playing with everyone I get a chance to. I have found that through my club, my label and my own records I have some fans there too which is really nice. Building a fan base is a long, slow process and it's nice to see the hard work pay off.
If you're reading this column early enough in the month, you've got a few chances to catch Weeds in and around The Big Smoke: at The Rex (Feb 2 at 9:30pm), with vocalist Maureen Kennedy at the Dominion on Queen (Feb 3 at 8:30pm), at the Pilot Tavern (Feb 4 at 3:30pm) or at The Jazz Room in Waterloo (Feb 4 at 8:30pm).
Ori Dagan is a Toronto-based jazz vocalist, voice actor and entertainment journalist. He can be contacted at jazz@thewholenote.com.