The "jazz festival" model has long been under threat from the pressure of commercial imperatives that require it to be ever bigger and ever broader in scope. I've always thought that if the "jazz festival" model no longer works the way it once did, then change the model — not the music.
The above words are jazz writer/photographer Mark Miller's, in a recent Facebook post. In the post he's talking about the TD Toronto Jazz Festival on the conclusion of its first year in and around Yorkville Village. But in many ways, he could just as easily have been talking about the motivation for the Kensington Market Jazz Festival, which mounts its second version September 15, 16 and 17.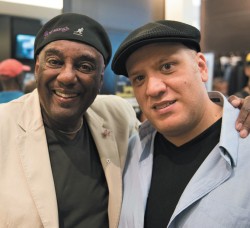 Before I start explaining why, I must make it crystal clear that, as one of the founding producers of KMJF, I am completely biased in my judgment, and am quite willing to admit that fact face-to-face, September 15, 16, 17 when I see you in the Market, enjoying the multitude of local musicians booked by Molly Johnson, Genevieve Marentette and yours truly.
The festival is the brainchild of Order of Canada Officer Molly Johnson, awarded for her work as singer, songwriter, broadcaster and philanthropist. KMJF, which turns two this month, simultaneously celebrates a diverse musical field of Toronto artists, and, through its concentrated presentation of over 250 musicians in 20 Kensington Market locations, a treasured Toronto neighbourhood. A particularly important note to point to anyone planning to attend is that the festival accepts CASH ONLY at the door. There are no online tickets or advance reservations – you need to arrive early to ensure seating!
"If you want to show your support you have to show up! We like to keep things simple," jokes Johnson, herself a child of the Market, but also a Torontonian known worldwide for her husky, instantly recognizable tone which cuts right through the listener's ear with raw grit and soulful truth.
As talented as she is, Johnson has never been seduced by the frivolities of fame and has used her success to benefit those in need throughout her career. As a philanthropist she is best known for creating Kumbaya, an annual concert series and live telethon on Muchmusic benefitting HIV and AIDS research, for which she raised over $1 million. Kumbaya featured scores of Canadian bands such as The Tragically Hip, Barenaked Ladies, Leslie Spit Treeo and Rush, donating their time for this worthy and important cause. The telethons ran annually from 1993 to 1996, at a time when AIDS was far more taboo than today.
"Compared to Kumbaya, Kensington Market Jazz Festival is a piece of cake. I mean, that was live TV with rock stars, it was a wild ride. This is jazz being played indoors and everything shutting down at 11pm. Way more civilized," she quips.
Authentic might be a better word than civilized. Here's what some of the participating musicians have had to say about the inaugural Kensington Market Jazz Festival:
Long live the Kensington Market Jazz Festival. It's an honour to be part of this initiative. Toronto needs more live music! — Jane Bunnett, O.C., Recording Artist
KMJF is Toronto's new jazz festival...it has it all and the location just feels right...it feels authentic...the level of music is superb and it was evident that it was more than the sum of its parts in that what I felt walking around after my gig was something like the early Yorkville days.... — Marc Jordan, Singer-Songwriter
On Saturday night especially it was balmy and walking up and down Augusta between GREAT music venues I thought how it felt a little like Frenchman street in New Orleans. — Alex Pangman, Vocalist
This was the festival Toronto has been waiting for. The fact that it was contained and neighbourhood-based and everything was happening within a few-blocks radius gave it a unified feeling. It also felt like our community was truly represented and honoured. — David Restivo, Pianist
Thanks so much for bringing exactly what we needed to this scene!!! — Chris Butcher, Trombonist, Heavyweights Brass Band
The best day of my year was at the Kensington Market Jazz Festival...as I was given the opportunity by the organizers to curate a three-concert series. The idea: seasoned jazz veterans and young poets/rappers/free-stylists together. The result... a bridge between generations and artistic hearts and minds... a dream come true for both musicians and audience...and a living demonstration of the creative fire that unites us. — George Koller, Bassist/Curator
So that is how KMJF was born: three working musicians in an office, with help from priceless friends such as social media guru Céline Peterson of Social Legacy, Jim Welter of Yamaha Music Canada who generously supplies backline to all ten venues on Augusta, and patron saint of the festival (and bona fide jazz lover) Tom Mihalik of Tom's Place, who again this year will be taking out a dozen racks of suits to house a Yamaha grand piano for the duration of the festival.
One thing we've already learned over the course of this first year, is that, paradoxically, if you want to become a fixture, you have to keep moving!
This year KMJF is adding a new series to the festivities: Curated Busking, bringing music to the neighbourhood, putting it in people's faces – their ears – in hopes of promoting the great talent in this city. For example at 4 Life Natural Foods you will hear acoustic performances by a cappella trios The Ault Sisters and The Willows, for a Pay-What-You-Can donation. KMJF supplies the bucket and promotes the buskers on print materials and through social media streams. Select venues such as Poetry Jazz Café, an intimate space of 40, will be live-streaming performances by artists such as Laila Biali and Elizabeth Shepherd. Other notable series will include a "jazz under 20" venue at the St. Stephen's Youth Arcade Studio and a fundraiser for the Boys and Girls Clubs of Canada featuring nearly 20 vocal artists, from promising up-and-comers Alex Samaras and Joanna Majoko to soulful veterans Sharon Lee Williams and Shawne Jackson.
This year KMJF has chosen Eric St-Laurent as a guest curator, at Lola on Kensington Avenue. Says St-Laurent of the musicians he has chosen for closing night of the festival, Sunday September 17: "The Sunday lineup at Lola's is about improvisation in world traditions outside of North America. In a way, jazz is as old as the world itself. Come to Lola's and let us show you what we mean by that. Donné Roberts' guitar playing is pure unadulterated joy - liquid happiness. Flutist Anh Phung is simply one of the strongest new voices in Canadian music. Catch her now in an intimate setting before fame hits. Selçuk Suna masterfully brings traditional Turkish music and jazz together, demonstrating once more the profound unity of all improvisational dialects."
The evening will conclude with a performance by power group Eric St-Laurent Trio featuring original compositions and eclectic covers by the guitarist with bassist Jordan O'Connor and percussionist Michel DeQuevedo.
On a personal but related note, this issue marks ten years since I wrote my first piece for The WholeNote. What a difference a decade makes: just 86,648 little hours … Re-reading my first published piece, I found myself reflecting on the fact that I've been shining the spotlight on members of a jazz community, many of whom
I have met in the wee small hours of a jam session, or in small venues, or been able to bump into on the street.
Writing for The WholeNote has always been a great experience, regardless of how stressful it has been to get my piece in on time. Those in my inner circle have been supportive of my "WholeNote time of the month," during the crunch when deadlines loom (none ever crunchier than as of this writing!)
Writing for The WholeNote has always been about spreading the good news of a city where it is possible for music to be part of daily life, year round.
Working for KMJF is starting to feel a lot like that.
This year's festival takes place on the last weekend of summer: September 15, 16, 17. Full schedule at kensingtonjazz.com.
Ori Dagan is a Toronto-based jazz musician, writer and educator who can be reached at oridagan.com
Update, September 11, 2017, 3pm: This article has been updated to remove opinions incorrectly attributed to the author.