When writing a monthly column that involves regularly working your way through over 500 detailed listings, you look for ways to inject a little bit of silliness into a task that, at times can be, shall we say, a tad dryish. So, I keep my eyes open for quirks and curiosities. This month, for example, I noticed that several of Canada's finest pianists performing "classical and beyond" repertoire have first names starting with the letter "A." Granted, there are also many (close to 30) whose names do not. Nonetheless, the "A list" struck me as, well, quirky; as good a place as any to start.
Another quirky thing: the proliferation of concerts (22 to be exact) featuring works by Brahms: orchestral, chamber, piano solo, piano and orchestra, violin and orchestra, piano and violin duo, solo singers, full choirs (with and without orchestra). Was there a special Brahms birthday or anniversary? Let's see. Born May 1833, died April 1897. Nope, that's not it. Must simply be a case of wanting to "Beat the February Blahs with Brahms." So let's begin.
A is for André, Arthur (x2), Anton, Angela and Aaron
André Laplante, Arthur Ozolins, Arthur Rowe, Anton Kuerti (performing three concerts), Angela Park and Aaron Chow (performing in the same concert) will all be gracing stages, both in and beyond the GTA, in February. (So will Adam Sherkin, Feb 19, and Angus Sinclair, March 6, but their repertoire falls outside my beat.)
Anton Kuerti is synonymous with great Beethoven playing, so it comes as no surprise that he will be performing works by Beethoven in all three of his concerts. First up is the majestic Piano Concerto No.5, the "Emperor," with the Toronto Symphony Orchestra, on February 2 and 4 at 8pm. Also on the programme is Symphony No.10 by Shostakovich. The great Günther Herbig conducts. Next, Kuerti entertains the young ones in Mooredale Concerts' Music and Truffles series with "Beethoven – Immortal Musical Genius" at 1:15pm, Walter Hall, February 12. Last, Kuerti will perform an all-Beethoven recital for Barrie's Georgian Music on February 19.
Cathedral Bluffs Symphony Orchestra conducted by Norman Reintamm features the acclaimed Arthur Ozolins February 4, in a performance of Rachmaninov's Piano Concerto No.2, along with Beethoven's Fifth Symphony at the P.C. Ho Theatre.
The New Orford String Quartet will perform Brahms' Piano Quintet in F Minor, with Arthur Rowe, for the Kitchener-Waterloo Chamber Music Society on Feb 10, at the KWCMS Music Room in Waterloo, and again the next day in London's Wolf Performance Hall, as part of the Jeffrey Concerts; Rowe is the artistic director for that series.
Back in the GTA, the Aurora Cultural Centre has landed the always electrifying André Laplante for its Great Artist Piano Series! Laplante will perform works by Liszt (his specialty) and Schubert at the Centre on February 17, 8pm. And speaking of Liszt, all you die-hard romantics looking for a post-Valentine's Day fix can hear Angela Park and Aaron Chow, along with soprano Eve Rachel McLeod and Rachel Mercer, cello, in "A Romantic Music Tryst with Liszt," presented by the Neapolitan Connection, in a matinee on February 19, at the Toronto Centre for the Arts.
B is for Brahms
Space limitations won't permit me to delve into detail on all 22 Brahms concerts I mentioned in the introduction. I'll focus on a few (and you can check out others in Part C at the end of the column).
"Warhol Dervish" is a pretty intriguing concert title. February 3 at 8pm, at Gallery 345, the concert should prove equally intriguing, featuring, among other more twisty repertoire, Brahms' Horn Trio and Mozart's Clarinet Trio — both in E-flat major, both arranged for violin, viola and piano — played by John Corban, Pemi Paull and Katelyn Clark, respectively. And another winner in the concert title category, given that they're performing sextets by Brahms and Dvořák, is Via Salzburg's "Six Degrees of Separation." Catch all degrees of fun at Rosedale United Church, February 10, 8pm.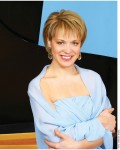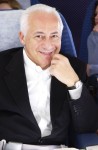 Show One Productions is presenting a very special event on February 23 at Koerner Hall. Legendary violinist Vladimir Spivakov and outstanding pianist Olga Kern will perform as a duo — a first for Toronto! And their programme is absolutely sumptuous: Brahms' Sonata No.3 in D Minor Op.108; Franck's Sonata in A; Stravinsky's Suite Italienne (based on his ballet music for Pulcinella); and Spiegel im Spiegel by Pärt. As an added attraction, in this case "B" is also for Bösendorfer. At her request, Kern will perform on a nine-and-a-half foot, 97-key Imperial Bösendorfer grand (courtesy Robert Lowrey Piano Experts), apparently the only piano that could withstand Liszt's powerful touch. Not only is it Kern's preference, it was also the choice of jazz great Oscar Peterson. The magic begins at 8pm.
And last, Ontario Philharmonic Orchestra, under the baton of Marco Parisotto, has programmed a magnificent all-Brahms concert, which it will perform twice. "A Journey Into Brahms" plays on February 25, at the Regent Theatre in Oshawa, and then "journeys into Toronto" on February 28, for a concert jointly presented with Mooredale Concerts, at Koerner Hall. The exciting soloist featured in the compelling Violin Concerto in D Major is young Korean violinist, Ye-Eun Choi, in her Toronto debut. A protégée of Anna-Sophie Mutter, Choi debuted with the New York Philharmonic Orchestra under Alan Gilbert in 2009. Also on the programme is Brahms' Symphony No.2. It promises to be a fine evening.
C is for Classical Column Concluding with Concise Quick Picks (details are in our concert listings):
• February 9, 7:30: Royal Conservatory. Discovery Series: Hiroko Kudo, piano and Tobias Bäz, cello. Works by De Falla, Brahms and Martinů. Mazzoleni Concert Hall.
• February 19, 2:00: Royal Conservatory. Mazzoleni Masters Series. All-Brahms programme. Members of the Arc Ensemble.
• February 21, 12:00 noon: Canadian Opera Company. Passion and Poetry. Works by Schubert, Brahms and Chopin. Mehdi Ghazi, piano. Richard Bradshaw Amphitheatre.
• February 22 and 23, 8:00: Toronto Symphony Orchestra. Brahms Symphony 4. Also works by Fauré and Britten. Karina Gauvin, soprano; Jean-Marie Zeitouni, conductor. Roy Thomson Hall.
• February 23, 1:30: Women's Musical Club of Toronto. Music in the Afternoon: Roger Chase, viola and Michiko Otaki, piano. Works by Ireland, Bowen, Delius, Bach and Brahms. Walter Hall.
• February 25, 8:00: Canadian Sinfonietta. Wine and Cheese. Works by Brahms, Schnittke and Ravel. Michael Esch, piano; Joyce Lai, violin; Olivia Brayley Quackenbush, horn. Heliconian Hall.
• February 28, 4:30: Guelph Connection Concerts. Doug Miller and Friends. Works by Bach and Brahms. Doug Miller, flute; Darius Bagli, piano. St. George's Anglican Church, Guelph.
• March 6, 8:00: Music Toronto. Piano Series: Richard Goode. Brahms: Eight Pieces Op.76; Chopin: short works tba; Sonata No.3 in b Op.58. Jane Mallett Theatre.
This month's column was brought to you by the letters A, B and C. Avail yourself of all the listings, beat those blahs, catch a concert or two and enjoy!
Sharna Searle trained as a musician and lawyer, practised a lot more piano than law and is listings editor at The WholeNote. She can be contacted at classicalbeyond@thewholenote.com.