The Queen West spot with the hottest name, The Tequila Bookworm, will no longer be presenting live music, while a Cabbagetown hidden gem, Plum 226, has gone under, never to be unearthed. Are there any philanthropists out there who might consider opening up a jazz club in Toronto? All you'll need is a good location, excellent music, great food, friendly service, business savvy, wisdom, luck, patience, verve and nerve. Inspired? Yes, you'll have to be!
A WELCOME CHANGE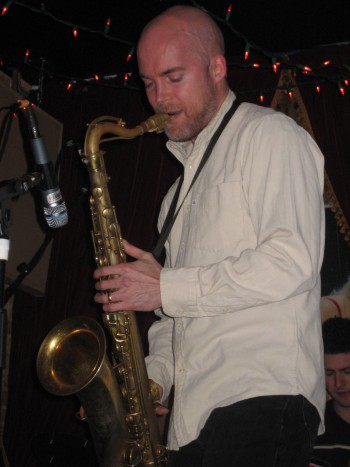 The Reservoir Lounge adds Thursdays to the Après-Work Series, so now Tuesdays through Thursdays enjoy jazz from 7-9pm. Last month's cover girl Alex Pangman's "First Tuesday" house gig has changed to every "First Thursday" of the month. Other highlights in the series this month include talented blues singer Chloe Watkinson on the 14th and splendid saxophonist Shawn Nykwist on the 21st. www.reservoirlounge.com

WARM WELCOMES
Toronto happily welcomes back jazz legend Sheila Jordan! (www.sheilajordanjazz.com) Known in the jazz world for originating the "bass & voice" duet, Jordan is one of the world's first and finest jazz educators as well as one of the hippest 81-year-olds on the planet. In early 2009 I had the distinct pleasure of interviewing this legendary vocalist for The WholeNote and she had this to say when asked about being in the prime of her career at 80:
"I'm not as successful as most people think I am…not in America anyway. But I don't care! I never wanted to be, you know, 'a star'. That's not my purpose, that's not my calling. My calling is to be a messenger of this music, and I'm very happy being that. I'm very thrilled with the awards I've won and the recognition that I've gotten."
from 10AM - 5 PM. Participants $120 full day / $60 half day, Auditors $50 / $30. Location to be announced. Contact: yvettetollar@hotmail.com
OOH, WHAT AN ELLING! Speaking of not-to-be-missed jazz vocalists, the incomparable Kurt Elling (www.kurtelling.com) rides a colossal wave of professional triumphs: the 2010 Grammy Award Winner and 9-time Grammy Nominee was voted DownBeat Magazine's 'Male Vocalist of the Year' for 10 consecutive years and was recently described in the New York Times as "the standout male jazz vocalist of our time." From Elling's deeply spiritual approach to ballad singing to a gracefully virtuosic scat style to his awe-inspiring ventures into vocalese, it is virtually impossible not to acknowledge his masterful musicianship. Mr. Elling opens the Thursday Night Jazz Club Series at The Old Mill on the evening of Thursday, September 16th. This show will definitely sell out so you want to reserve your tickets lickety-split.
RHYMES WITH PEGGY Split between the jazz and classical world, Ottawa-based double bass virtuoso John Geggie will be making a rare appearance in Toronto on Friday, September 17th at Chalkers Pub. Geggie (www.johngeggie.com) is an extremely versatile musician, composer and collaborator who performs in the National Arts Centre Orchestra, and teaches double bass at Queen's University, Carleton University, the University of Ottawa and the Crane School of Music at SUNY Potsdam. Geggie is known to invite jazz artists from across Canada and the world to play with him in one-time-only groups, in which they perform material written by each of the artists, as well as jazz standards. Joining John Geggie at Chalkers Pub will pianist Nancy Walker, drummer Ethan Ardelli and special guest tenor saxophonist, Jerome Sabbagh from Paris, France!
GUITAR ACE Local guitarist Harley Card (www.harleycard.ca) recently represented our country as a semi-finalist at the Montreux Jazz Festival Guitar Competition. Here in Toronto Mr. Card is an active member of several ensembles including Monk's Music, Hobson's Choice, God's Gift to Yoda as well as his own group which features compositions that draw from modern jazz, improvised music, folk and rock. The Harley Card Trio plays at The Emmet Ray on College Saturday September 11th from 7-10pm. 
BEYOND WORDS
Fellow member of the group Hobson's Choice, vocalist Felicity Williams leads The Al Purdy Project, for which she has composed and arranged music set to the great Canadian poet's words. The end result is as hauntingly beautiful as it is conceptually ambitious. The cherry on the cake is that Williams' voice is sonically stunning, reminiscent of a young Joni Mitchell. The Al Purdy Project is comprised of: Felicity Williams, leader/voice, Robin Dann, voice, Rebecca Henessy, trumpet, Michael Davidson, vibes & marimba, Harley Card, guitar, and Dan Fortin, bass. Sample the scrumptious sounds here: www.myspace.com/felicitywilliams and then experience The Al Purdy Project live at The Tranzac on September 21st at 7:30pm.
WELCOME BACK, MANTECA!
In 2007, the Juno Award winning Canadian fusion group Manteca (www.manteca-music.com) reassembled at the Toronto Jazz Festival nearly a decade after disbanding. Appearing in Toronto for two nights only this season, September 22nd and 23rd at The Glenn Gould Studio will be rare two-night appearance by the 9-piece original jazz group that has been 31 years in the making, known for breathtaking compositions and explosive playing. In its current reincarnation, the band consists of: Henry Heillig, leader/bass, Matt Zimbel, leader/percussion, Charlie Cooley, drums, John Johnson, saxophones, Kelly Jefferson, saxophones, Art Avalos, timbales, Mark Ferguson, trombone, Steve Mcdade, trumpet and Doug Wilde, keyboards.
Ori Dagan (www.oridagan.com) is a Toronto-based jazz vocalist, voice actor and entertainment journalist. He can best be contacted at jazz@thewholenote.com This e-mail address is being protected from spambots. You need JavaScript enabled to view it .