Ushering in the GTA's fall season of music theatre, April 30th Entertainment presents the world premiere of Queen for a Day: the Musical on September 26, for a 12-show run (ending October 7) at the brand new Richmond Hill Centre for the Performing Arts. With this show, the independent production company, a new player in the city's burgeoning musical theatre scene, introduces a rarely seen developmental model — a full-scale, professional showcase aimed at future producers as well as current audiences. Not since Garth Drabinsky used the model in the 1980s has a commercial producer emerged to champion the creation and production of new musicals in Toronto, a role primarily left to the city's not-for-profit companies. Indeed, Queen for a Day is a game-changer in the development of large-scale, original Canadian musicals.
The show's subject matter is appropriate. Queen for a Day originated on American radio on April 30, 1945, where it ran for over a decade. Picked up by NBC Television in 1956, the show became one of the most popular on TV until its demise in 1964, its "rags to riches" format imitated by numerous game shows such as Strike It Rich and It Could Be You. As a prototype for "reality television," the show changed American TV, its formula of elevating "ordinary women" to celebrity status, at least for 15 minutes, still a television staple. To win the title of "Queen for a Day," contestants were invited by program host Jack Bailey to recount recent financial and emotional difficulties before a live studio audience whose "approval rating" was evaluated by an "applause meter." Winners were then robed, crowned, and seated on a throne where, listening to their their prizes being announced, many broke down and wept. Winners' prizes also included "extras" — gifts from sponsors that featured vacation trips, kitchen appliances and clothes. Runners-up also were rewarded while the audience clapped and cried its delight.
Queen for a Day garnered as many detractors as fans — which has helped to ensure its importance in the annals of popular culture, and for Linda Barnett, founder of April 30th Entertainment, made it a natural for adaptation to musical theatre — an opinion that her co-producers, Jeffrey Latimer and Natalie Bartello, share. "Being so surrounded by reality TV these last years," Barnett explains, "Queen For A Day struck a chord as the first reality show on TV. Taking audiences back to the time where [these shows] fascinated and motivated us all, in that everything was done live and the women's wishes were so simple and real." The book for the musical (written by Chris Earle and Shari Hollett, with additional dialogue by Paul O'Sullivan and Timothy French) does more, however, than recreate the television show. The musical's "past narrative," as she calls it, "centres on the 24 hour period after Claribel Anderson appears on the show ... how her life drastically changes because of the experience." In the present day narrative, Claribel, in her 80s and living as a hoarder, reflects on her experience for the benefit of Felicia, a troubled adolescent.
The way the two narratives inform each other was what most attracted Timothy French to the production. With a long career as a choreographer and director (recent credits include the acclaimed productions of Altar Boyz and [Title of Show] for Toronto's Angelwalk Theatre), he joined the creative team over a year ago. Since then, dramaturging the book and directing a workshop of the show has only heightened his interest in the lives of the original participants — women like Claribel whose character is based on an actual winner. "What fascinates me is how that one day had repercussions in the women's future lives that they never could have guessed." The way winning the title "Queen for a Day" "changed the winners' lives" is what he and his fellow writers seek to emphasize in the book.
The showhas an orchestra of ten and a cast of 22 performers, many with considerable experience. Not the least of these is Alan Thicke, the Canadian actor and seven-time Emmy nominee, best known as Dr. Jason Seaver ("America's Dad") on the television sit-com, Growing Pains. Thicke's goal is to make the pivotal character of Jack Bailey as appealing today as he was in the 50s — not an easy feat given the evolution of gender politics. No stranger to musical theatre, Thicke's credits include the role of lawyer Billy Flynn in the Broadway production of Chicago, and leads in Promises, Promises and Mame at the Hollywood Bowl. Joining him are Stratford veteran Denise Fergusson, who plays the elderly Claribel, and Blythe Wilson, another seasoned Stratford performer, as Claribel's younger self. An impressive roster of musical stalwarts also includes Marisa McIntyre and Lisa Horner. "All of the cast were attracted to working with Tim," Barnett explains, "and to the opportunities implicit in a commercial showcase that is still in development."
Besides working as co-producer of the musical, Barnett assumes the ambitious task of writing and composing its 18 songs, arranged by Noreen Waibel and orchestrated by Mark Camilleri, musical director of the production. Unlike April 30th Entertainment itself, Barnett isn't new to musical theatre. In 1986, she founded Stage Kids, whose mandate was to make musical theatre accessible to youth who otherwise could not afford to attend performances in main stage commercial venues. Over the next 20 years, she created, developed and produced 18 musicals with two teams of young people drawn from the company, receiving a Dora nomination in 1996 for The Player Principle. Two of her shows toured widely, and many of her "stage kids" have progressed to professional musical careers. One of Barnett's greatest joys in working on the current show was seeing graduates of her program, résumés in hand, turn up at auditions.
The music in Queen for a Day Barnett characterizes as "eclectic, though much of it is rooted in a 50s sound," which is fitting given that the younger Claribel wins the game-show in 1953 — the year in which much of the action is set. At that time, the series was telecast from the Moulin Rouge night-club in Los Angeles which the production recreates for a major portion of the show. Tim French is more specific in his comments about the music, noting that "musical motifs from the early 50s weave throughout the show, but there's no attempt to create a period piece. Swing, boogie-woogie, Latin tango, they're all there, but so are rock 'n' roll, hip-hop and rap — particularly in the contemporary scenes. It was important to write for today's audience when the show moves to the present ... The songs develop plot and character, as in all musicals, and this is as true for Claribel and Felicia today as for the characters in the past."
What will happen to Queen for a Day: the Musical after the showcase closes? Barnett and French realize there are various options and possibilities for its future, ranging from more development, perhaps by a regional theatre, to a commercial run and tour, using members of the current cast. What is certain at this point is that the time, money and talent lavished on the showcase ups the ante for the creation of musical theatre in the GTA. Yes, there's a new player in town, with an eye on the prize of long-running success.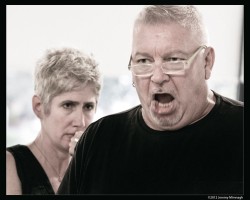 Julie sits waiting: The mandate of Good Hair Day Productions is to explore and challenge the formal possibilities of lyric theatre, and to examine the fragile cracks in human experience. The company's new show, Julie Sits Waiting, opens in the BackSpace of Theatre Passe Muraille for a limited run on September 14, uniting a team of internationally-celebrated artists whose innovative work invariably excites expectations. Not least of these is Fides Krucker, the show's producer and female lead, whose contributions to vocal music during the last 25 years in Canada and abroad are such that she recently won a Chalmers' Fellowship to write a book about her artistic practice, vocal innovation and pedagogy.
Julie Sits Waiting is epic in purpose but small in size, and short in length—"67 minutes," Krucker notes with pointed precision in an interview. "I need new forms," she explains, referring to music, theatre, and the creation and performance of both. Because she plays a married mother in the show, a woman involved in a passionate and ultimately tragic love affair with an Anglican priest, her remark could easily apply to new models of intimacy as well, which I point out. She muses for a moment, then asks, "How do we reconcile reason and passion?" Her question resonates not only through the annals of art, but those of politics, love and sex—indeed, through all the profound and picayune intricacies of life and spirituality. Epic.
In 2006, after working with collectives for years, Krucker decided to commission a single writer and a single composer to create the libretto and score of what has become Julie Sits Waiting. For the libretto, she turned to Tom Walmsley, a writer whose brutally honest portrayals of sex and violence in plays such as White Boys (1982), Getting Wrecked (1985) and Blood (1995) led one critic to call him "Canadian theatre's chief chronicler of the dark underside of Canadian urban life." Initially intimidated, Walmsley accepted after listening to recordings by Stravinsky, Wagner and other musical iconoclasts that Krucker hand-picked and delivered, finally expressing his astonishment that, in opera, "you get to write the subtext!" Krucker, likewise surprised by the subject of his libretto (the perils of succumbing to love at first sight), now embraces it fully: "Tom's words are physically connected with the body, not with images; they are visceral." At the same time, their meaning is "distilled to essences—to poetry, like haiku."
To find a composer for Julie Sits Waiting, Krucker looked to Quebec where she eventually commissioned Louis Dufort, a Montreal artist known for electroacoustic composition and, in particular, creations for Québeçois dancer and choreographer, Marie Chouinard. Improvising with a group of actor/musicians who voiced Walmsley's text in a series of workshops, Dufort composed a score that, in Krucker's estimation, combines "a beauty and grittiness appropriate to Walmsley's words" with textures that are "edgy and urgent." It also requires her and fellow performer, Richard Armstrong, to move from speech and chant to virtuosic bel canto and extended-voice singing.
Having worked with Richard Armstrong since the mid-1990s, Krucker was able to convince him to make a rare foray into performing the role of Mick, Julie's paramour—an undertaking she regards as "a renaissance of sorts, for him, as a performer." A pioneer of "extended-voice," a vocal technique that pushes the boundaries of normal singing to include (potentially) all the sounds that the human voice can make, Armstrong, as a founding member of the Roy Hart Theatre in France during the 60s, helped to create one of Europe's most influential schools of voice and body research. His work as a teacher, director and performer has taken him to over 30 countries and inspired a generation of performers. Associate professor of drama at New York University's Experimental Theater Wing of the Tisch School of the Arts, his appearance here is a treat.
Krucker has assembled a talented team for the production, worthy of its performers. Directors Alex Fallis and Heidi Strauss, designers Teresa Przybylski (set and costume), Jeremy Mimnagh (video) and Rebecca Picherack (lighting) are joined by Darren Copeland who has the uncanny ability to make complex electronic sound available to human ears while simultaneously amplifying voices so that they still sound human.
Julie sits waiting ... but not for long. My hot tip for the month. 
Based in Toronto, Robert Wallace writes about theatre and performance. He can be contacted at musictheatre@thewholenote.com.