It's all right — I'm talking about the season not the state of the music. Summer fades away, holiday makers come back to the city and the evenings begin to draw in and become cooler.
In Toronto the club activity ranges from the ever active Rex with up to 19 bands a week to other regular but less frequent spots such as Chalker's, Gate 403, Grossman's, Mezzetta, Musideum, Pilot Tavern, Quotes, Reservoir Lounge and so on.
For the most part the festival season has run its course, but not quite: on September 14 and 15 there is Jazz & Blues In the Village in Sarnia, now in its ninth year; the All-Canadian Jazz Festival in Port Hope takes place from the 21st to 23rd; and there is the Willowbank Tenth Annual Jazz Festival, a one-day event on September 16.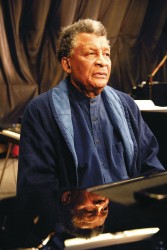 A David among the Goliaths:A more contemporary program is on offer at the Guelph Jazz Festival from September 5 to 9. Nineteen years ago a group of jazz enthusiasts got together to create a festival showcasing the brand of music to which they were dedicated and I use the word "dedicated" advisably in that they were single-minded about the musical content. Now in its 18th year, they have retained the vision in a way that larger, more commercial enterprises cannot. The Guelph Festival has grown from small beginnings with audiences in the hundreds into a success that draws an audience of 16,000 annually. Now that is peanuts compared to say, Toronto and Montreal, but is bigger always better?
Ajay Heble, the festival's artistic director, was out of town at the time of writing this piece but I spoke with Shawn Van Sluys, vice president of the Board of Directors of the Guelph Festival and executive director at Musagetes Foundation, an international organization which seeks to transform contemporary life by working with artists, cultural mediators and other partners to develop new approaches community and culture. The co-operation between these two entities makes sense and emphasizes the importance of the community aspect of the festival.
Some of the highlights this year include a solo performance by South African pianist Abdullah Ibrahim; Brew, an international trio which features Miya Masaoka on 17-string Japanese koto zither, bassist Reggie Workman and Gerry Hemingway on percussion; a John Coltrane tribute with Ascension; and an interpretation of his masterwork by Bay-Area-based ROVA Saxophone Quartet plus five rhythm, two violins and cornet.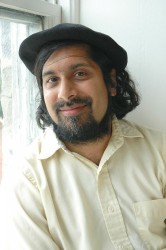 So the ingredients are there — a city, but not too large, a University, strong community involvement, some corporate support, but not to the point where the tail wags the dog, and a dedicated team with a common vision.
This is not a put-down of large festivals. They do what they have to do in order to survive. Rather, it is an expression of regret that they have to dilute the content in order to be financially successful. But remember the immortal words of Yogi Berra: "If you don't know where you are going, you'll end up some place else."
Any debate about the relationship between size and quality isn't restricted to jazz festivals and I must confess that when I went online and asked the question, 'Is bigger better?' I had a host of replies that belong in a quite different sort of publication than The WholeNote. But I digress.
Of Olympic proportions: Undoubtedly the recent Olympic Games are a case in point. From the relatively innocent days of the early Games we now have a vast, commercial enterprise with a considerable number of events which — and this is a personal opinion — frankly don't belong, largely because the judging is subjective and open to error or bias. Synchronised swimming requires a huge amount of ability and physical control, but is it really an Olympic event? Then why not include ballet?
However the name of the game is expand the audience base and make sponsors happy. And on the subject of sponsors and just how much influence they exert, here we have a huge event extolling the virtues of fitness and physical prowess sponsored by a huge corporation which sells a range of soft drinks that aren't exactly health-giving.
Which reminds me of the disappointed Coca Cola salesman returning from his first Middle East assignment.
A friend asked, "Why weren't you successful?"
The salesman explained, "When I got posted to the Middle East, I was very confident that I would do well as Cola is virtually unknown there and it would be a new and huge market. But, I had a problem; I didn't know how to speak Arabic. So, I planned to convey the message through three posters , side by side ...
First poster, a man crawling through the hot desert sand totally exhausted and panting.
Second poster, the man drinking our Cola.
Third poster, our man now totally refreshed.
I had these posters pasted all over the place."
"That should have worked," said the friend.
The salesman replied, "Well, not only did I not speak Arabic, I also didn't realize that with Arabic you read from right to left ..."
I will add one Olympic footnote:
The chief executive, ODA (Olympic Delivery Authority), received a basic salary of $578,564.44 CAD plus bonuses paid from the public purse. And the Games' top executives make substantially more than that. So it was with interest that I read in Britain's Telegraph newspaper an article saying that the Musicians' Union had received complaints from members that they had been asked to donate services at the Games "because it's such great exposure."
Does that sound familiar to any of you musicians out there? No comment.
In the meantime, happy listening and try to put some live music in your life. 
Jim Galloway is a saxophonist, band leader and former artistic director of Toronto Downtown Jazz. He can be contacted at jazznotes@thewholenote.com.