Jim Galloway was The WholeNote's longest standing columnist, tenacious to the last. We greet the news of his passing, yesterday, December 30 2014, with sadness. We have lost a blithe spirit, a true champion of live music. Here are the last words he wrote for us, just four weeks ago.
David Perlman, publisher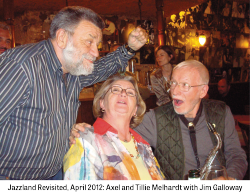 This being the 15th or 16th December/January edition of these Jazz Notes for The WholeNote, I thought that rather than essaying something completely new, I'd dip back through my little stack of back issues for things that, still being appropriate, I might appropriate. Take this, for one example:
This month's column is a departure from the familiar concert listings of previous issues, reason being that the above mentioned departure was mine - for a month-long trip to Europe! As a result this article is coming to you from the waltz capital of the world, Vienna.
First of all, for the record, the Danube is not blue, but an industrial brown which would not inspire Johann were he to see it today. Also the Viennese waltz does not make up 3/4 of the music heard in Vienna, even though it is in 3/4, and since being here I have not heard a single zither play the theme from The Third Man.
Is there jazz in this stronghold of Strauss? – this fatherland of Freud? – this Mecca of Mozart? – this city where you can have your Vienna Phil? Yes there is and quite a lot of it at that, although, as anywhere else it is music for a small minority – and a minority that is broken into at least two camps. There are the obvious ones traditional and modern, and it would seem that never – or very seldom – the twain shall meet. (No, not you, Mark!)
The stronghold for the traditional/swing/bebop audience – and I include bebop because in the overall picture of what is called jazz today, bebop is pretty traditional sounding – is a club called Jazzland, located in the heart of the old city, underneath what was the wall of the old city. It is, of course, a cellar club, full of atmosphere, with the original walls and vaulted ceiling still in place.
The walls are lined with photos of jazz artists who have played the club and it is quite a Who's Who ranging from pioneers like Teddy Wilson and Wild Bill Davison to the recently deceased Art Farmer. Artists appearing in November, for example, included Red Holloway, Trevor Richards, Conte Candoli, Melissa Walker and Hal Singer along with some of the leading local players. It is the oldest club in Vienna currently in its 27th year as a jazz haunt and something like its 500th as a cellar. It was an escape route in times of siege but serves now as an escape for jazz fans who like to know where the bar is and prefer their music to swing.
Jazzland is run by a remarkable couple, Axel and Tillie Melhardt, assisted by a really friendly staff including Martin and Thomas, a pair of great bartenders. Alex and Tillie's love of the music is genuine and the long succession of visiting artists thinks the world of them. If you can find better anywhere I'll buy an oversized Tam O'Shanter and eat it. (It's a hat Mabel). Incidentally Axel Melhardt comes by his love of music honestly. His mother was an opera singer and his great-grand-uncle was Antonín Dvořák!
There are several other clubs where mostly local musicians are featured. They don't have jazz six nights a week so you have to check, but you can make some nice discoveries in venues such as Papa's Tapas, Blues Man, Miles Smiles, tunel, and Vienna Unplugged. Worth noting is Reigen Live, a club which featured one-nighters last week by Archie Shepp, Les McCann, Jimmy Scott and Cubanismo. There is also a club called Porgy And Bess operating once a week just now. It presents the more avant-garde end of the spectrum so don't expect much Gershwin, despite the name.
There are plans to build a new Porgy and Bess club heavily funded by the city, as the planned new Birdland club, being built by Joe Zawinul, will be. I heard a good singer called Barbara Pfluger who appeared last month in a spot called Celeste. The local talent pool is good. Some of the groups I am familiar with cover a wide range of styles. If you like it New Orleans style, there are The Red Hot Pods who have played the Toronto festival a couple of times A little more towards the Chicago style, in spite of their name, you have The Original Storyville Jazz Band and advancing chronologically in terms of style there are groups like the Stanton Big Band, Together, Koolinger, and The Vienna Art Orchestra. I can't list everybody and I apologise if I leave out names that deserve to be included, but two of the most impressive musicians I heard were drummer Walter Grossrubatscher and pianist/clarinettist Herbert Swoboda who can easily hold their own in any company.
Jazz in Vienna is not confined to clubs, although it is interesting, in view of some earlier comments in this column, to note that performances in clubs are frequently referred to as "concerts." The "real" concert hall scene is also quite active. Over the current four week period the line-up is Dave Brubeck Quartet, Manhattan Transfer, The Ron Carter Quintet, and Joe Zwainul in a "Homage to Johann Strauss" if you can believe that one!
So is there a jazz scene here? You can bet your Vienna Woods there is.
It seems to me that more has stayed the same in Vienna jazz life than has changed since mid-November 1999, which is when I wrote this little sketch – Axel Melhardt is still at the helm of a Jazzland, now in its 44th year. The Porgy and Bess and Birdland ventures I mentioned amounted to nothing; places announced in a blaze of glory only to fizzle are a part of the scene's overall wonderful consistency. Audiences remain a consistent mix of grey and not yet grey, coming to actually listen to music, some of it because it is marvellously new, some precisely because it isn't.
Incidentally, I rang in that millennial new year at The Montreal Bistro, Sherbourne and Adelaide… performing from the 28th to Jan 1, starting at 9pm each night. "The music will swing," I wrote, "and so will my kilt on New Year's Eve."
So some things do change: the Montreal Bistro and the five-day gig both seem a long time ago.
Here are another couple of excerpts to ponder (both from the following year, the first December of the brave new millennium):
Looking back over the past year I realize just how much good jazz is available in this city. On any given week in Toronto you can hear a wide range of music. the performers are sometimes visiting "names" but the majority are our own artists – and the standards are high. the concentration of good musicians in our own community is astonishing. The number of playing opportunities regrettably small, for it is an unfortunate fact that there is a lot less work for musicians than there used to be.
… And this:
The somewhat unusual contradiction in all of this is the problem that we live in an age where there is not enough work for muscians, while at the same time there is too much music around us!
It's a personal opinion, but I hold it very firmly, and I know I'm not alone. Music has been devalued or at least the contribution of the people who make the music. Because of its omnipresence – in elevators, in shops, in restaurants, in waiting rooms, in washrooms – incessantly – it is rammed down our throats, well our ears, to be more accurate, day and night, to the extent that it is simply noise in the background and of absolutely no aesthetic value. And silence becomes increasingly golden.
And so I come to the end of another column and another year, with a final quote from that December 2000 column.
"Have an excellent holiday season, and if you need a resolution for the new year, how about making a point of getting out to see more live music. Those of us who toil on stages and in clubs will be grateful."
Or in the words of what has become my standard Jazz Notes sign-off over the years: Happy listening, and why not make some of it live!
Jim Galloway is a saxophonist, band leader and former artistic director of Toronto Downtown Jazz. He can be contacted at jazznotes@thewholenote.com.