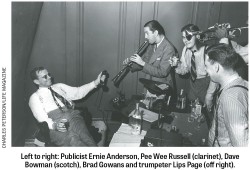 No, this really isn't about my favourite things. It's about the relationship between music and war and it's triggered by the fact that Remembrance Day falls on the 11th of this month and that got me thinking about songs that in all probability would not have been written had there not been the background of violence. So much for music being the food of love – it can also be the food of sorrow, anger, regret and the whole range of human emotions.
Patriotic songs have been around for centuries. One of the first Canadian examples dates from the war of 1812: "Come all you brave Canadians I'd have you lend an ear / Unto a simple ditty / That will your spirits cheer." Fast forward to the First World War, "the war to end all wars," which gave us "Keep the Home Fires Burning" (1914), "Mademoiselle from Armentières," "The Hearse Song," "Over There" (later featured in the film This Is the Army) and "Roses of Picardy."
"Bless 'Em All" (also known as "The Long and the Short and the Tall" and "F*** 'Em All") is a war song credited as having been written by Fred Godfrey in 1917 but not really popular until WWII.
"Lili Marleen" became one of the most popular songs of the Second World War among both German and British troops, the most notable version sung being by Marlene Dietrich.
Irving Berlin wrote "This is the Army, Mr. Jones" (1942) for the revue This is the Army that was remade as a 1943 American wartime musical comedy film of the same name. It mocks the attitudes of middle class soldiers forced to undergo the rigours of life in the barracks.
"Kiss Me Goodnight, Sergeant Major," (1939) is a British soldier's song, mocking their officers.
Popular concert songs in Britain during the war included "Run Rabbit Run," sung by Flanagan and Allen (1939) and "There'll Always Be An England" (1939–40,) sung by Vera Lynn who also had a huge hit with "We'll Meet Again."
And the point of all this? It's worth noting that the solemn music that gets trotted out at times of significant remembrance like this is generally written after the fact. What lifted the spirits of those who were then and there was music more like this.
From chalumeau to licorice stick: The chalumeau was the forerunner of the present day clarinet and the clarinet has maintained its strong presence in classical music throughout the centuries. In jazz however it has had its ups and downs.
In the review section I covered a CD by clarinetist John MacMurchy. Well, a few decades ago clarinet was king with Artie Shaw, Benny Goodman and less famous names. But right up there were instrumentalists such as Barney Bigard, known for his long association with Duke Ellington, Edmond Hall, for my taste the most exciting clarinet sound of them all, Jimmie Noone with one of the most liquid sounds of anybody on the instrument and Irving Fazola, born Henry Prestopnik. He got the nickname Fazola from his childhood skill at Solfege ("Fa-Sol-La"). And of course the somewhat eccentric – in sound as well as his approach to the music – Pee Wee Russell, whom you either love or hate. All I can say is that if Pee Wee's music escapes you then you are truly missing out.
Less well known is that he was also an abstract painter. The story goes that one day his wife Mary came home with a bunch of painting supplies and told Pee Wee to try them out. The cover of one of his LPs features a painting by him. I used to have it but somebody borrowed it and I never saw it again!
I didn't meet him until late in his life. I was playing on a jazz gig at the King Edward Hotel and we finished at 1am, but on weekends at George's where Pee Wee was fighting a really inappropriate back-up trio, the music went until 2am. So off I went and as I reached the club he was ending a set with a lovely old song called "I'd Climb The Highest Mountain." When he came off I told him how much I enjoyed that song and he told me it was one of Bix's favourites. Anyway when he went on for the next set he played it again and I was innocent and vain enough to think it was perhaps for me.
Speaking of eccentrics there was a New Orleans clarinet player called Joseph "Cornbread" Thomas who took his false teeth out before playing!
Groups of clarinets playing together, or clarinet choirs, are not uncommon, although some cynics refer to them as sounding like a fire in a pet shop!
Back to Pee Wee – he had a long sort of sad face – a bit like a mournful bloodhound, but without the bark. We spent an afternoon together in his hotel room but he did not seem like a happy man. The death of his wife really affected him and I believe that a large part of him died with her. I remember he sat there in his underwear drinking straight gin – a sad figure, especially when I think of the pleasure his music gave to so many people. There will never be another like him.
Happy listening and try to make some of it live.
Jim Galloway is a saxophonist, band leader and former artistic director of Toronto Downtown Jazz. He can be contacted at
jazznotes@thewholenote.com.