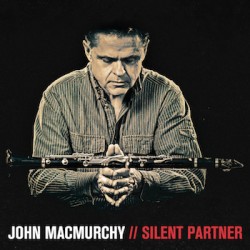 Silent Partner
John MacMurchy (johnmacmurchy.com)
Very often I receive a CD with all original material and it raises a warning flag. Will there be melodic and harmonic content that will stand a lot of re-listening? In this case I have no such doubts. Silent Partner is a thoroughly enjoyable program of original compositions played by groups of varying sizes and including contributions by Bruce Cassidy, flugelhorn and EVI, pianist Mark Kieswetter, guitarist Dan Ionescu, Ross MacIntyre, bass, Daniel Barnes, drums, and Alan Hetherington, percussion. They all make valuable contributions to the success of this recording.
As I mentioned the songs are all MacMurchy originals. He has a beautiful sound on clarinet and his compositions, whether ballad or up-tempo, are little gems. I particularly enjoyed the somewhat melancholy "The Stars Were Out Of Order" and "A Good Day To Be Happy." In fact listening to this music helps to make it a good day. A superior recording by superior musicians. I highly recommend this CD.