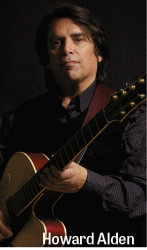 Once a year WholeNote puts out an issue that covers more than one month and this edition is the lucky or unlucky one depending on your point of view. On this occasion I thought I would take the opportunity to write a few words about a musician with whom I recently spent time in Vienna, Austria.
At a time when the dream of most young guitar players was to become proficient at playing three chords enabling them to play the blues and so call themselves musicians, there were a few who set their sights a little higher. One of them was a young man in Huntington Beach, Southern California. His name? Howard Alden, destined to become one of the finest jazz guitarists of his or any other generation.
The beginnings are familiar – a piano at home on which by age five he was picking out tunes and an old banjo gathering dust – a four-string model which set him on his destined path.
Those of you who are not dyed-in-the-wool fans may not recognize his name, but if Woody Allen is one of your favourites, you would have certainly heard him on one of his soundtracks. An early influence was Roy Clark on Hee Haw and his playing certainly took a change in direction when he was exposed to the music of Goodman and Basie.
A phone call from Allen in the late 90s opened yet another door for Howard when the director asked him if he would be willing to coach the principal actor for his upcoming movie Sweet and Lowdown, whose role required him to play the guitar.
The actor was Sean Penn and what Howard assumed would take a few weeks turned into six months of intensive work during which time he and Sean developed a warm relationship.
If you would like to hear the real thing in person, Howard will be in town for one night, Thursday, October 30, at the Old Mill Toronto.
Have a happy summer and spend some of it listening to live jazz.
Jim Galloway is a saxophonist, band leader and former artistic director of Toronto Downtown Jazz. He can be contacted at jazznotes@thewholenote.com.