A sheaf — no, a barrow-full — of material has landed on my desktop, documenting so many interesting events taking place, far more than seems usual for the month of September, the very beginning of the season. Where to begin, how to tie it all together?
An observation arises, prompted by a concert happening early in September, that lute-like instruments make their gracious appearance all through the month; you can follow them around in several different settings, played by some wonderful artists. That thought is the thread that weaves together this month's column.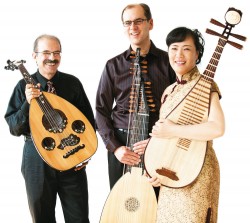 Lutes, lutes, everywhere lutes:First, to the aforementioned concert. Entitled "Beyond the Silk Road," it's the inaugural concert of the Lute Legends Ensemble, three musicians whose specialities are linked by ancient traditions. Bassam Bishara plays oud, Lucas Harris plays lute, and Wen Zhao plays pipa. Harris explains: "The oud is the oldest instrument and the ancestor of the other two. We think that it traveled both East and West on the ancient Silk Road, becoming the 4-stringed pipa in China and the medieval lute in Europe.
"Each of us will be playing two instruments: Bassam will play his regular 6-course oud as well as his new 8-course oud (evidence of which was discovered in a very ancient manuscript about four years ago). Wen will play her normal pipa with metal strings as well as her silk-strung pipa. And I'll be switching between a Renaissance lute and two different Baroque lutes (one will be in a Chinese pentatonic tuning that I invented to play with Wen)."
The concert will bring the three instruments together in "a cross-traditional experiment for the 21st century." It takes place at Trinity-St. Paul's Church on September 8.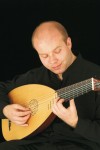 Then there's the theorbo, described by performer Matthew Wadsworth as "a giant lute" — it's the formidable long-necked fellow whose presence in any ensemble simply cannot be ignored, with a powerful, very resonant bass register. The instrument developed from the bass lute in the late 16th century, answering the growing need for solid bass support for melodic lines.
It seems that the theorbo's first appearance this month is at the Toronto Music Garden, where three superb musicians — baroque violinist Christopher Verrette, baroque cellist Kate Bennett Haynes and English theorbist Wadsworth — present a concert entitled "One Hundred Years of Venice," performing works by Castello, Ferrari, Kapsberger and Vivaldi (who all lived and worked in Venice). We're particularly fortunate to be able to hear Wadsworth, widely considered to be one of the foremost lutenists of his generation and in great demand as soloist, continuo player and chamber musician on both sides of the Atlantic. This concert takes place on September 16.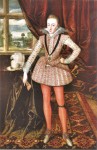 A theorbo will be in the capable hands of Benjamin Stein, as he leads a performance of the magnificent Monteverdi Vespers of 1610, sung one to a part by ten of Toronto's top choral singers, accompanied by a sparse band of instrumentalists. Stein remarks: "We're keeping the orchestration very spare, according to Monteverdi's original score, hoping that the spareness of it allows people to hear the interweaving of voices, and the nature of the text setting, and also allows the continuo team to play and embellish in a stylish manner." This is the first of this season's Music at Metropolitan's Baroque and Beyond series, happening on September 22.
Theorbo and lute (played by Michel Cardin) make up one-half of La Tour Baroque Duo (the other half is recorder and harpsichord, played by Tim Blackmore). You can hear this New Brunswick-based duo in a delightful program in a delightful setting, in their concert "The Last Time I Came O'er the Moor" — suites, variations and sonatas based upon traditional and popular Scottish airs, by Scottish baroque composers and others — presented by the Toronto Early Music Centre at Montgomery's Inn, the evening of September 29. And don't forget TEMC's 28th annual Early Music Fair — a Culture Days event — happening from noon to 4:30pm, also on the 29th at Montgomery's Inn — you might encounter lutes, viols and lots else!
Another Toronto Culture Days mini-concert showcases the very busy lutenist Lucas Harris, who will perform exquisite lute solos from 18th-century Germany, followed by a question and answer session (your chance to find out more about the lute). Part of the Toronto Centre for the Arts "Season Launch Open House," this performance takes place at the George Weston Recital Hall on September 30.
The Musicians In Ordinary are back, with their built-in lute/theorbo player John Edwards. This duo brings scholarly research to each of their performances. Their first concert of the season," His Perfections Like the Sunbeams," commemorates the life and untimely death of Henry, Prince of Wales, "the best king Britain never had" according to Edwards; had he not died of typhoid at age 18 and been succeeded by his hapless brother Charles, history would have been changed! The concert, taking place on October 6, features the latest avant-garde composers of the time, some of Henry's favourites: Ferrabosco II, Notari, Coprario and Johnson. Performers include theorbist Edwards and soprano Hallie Fishel with guests, violinist Christopher Verrette and gambist Justin Haynes.
As for that other lute-related instrument, the viol, I'll mention briefly that you can hear its lovely voice in the following concerts: Music Mondays presents The Cardinal Consort of Viols' "Rest Awhile Your Cruel Cares," with music by Dowland, Locke, Jenkins and Purcell (September 17). In Barrie, Colours of Music presents "Fit For A King" — music by Purcell (both Henry and Daniel), Handel and C.P.E. Bach, featuring members of Baroque Music Beside the Grange and two baroque dancers from Opera Atelier (September 26). And in addition to his performance with the Musicians In Ordinary, mentioned above, gambist Haynes will contribute a solo prelude by Marais in a concert of the St. Vincent Baroque Soloists — a program of vocal and instrumental music from the 12th to 18th centuries (September 29).
Lute-free zone:Other events not including lute, oud, pipa, theorbo or viol (though I may well be wrong about that in some cases):
The vibrant English choral group the Tallis Scholars, celebrating their 40th anniversary next season, will visit UofT's music faculty this month with a program entitled "Miserere: Sorrows of the Virgin Mary." It features the Renaissance repertoire for which they've long been famous — Allegri's Miserere, and music by Victoria, Praetorius, Guerrero and others (September 12).
Tafelmusik Baroque Orchestra's opening group of four concerts, "Bach Brandenburg Concertos," is indeed "an exuberant season opener," with the grand sonorities of horns and oboes in Brandenburg Concerto No.1, the showcasing of the strings in No.3 and the rich world of solo harpsichord, violin and flute of No.5, plus a flourish of trumpets, oboes and drums in the Orchestral Suite No.4 (September 21, 22, 23 at Koerner Hall; September 25 at George Weston Recital Hall).
Glenn Gould would be celebrating his 80th birthday on September 25. Unbelievable to think of; but consider this: by that time, J.S. Bach would have attained the age of 327½ years. A concert presented by the Royal Conservatory pays tribute to both these timeless and towering musical geniuses, with a program entitled "David Louie Celebrates Bach and Gould." RCM faculty member and harpsichordist, Louie, performs Bach's Italian Concerto, selections from Partita No.4, and with the help of some fine musical colleagues, the Musical Offering. (September 23)
As a preview to their 40th anniversary opening concerts in October, the Toronto Consort brings Janet Cardiff's award-winning sound installation Forty-Part Motet to Trinity-St. Paul's Centre, as part of Nuit Blanche. This work, based on Tallis's Spem in alium for 40 separate voices, consists of 40 speakers arranged in a large room, each one representing one voice of the Tallis motet (September 29).
So there you have it, in a nutshell. Welcome, everyone, to the start of a new season!
Simone Desilets is a long-time contributor to The WholeNote in several capacities who plays the viola da gamba. She can be contacted at earlymusic@thewholenote.com.