September is never the best month for vocal concerts: the summer festivals have come and gone and the regular series that take place in the fall may not have started yet. Nevertheless there are some interesting concerts coming up:
COC Vocal Series:The 2012/2013 free lunchtime concerts at the Richard Bradshaw Amphitheatre, Four Seasons Centre for the Performing Arts, will begin on September 18. The first, kicking off the Vocal Series, will be given by members of the Canadian Opera Company Ensemble Studio who will be singing their favourite arias. For the second concert in that series, artists of the U of T Opera Division will perform highlights from some of the best-loved operas by Britten, Donizetti, Offenbach and von Flotow on October 3.
At the festivals:On September 21 at 8pm, a concert will be given as part of the SweetWater Music Festival at Leith Church, in the hamlet of Leith near Owen Sound. The concert is billed as "Early Music" and will include music by Biber and Telemann, but also Dover Beach, the song cycle for medium voice and string quartet which Samuel Barber composed in 1931, to the text of Matthew Arnold's poem of the same name. Over the years the baritone part has been sung and recorded by many distinguished singers such as Thomas Allen, Gerald Finley, Thomas Hampson and Thomas Stewart. Barber himself was a baritone and his recording of the work is also available on CD. The baritone soloist at Leith will be Philippe Sly, who is at present a member of the Ensemble Studio of the Canadian Opera Company. He is to sing Guglielmo in Mozart's Così fan tutte for the San Francisco Opera next June.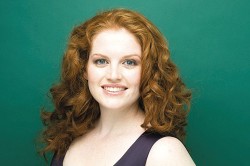 The tenth Colours of Music festival kicks off in Barrie on September 21 and includes several vocal concerts. On September 22 at 7:30pm, Virginia Hatfield, soprano, Kristina Szabó, mezzo-soprano, and Giles Tompkins, baritone, are the soloists in "Night at the Opera," featuring music by Mozart, Puccini and Gershwin; on September 27 at 2:30pm, mezzo-soprano Leigh-Anne Martin will be the soloist in a concert of music by Mozart, Brahms, Spohr and Gershwin; and on the 30th at 7:30pm, there will be a concert of music by Ivor Novello and Noel Coward with soprano Hatfield and baritone James Levesque. All these concerts will take place at Barrie's Burton Avenue United Church.
At Picton's Prince Edward County Music Festival, soprano Ellen Wieser will perform another Barber work, the Hermit Songs of 1953, a setting of English translations of Irish medieval songs. The concert, which is on September 22 at 7:30pm, at the Church of St Mary Magdalene. will also include works by César Franck and Marjan Mozetich. If you want to sample Wieser's voice, go to YouTube where you can hear her perform Atys by Schubert and Nuit d'étoiles by Debussy.
Back in Toronto … :A performance will be given of Claudio Monteverdi's great Vespers of 1610, also at 7:30pm on the 22nd, at Toronto's Metropolitan United Church on Queen St. E. There have in recent years been several performances of this work in Toronto but this one is going to be different. There will be no chorus; instead the whole work will be performed one on a part. This is a great chance to hear experienced choral singers performing as soloists or as part of small ensembles. The singers are: Ariel Harwood-Jones and Gisele Kulak, soprano; Christina Stelmacovich and Laura McAlpine, alto; Charles Davidson, Cian Horrobin, Robert Kinar and Jamie Tuttle, tenor; John Pepper and David Roth, bass.
On September 23 at 8pm, (with a pre-concert talk at 7:15), New Music Concerts' "Cellos Galore" at the Betty Oliphant Theatre will include Winter Words, a commissioned work by James Rolfe for tenor and eight cellos. The soloist will be Lawrence Wiliford.
There will be a concert dedicated to the music of Claude Debussy at the Heliconian Club on September 28 at 8pm. Many of the selections will be instrumental, including a great deal of piano music and the late sonata for violin and piano, but there will also be two of the song cycles: Ariettes oubliées (set to texts by Verlaine and composed between 1885 and 1887) and Proses Lyriques (settings of Debussy's own texts and composed between 1892 and 1893). The singers will be sopranos Barbara Fris and Janet Catherine Dea.
On September 29 at 8pm, in the Glenn Gould Studio, Kerry Stratton will conduct the Grand Salon Orchestra in "Tribute to Edith Piaf." The Acadian singer Patsy Gallant will be the soloist.
And down the road: If these concerts, while interesting, seem rather few in number, do not lose heart. There are plenty of exciting singers coming in the course of the year: Colin Ainsworth, Allison Angelo, Françoise Atlan, Alexandru Badea, Isabel Bayrakdarian, Isaiah Bell, Scott Belluz, Gordon Bintner, Lesley Bouza, Leslie Ann Bradley, Adi Braun, Russell Braun, Measha Brueggergosman, Benjamin Butterfield, Lucia Cesaroni, Ho-Yoon Chung, Layla Claire, Neil Craighead, Gregory Dahl, Elena Dediu, Alexander Dobson, Klara Ek, Gerald Finley, Hallie Fischel, Gordon Gietz, Carla Huhtanen, Joseph Kaiser, Miriam Khalil, Emma Kirkby, Marie-Josée Lord, Allyson McHardy, Amanda Martinez, Angela Meade, Shannon Mercer, Ileana Montalbetti, Nathalie Paulin, Ailyn Perez, Sophia Perlman, Sandrine Piau, Susan Platts, Brett Polegato, Robert Pomakov, Shenyang, Geoffrey Sirett, Annalisa Stroppa, Daniel Taylor, Erin Wall, Monica Whicher and Dave Young. Stay tuned!
Two postscripts:We mourn the death and celebrate the life of Jay Macpherson: poet, scholar, teacher, political activist, colleague, friend. There was some fine music at a service of remembrance on June 11: we sang two hymns that Jay had herself chosen, and listened to Teri Dunn's performance of Houses in Heaven (words by James Reaney, music by John Beckwith), one of Jay's political poems (sung by Mary Love) and Sarastro's aria "O Isis und Osiris" from The Magic Flute (sung by Michael-David Blostein). The last selection was especially apt as Jay had, in the last years of her life, been working on the Masonic background of the opera. The bass voice is rare; it is even more rare to hear it fully developed in as young a singer as Blostein; he is still a student (he studies with Adi Braun) and can probably be called pre-professional. We shall hear more of him.
One of the best things in a Toronto summer is the Summer Opera Lyric Theatre and Research Centre. Each year the company performs three operas with young talented singers who are given extensive coaching. This year, all three Figaro operas based on the plays by Beaumarchais were performed: The Barber of Seville (Rossini), The Marriage of Figaro (Mozart) and La Mère Coupable (Milhaud). The last-named is very rarely done and is, as far as I know, only available in an unofficial recording. In 60 years of opera-going I had not come across it. The standards were very high with an especially outstanding performance by the soprano Elisabeth Hetherington as Countess Almaviva. The pianist, Nicole Bellamy, was also brilliant.
Hans de Groot is a concert-goer and active listener who also sings and plays the recorder. He can be contacted at artofsong@thewholenote.com.