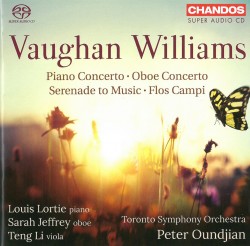 Vaughan Williams – Piano Concerto; Oboe Concerto; Serenade to Music; Flos Campi
Louis Lortie; Sarah Jeffrey; Teng Li; Toronto Symphony Orchestra; Peter Oundjian
Chandos CHSA 5201 (chandos.net)
I was present at the TSO concert in which these works were played. At that time a CD release was promised and here it is. It does not disappoint. There are four works on the disc: the Serenade to Music for four singers (performed here by Carla Huhtanen, Emily D'Angelo, Lawrence Wiliford and Tyler Duncan), chorus and orchestra; a concerto for oboe and strings; Flos Campi, a suite for solo viola (beautifully played by Teng Li, the TSO's principal violist), small choir and small orchestra (based on the Latin translation of the Song of Songs); and a concerto for piano and orchestra. All of these had originally been dedicated to musicians admired by Vaughan Williams: the Serenade to Music to the conductor Sir Henry Wood, the oboe concerto to Leon Goossens, Flos Campi to the violist Lionel Tertis and the piano concerto to Harriet Cohen. That gives these works a semi-private quality.
Of the works on the disc I liked the piano concerto least. It struck me as loud and strident, an impression which even the virtuosity of the pianist (Louis Lortie) could not efface. On the other hand, I loved the oboe concerto. It needs a first class soloist to do it justice and we have such an outstanding player in Sarah Jeffrey, the TSO's principal oboist.