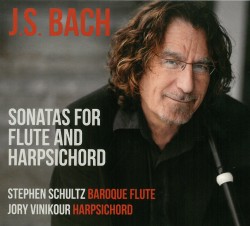 J.S. Bach – Sonatas for Flute and Harpsichord
Stephen Schultz; Jory Vinikour
Music & Arts CD-1295 (musicandarts.com)
Of the four sonatas on this disc, two are almost certainly by Bach: the B Minor and the A Major. The other two are given as "attributed to Bach." The case of the E-flat Major is particularly interesting. It used to be attributed to Bach's son Carl Philipp Emanuel but it has since been established that the work is based on a trio sonata by Quantz. The B Minor sonata is the finest work on this disc with its long-breathed melodies and its large intervals. Schultz and Vinikour are fine players and in the B Minor sonata they are at their best.