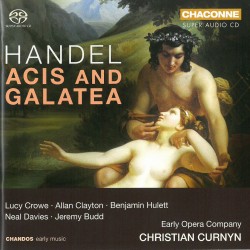 Handel – Acis and Galatea
Lucy Crowe; Allan Clayton; Benjamin Hulett; Neal Davies; Jeremy Budd; Early Opera Company; Christian Curnyn
Chandos, Chaconne CHSA 0404 (2) (chandos.net)
Acis and Galatea is a masque in one act, first performed in 1718 at Cannons, the summer residence of James Brydges, the Earl of Carnarvon. The text is anonymous (it is generally thought to be by John Gay, Alexander Pope and John Hughes), but it is ultimately based on an episode in Ovid's Metamorphoses. Brydges employed a number of musicians, including five singers: a soprano, three tenors and a baritone. That unusual formation fits Acis and Galatea (a second soprano is needed for the initial and concluding choruses).
The work begins with a celebration of the pastoral life. The sea nymph Galatea loves the shepherd Acis. Their happiness comes to an abrupt end when the Cyclops Polyphemus, after a disastrous attempt to woo Galatea, kills Acis. After lamenting that death Galatea celebrates the transformation of the dead Acis into the living river flowing from Mount Etna to the sea. That of course represents the metamorphosis that completes the shape of the work.
There have been some successful earlier recordings. My own favourite has always been the Arkiv disc under John Eliot Gardiner, in which Norma Burrowes sings an absolutely luminous Galatea. On this new recording, Lucy Crowe is also very fine in the part. Orchestral accompaniment is excellent and special mention should be made of the sopranino recorder part (Ian Wilson) in Hush, ye pretty warbling choir!