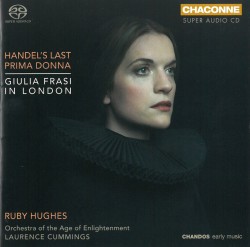 Handel's Last Prima Donna: Giulia Frasi in London
Ruby Hughes; Orchestra of the Age of Enlightenment; Laurence Cummings
Chaconne CHSA 0403 (chandos.net)
There have in recent years been many CDs consisting of solos or duets taken from the operas and oratorios of Handel. Such recordings always carry the danger of becoming merely a heterogeneous collection of extracts. A number of CDs have rectified this by concentrating on those roles created by particular performers. The CD reviewed here carries that strategy further by giving us a portrait of the soprano Giulia Frasi, who created several roles in Handel's late oratorios but also sang in works by Vincenzo Ciampi, Thomas Arne, John Christopher Smith and Philip Hayes (extracts from works by these composers are included here). Many of these works were composed after Handel's death in 1759 and, as David Vickers points out in an informative accompanying essay, they show how music moved from the high Baroque to the style of J.C. Bach and Haydn.
We don't know much about what kind of singer Frasi was. My sense is that she had a bigger voice than Ruby Hughes, who is a lovely lyrical soprano. Most of the arias are slow and are designed to evoke pathos. This no doubt reflects the kind of parts that Frasi was asked to sing. The only aria which allows the singer to show her virtuosity is from Arne's Alfred. It was written for Frasi as part of the 1753 revival of the work and is given the marking allegrissimo.
The singing and orchestral playing are both very fine on this disc. The members of the orchestra are not listed; if they had been, I would have singled out the splendid first oboist.